Falco Develops the UK's First Keyless Bike Hangar
News & Blog
2 Jun 2021
FalcoSmart Keyless Bike Hangar is the latest development of our FalcoSmart App-based cycle parking system for bike hangars and (cycle hubs) which removes the traditional key based locking system completely, providing hands-free/handle-less entry to any UK bike hangar.
The Falco keyless entry system is simple to use and works through the FalcoSmart App via the resident's phone. The user simply opens the app and presses the on-screen button/icon and the door opens. The user then closes the door normally until it 'clicks' shut again.
The new development builds on the current benefits of the FalcoSmart app-based system and adds a crucial factor for local authorities by removing the key-based, swing-arm lock altogether. The traditional manual 'swing-arm' lock is a natural target for thieves and attempted entry can cause significant costs for repairs, so removing the lock altogether removes the opportunity.
FalcoSmart is a cycle parking app with a comprehensive back-office and gives local authorities a complete overview of the use of their cycle parking facilities.  Currently being rolled out by a number of Councils including Waltham Forest for their cargo bike hire scheme, the app also provides integrated access to hubs and other facilities within the borough.
Key features of the FalcoSmart Keyless/Handless system include:
Both Android and Apple iOS compatible.
Secure Bluetooth and NFC connection.
Remote Falco/Client based Management System.
No Wi-Fi connection required.
Eliminates the need for physical key locks.
IP65 rated.
Retrofittable and backward compatible to all UK bike hangar designs.
Handsfree/handless locking for all UK Bike Hangars.
The use of 'apps' has now entered most aspects of modern life and this is also true of access control. Falco has developed its own system 'FalcoSmart' and is able to integrate its app into any virtually any cycle parking facility; either installed into a bike hangar, a new cycle store or retrofitted into an existing one. There are a wide number of benefits of the FalcoSmart Cycle Parking App for both local authorities and residents:
Council
Reduces the cost of theft and damage to traditional locks.
Provides inherent anti-jacking feature.
Easier and more secure to administer – users can be switched on/off in the back-office
Cheaper to administer than physical key systems
Full data on cycle parking usage to enable cycling usage/behaviour
Can be used on multiple cycle parking facilities
Enables app-based access to any UK bike hangar.
Users
No need to carry multiple hardware such as keys, swipe cards, key fobs etc.
All locks operated by the same app
Potentially cheaper
No need for a key deposit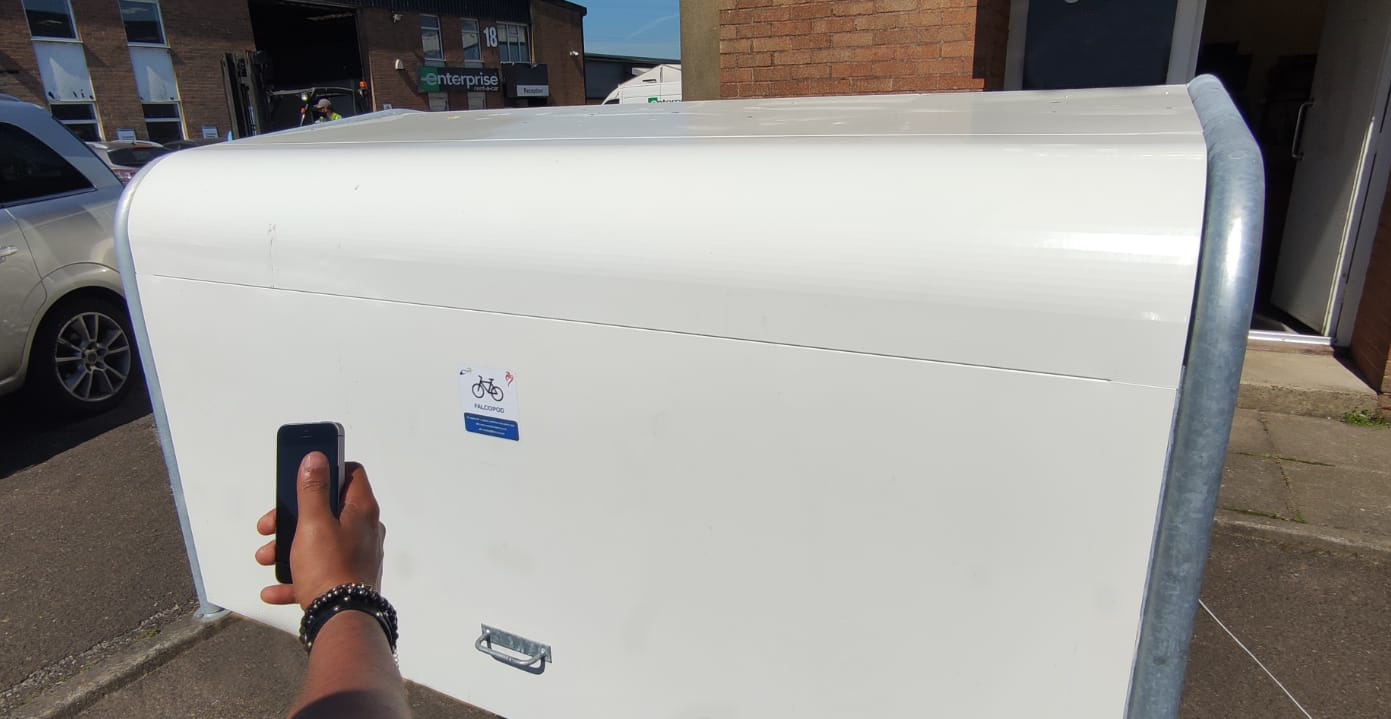 A further benefit to clients using the FalcoSmart electronic lock concept is that it can also be integrated into hubs and other cycle stores, so for instance a local authority which has a network of both bike hangars and cycle hubs can give residents access to their local bike hangar to pick up their bike for the morning commute and then enable them to use the same app to access the central bike hub at their local station. The back-office control means that each person can have a tailored access profile unique to them but controlled by the Borough based on their subscription. As a result of its importance to Falco and our clients we now have a patent pending on this concept of a keyless /handsfree /handless entry into a bike hangar (application number GB2012118.2).
For more information about the UK's first keyless bike hangar, please contact our helpful sales team on 01538 380080.