Home Latest News News & Blog FalcoPod Bike Hangar and FalcoCargoBox Cargo Bike Locker used as Key Reference Points in New Loveable Neighbourhoods Guide
FalcoPod Bike Hangar and FalcoCargoBox Cargo Bike Locker used as Key Reference Points in New Loveable Neighbourhoods Guide
News & Blog
26 May 2022
The ingenious FalcoPod Bike Hangar and FalcoCargoBox Cargo Bike Locker has been used as a key reference point in the new Loveable Neighbourhoods Guide.
The 60-page guide offers examples of best practice, hints and guidance for the successful mobilisation and implementation of healthy neighbourhood developments, Liveable Neighbourhoods and community regeneration projects.
Falco's former Managing Director, Jeremy Green, discusses the growth of cargo bikes during lockdown and highlights the fact that you can easily hire a bicycle for personal use, but you cannot do the same for a cargo bike. Jeremy discusses the lack of available infrastructure to support the growing trend and how Falco has developed a 'one size fits all' solution to providing secure, on-street cargo bike parking.
Jeremy then goes on to discuss how Falco is working with the London Borough of Waltham Forest to address the lack of disabled cycle parking available, following demand from local residents to develop an accessible facility for people with mobility issues to be able to securely park an adaptive bike.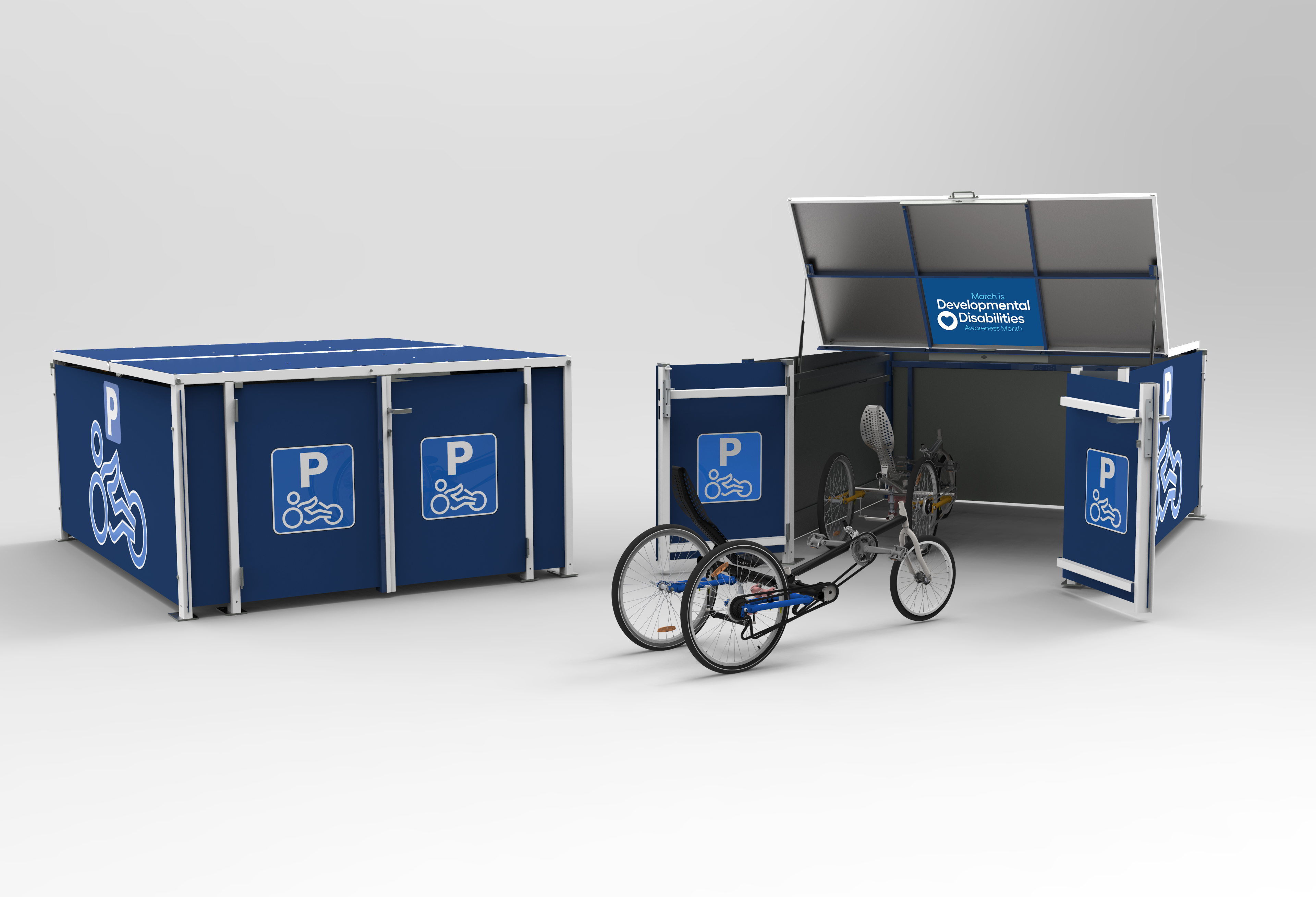 Furthermore, Jeremy discusses the importance bike hangars have on resident streets and how up to now, they lacked family inclusivity - capable of accommodating only standard sized bikes. To address this issue, Falco developed the FalcoPod Bike Hangar, a fully family inclusive bike hangar with 55% more space where cyclists no longer have to remove child seats or baskets from either the front or back of a bike. The design focus here was twofold; the additional space not only aims for a 'one size fits all' capacity that accommodates many non-standard bike profiles, for example, with a high upright seating position or wide tricycle axels, but also the addition of flexible locking bars on the hangar frame or ground-based 'bull anchors' making the FalcoPod much more flexible in terms of accommodating the diverse locking requirements of the adaptive family of bikes.
A copy of the Loveable Neighbourhoods Guide can be viewed by clicking here.
For more information about the FalcoPod Bike Hangar or FalcoCargobox, please contact our helpful sales team on 01538 380080.