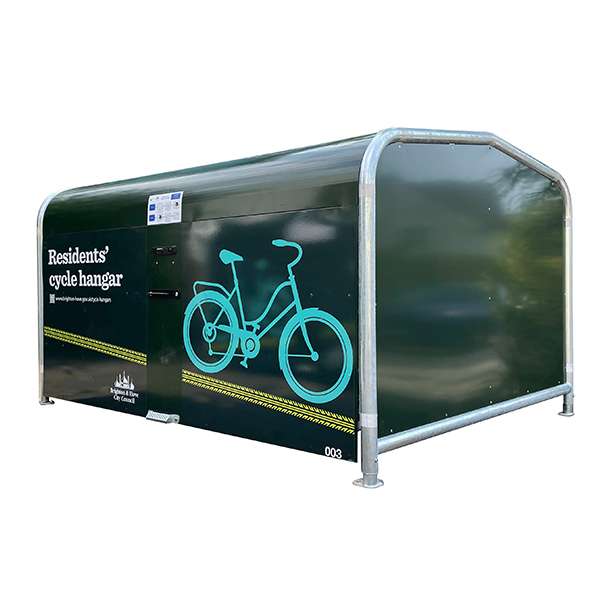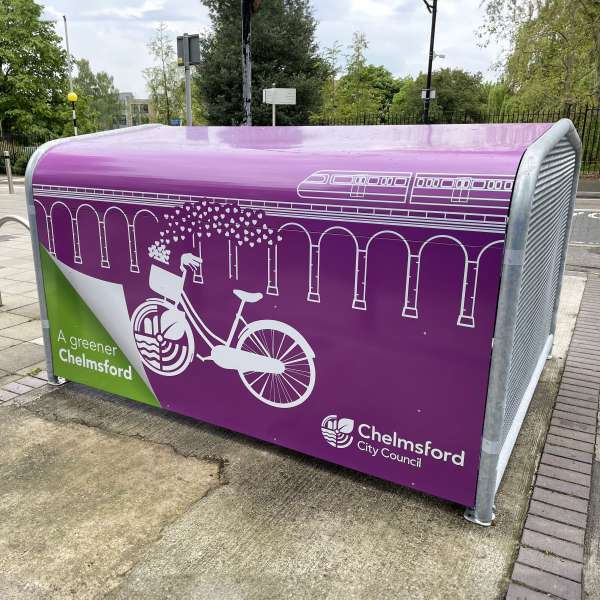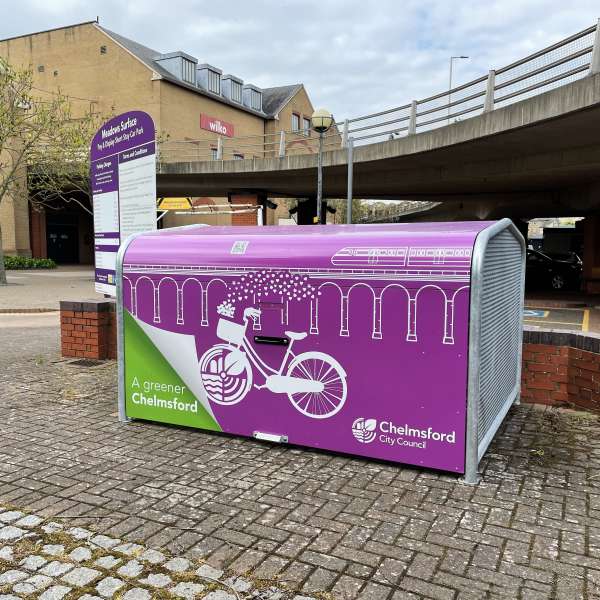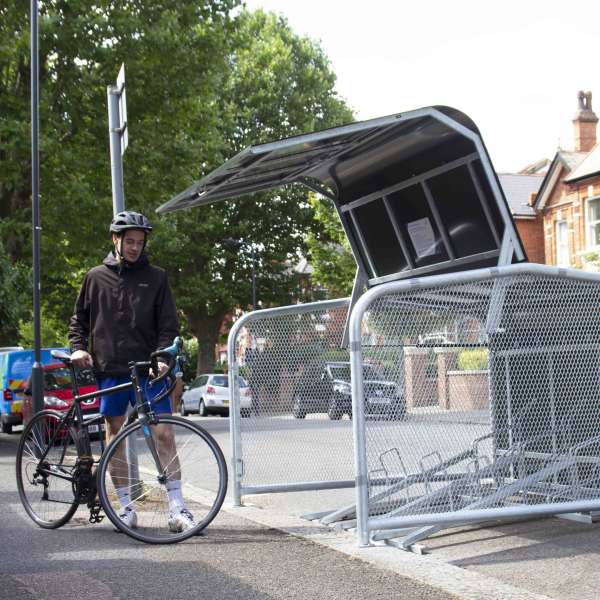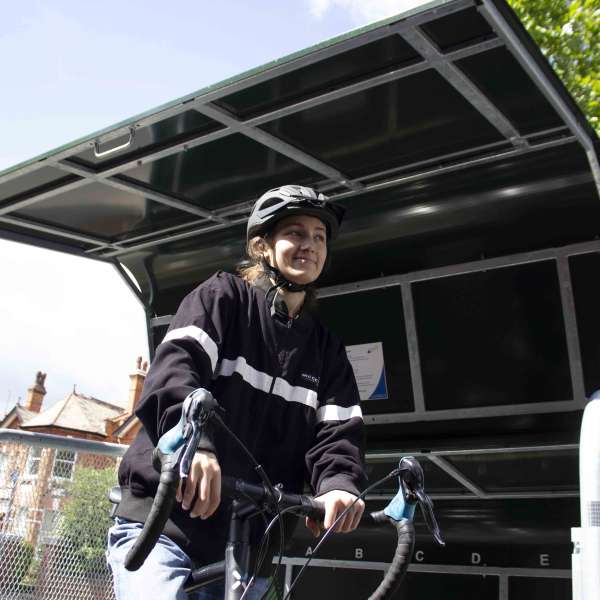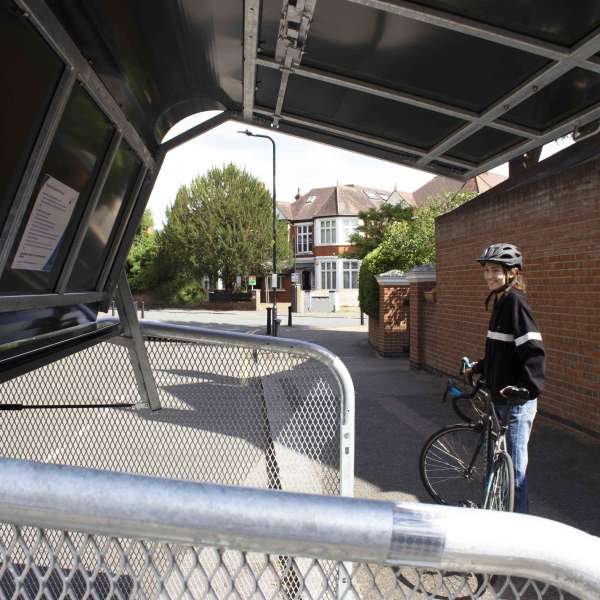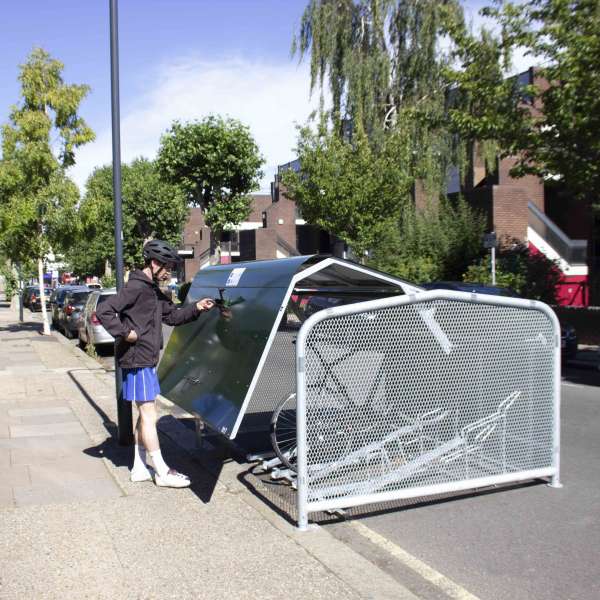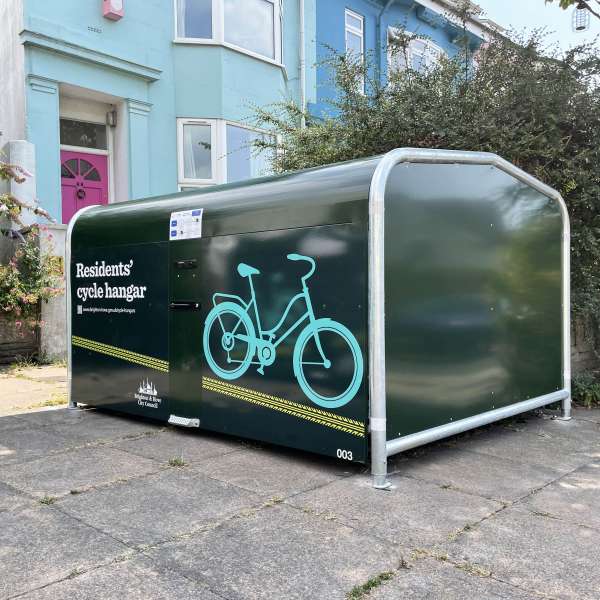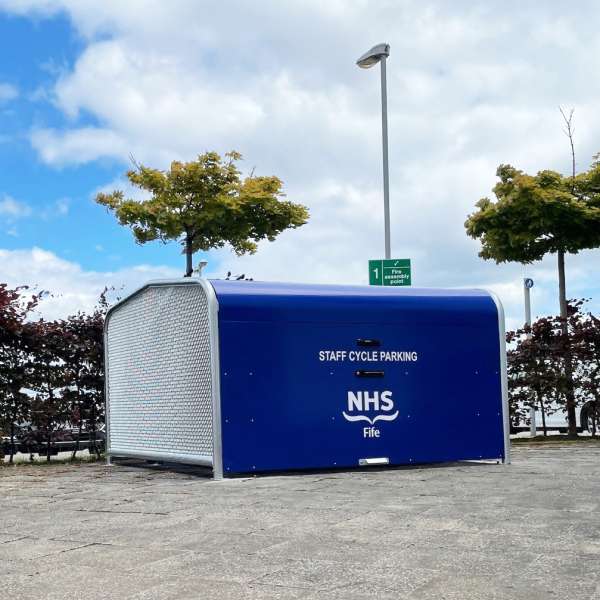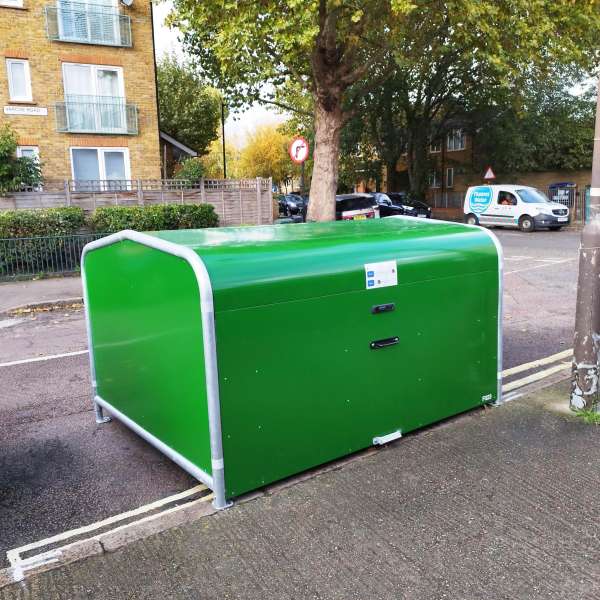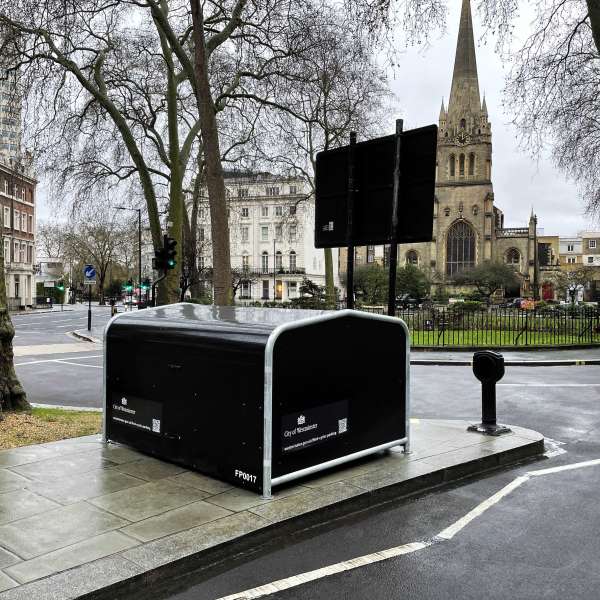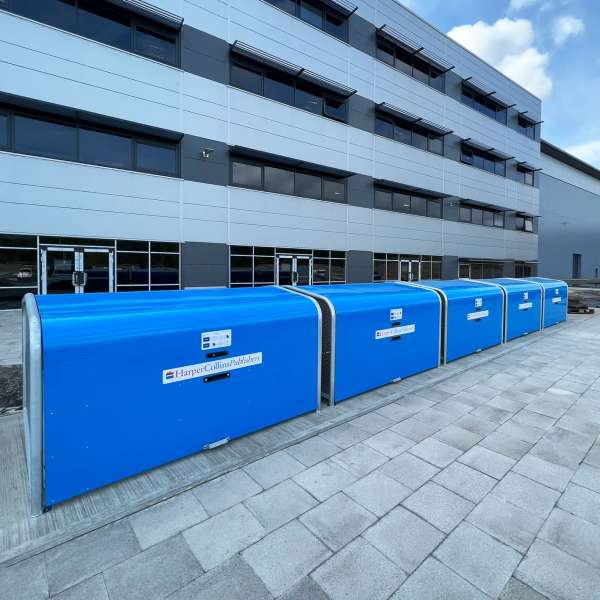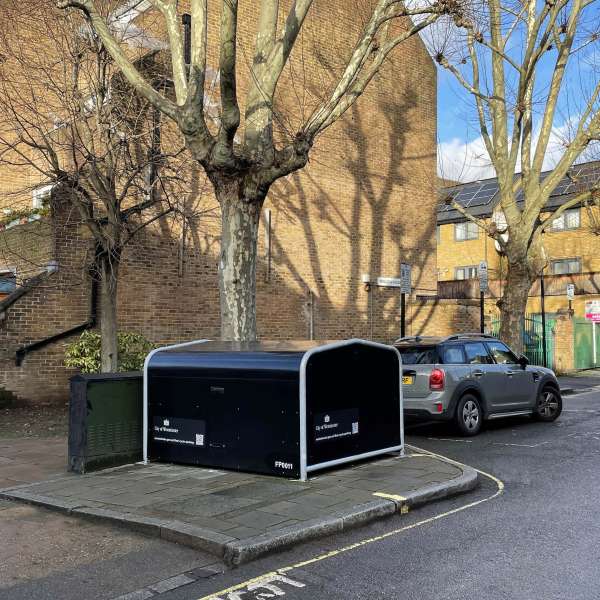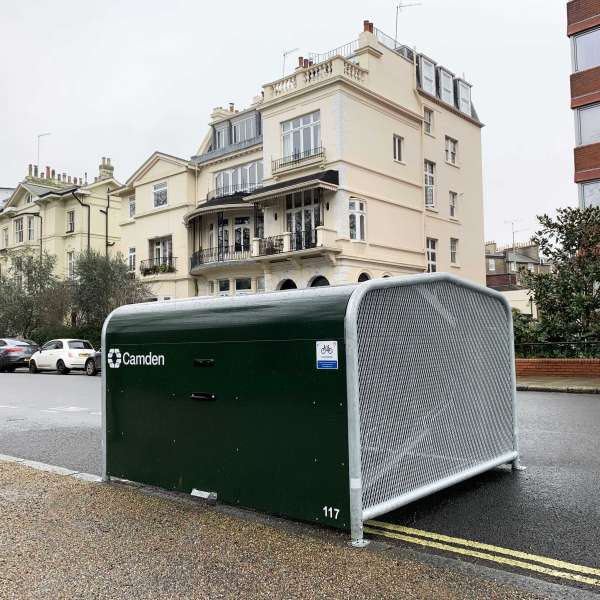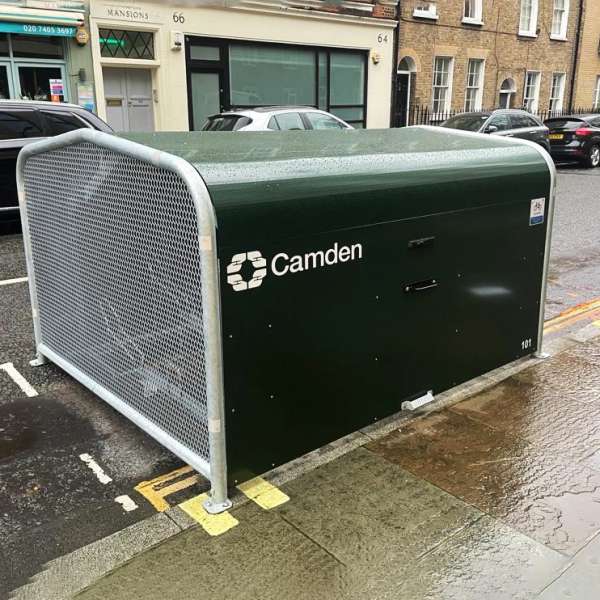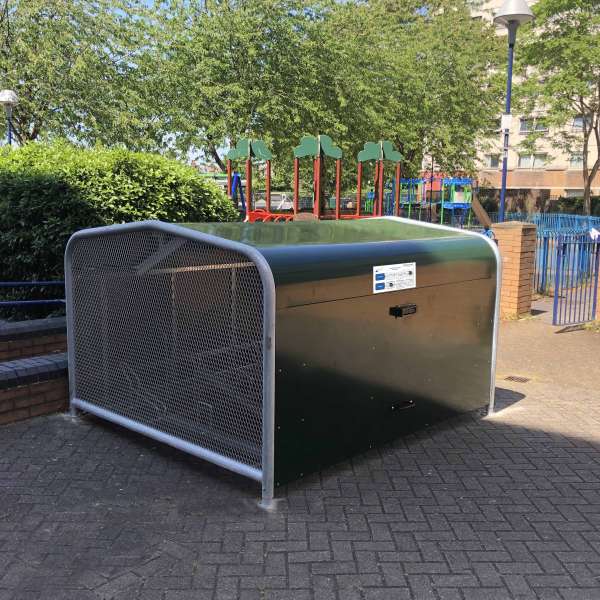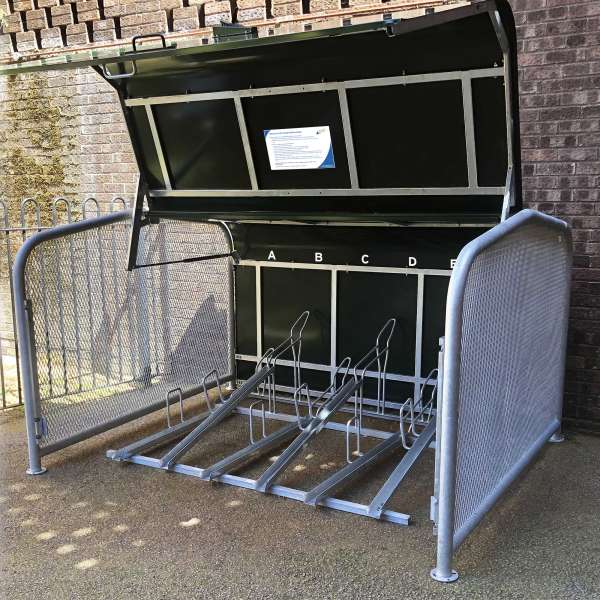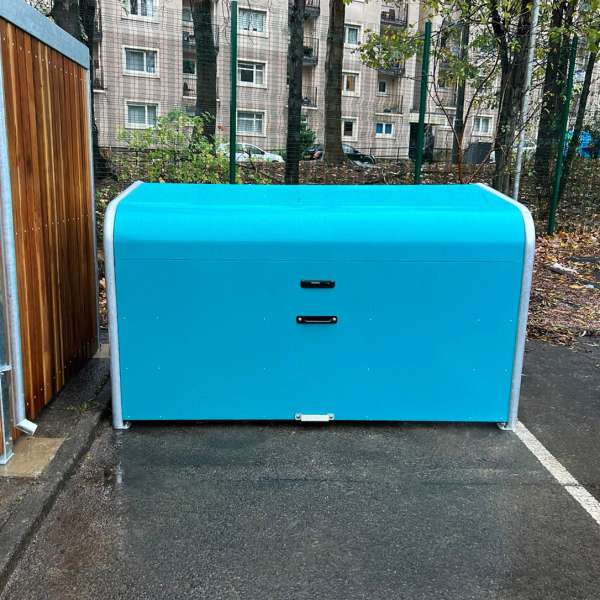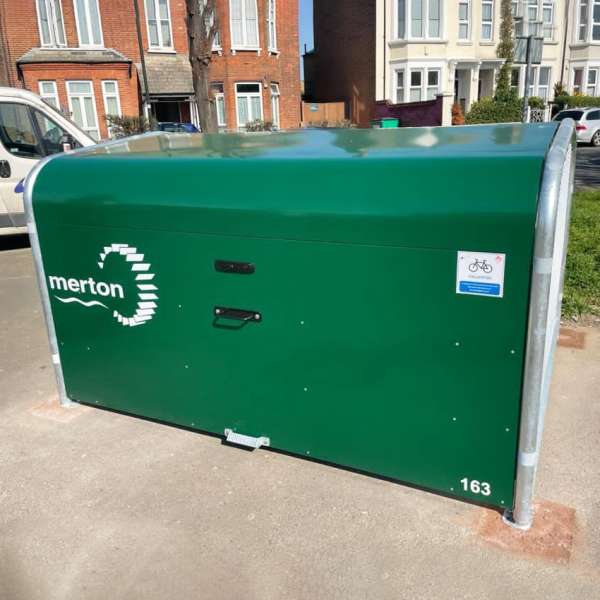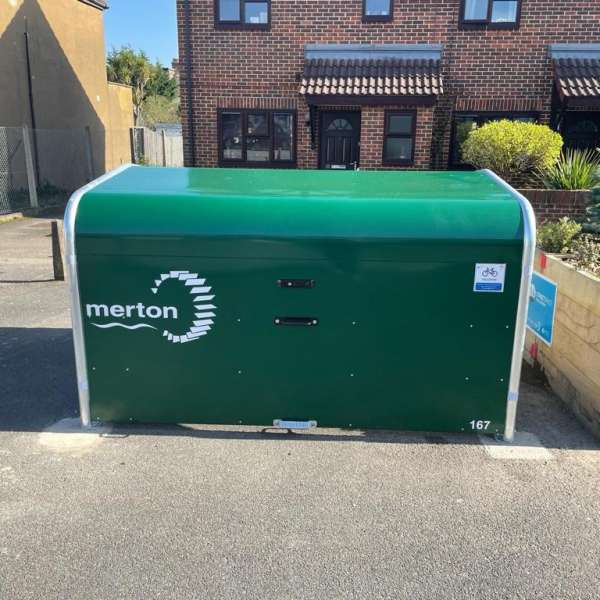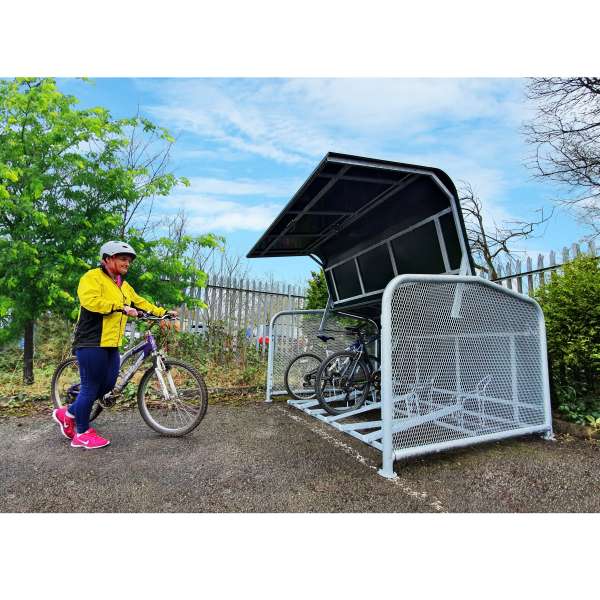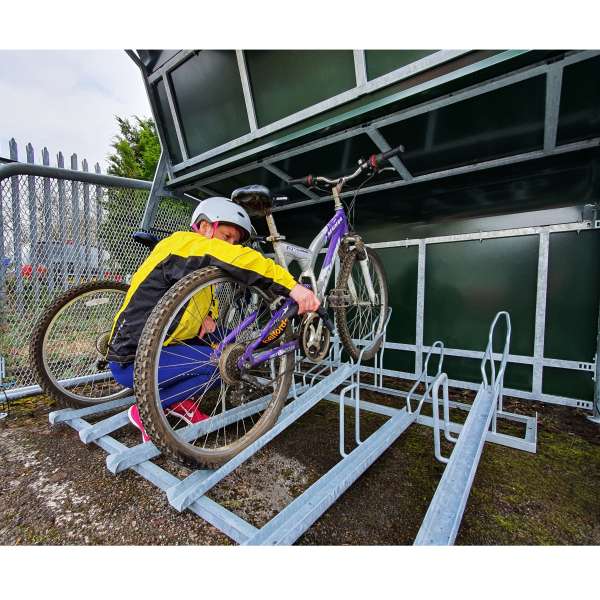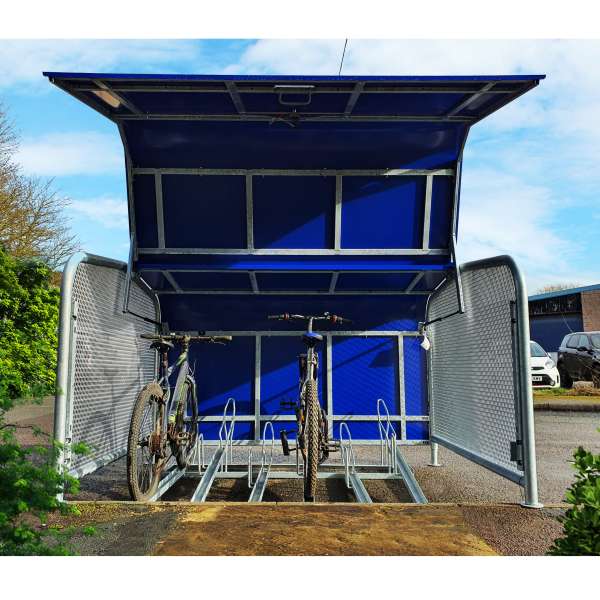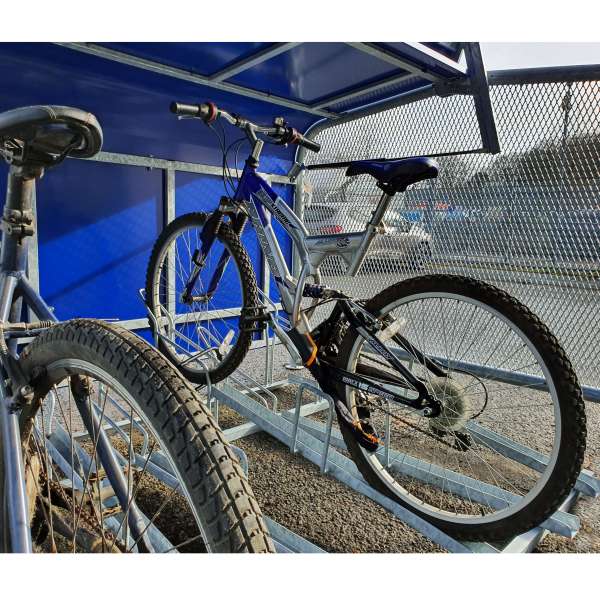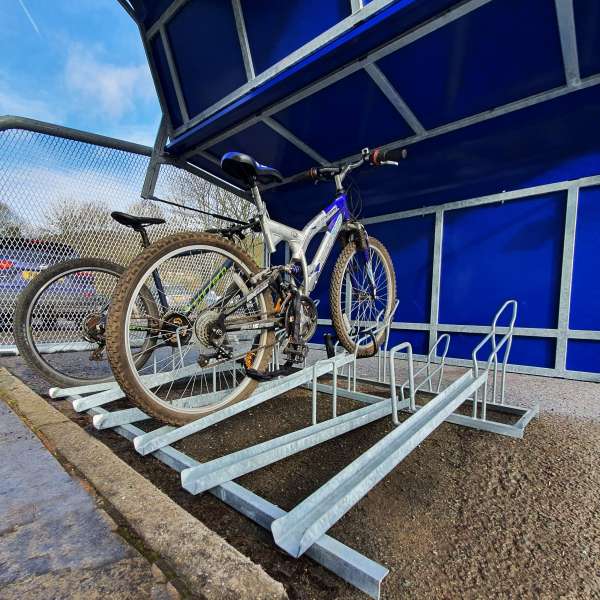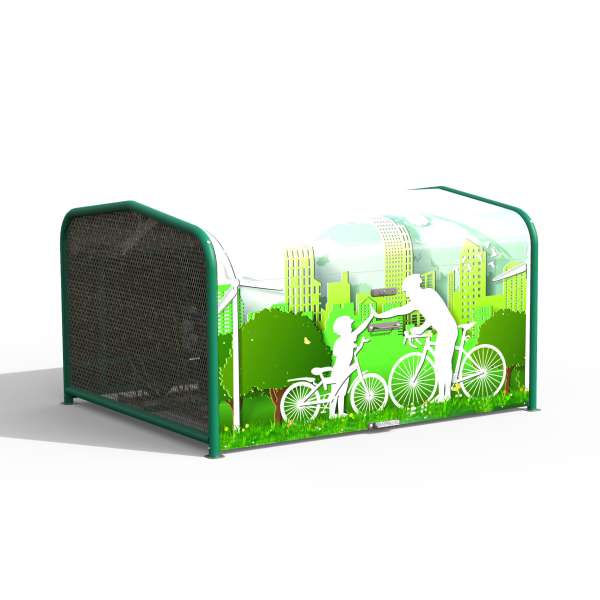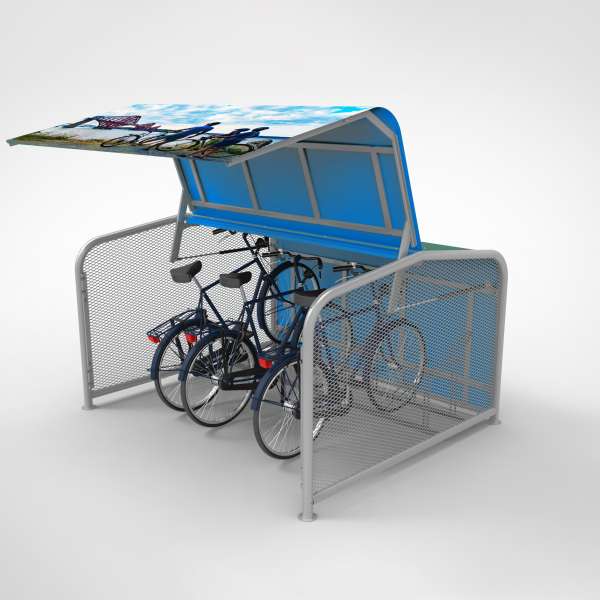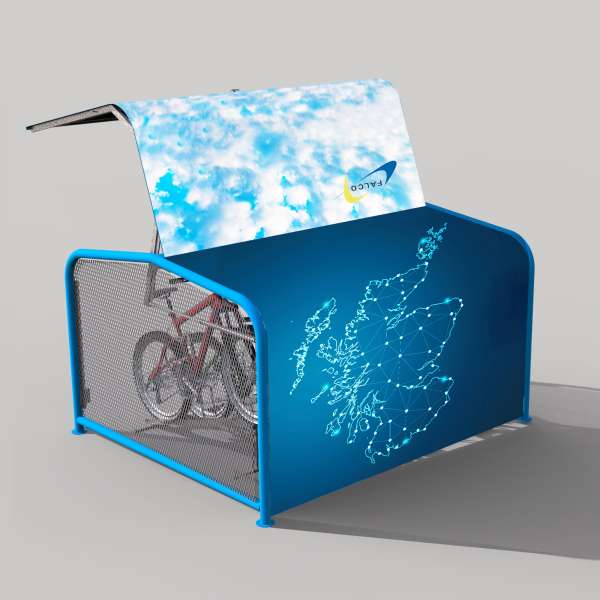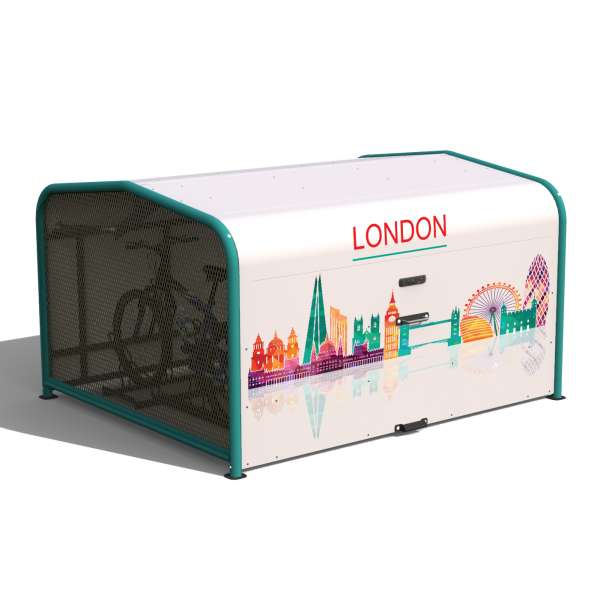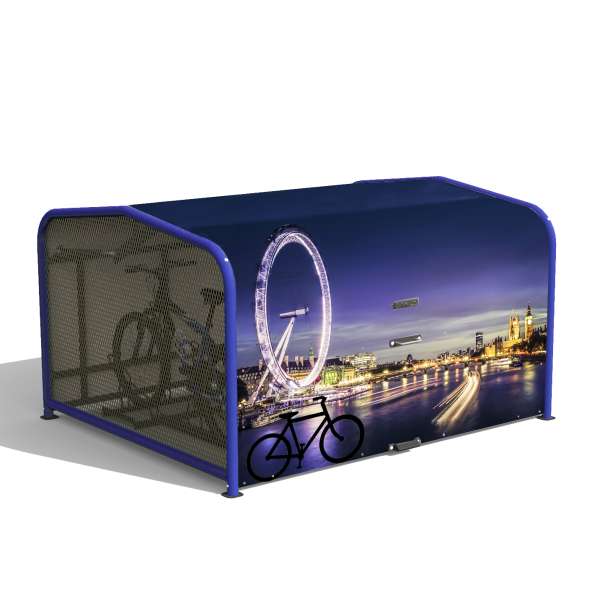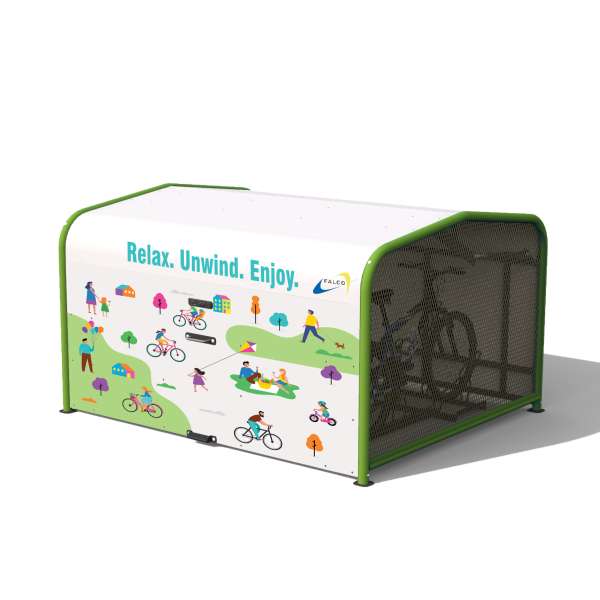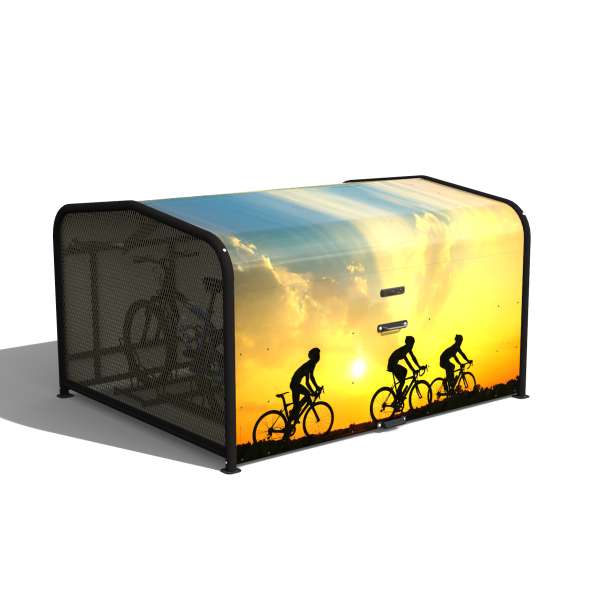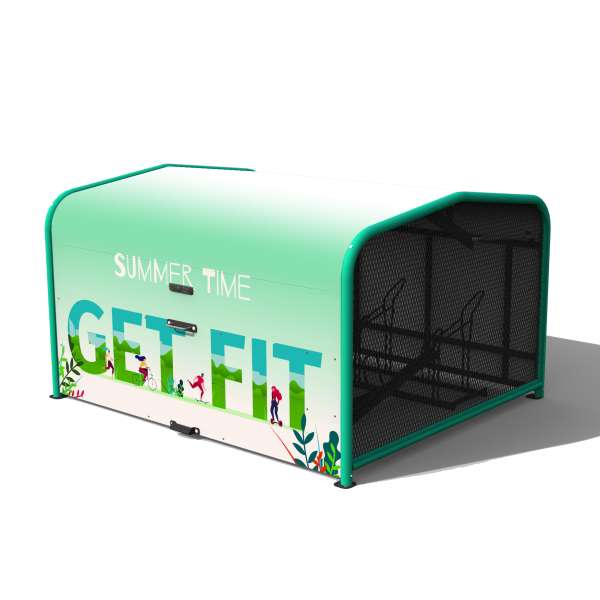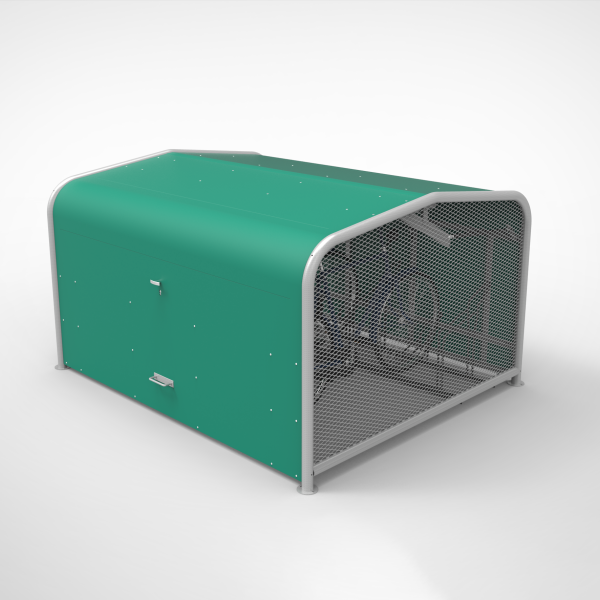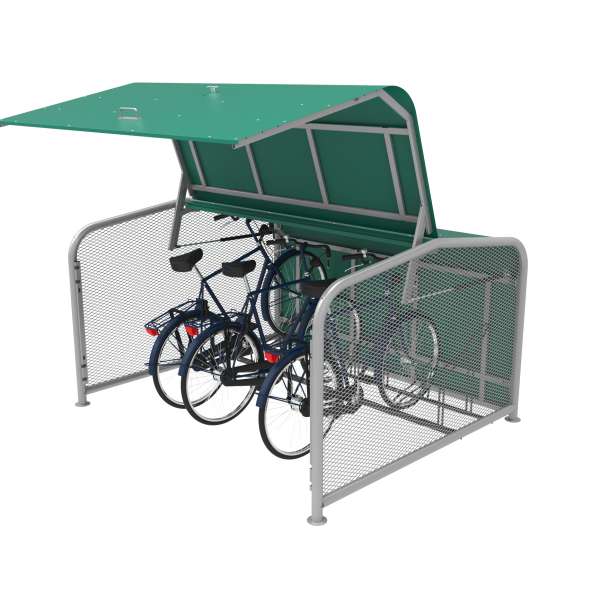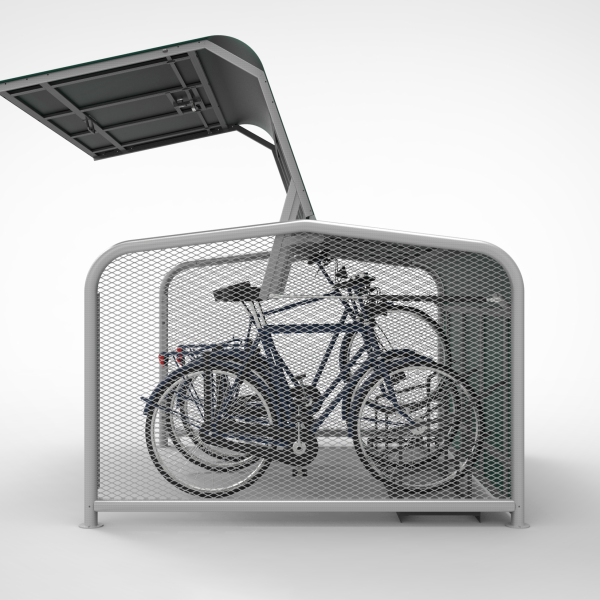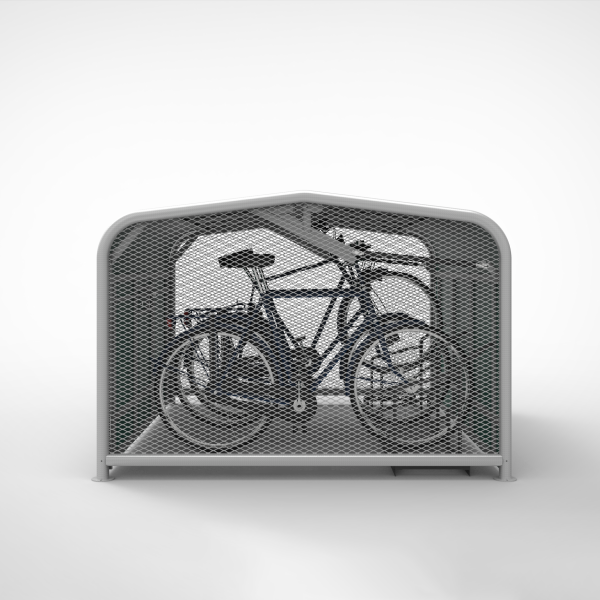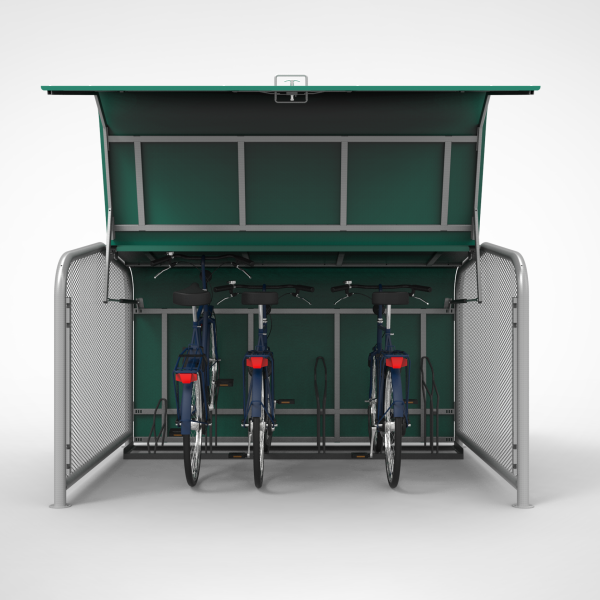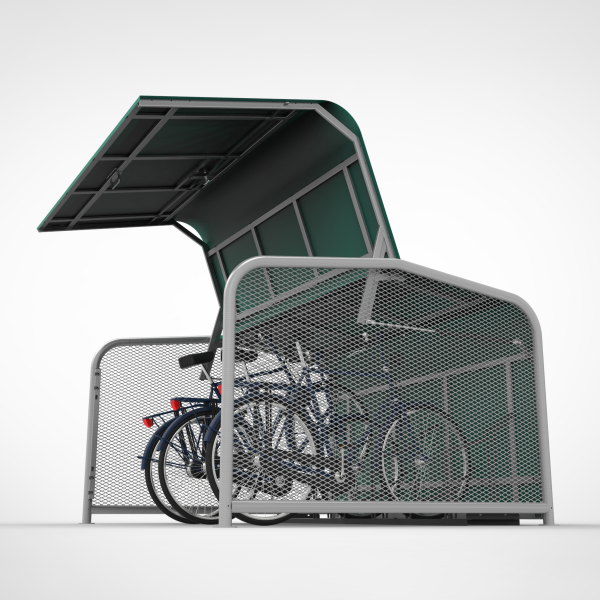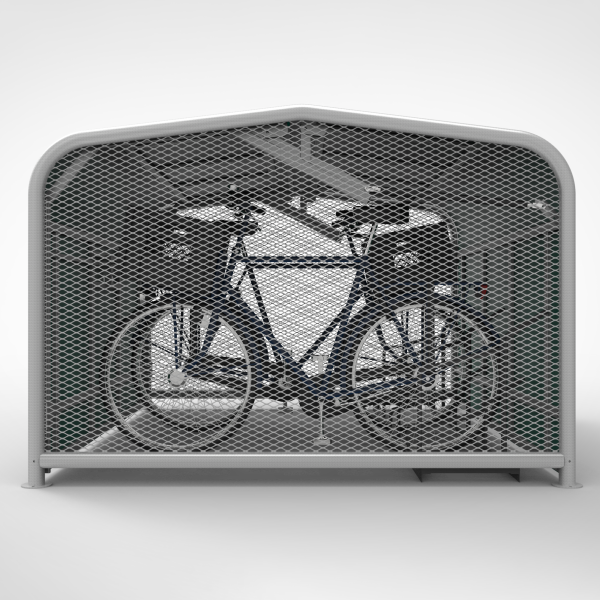 The FalcoPod bike hangar is a robust on street cycle parking solution to meet the needs of cyclists who don't have access to private cycle parking facilities. Operating like a giant bread bin, each hangar is a secure and lockable unit capable of accommodating up to six bikes each.
The upgraded FalcoPod bike hangar design is the first and only bike hangar available in the UK where you no longer have to remove baskets or child seats when parking your bike!
Falco design is both evolutionary and innovative by nature and the new FalcoPod is no exception. It is a third generation of 'bike hangar' type product building on the pedigree of the original street locker the 'Midi Bike Box' with some great new features over existing products as follows:
Size - fits in half a car parking space and houses 6 bikes, with covered weather protection.
Family inclusive – with an ergonomically improved design, the additional space/height (55% more) means there is no need to remove child seats or baskets from the back or front of bikes.
Bike security - the six place FalcoSound bike rack has three locking points including the ability to use a 'D' lock through the rear wheel and frame.
Easy access - single door with integral lock and gas strut for assisted lifting.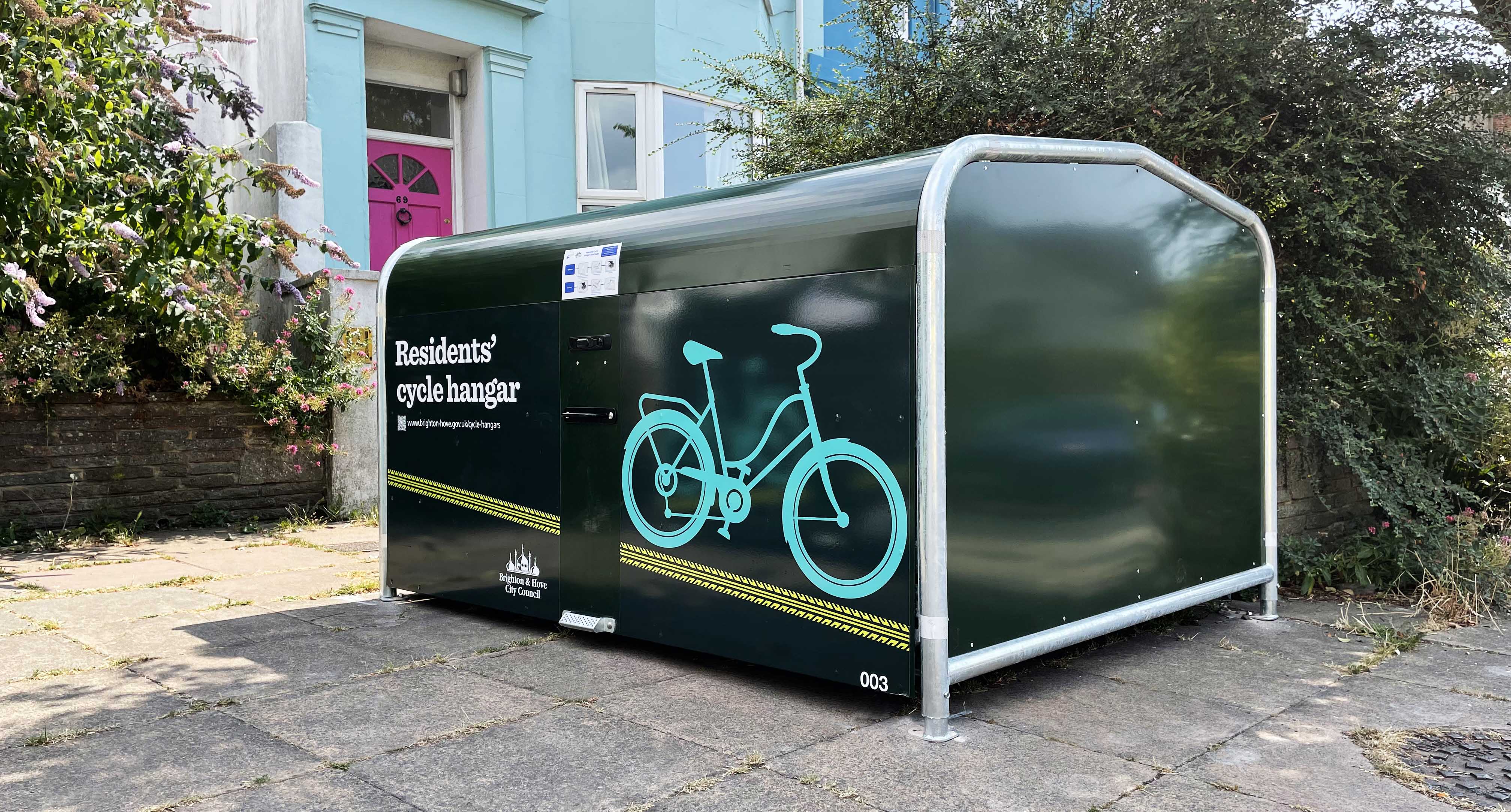 A series of 100 Next Generation Bike Hangars with Smart Mobile App Access for Brighton and Hove City Council. 
Graphics and Branding Options
Make your cycle store stand out and add some creativity by adding graphics or branding to the outer skin. Have a network? Then why not be innovative and include corporate branding and logos, patterns, maps, themes or photos to your FalcoPod or FalcoPod+ cycle store as demonstrated on the images here!
One of the great features of the FalcoPod is how attractive it can look with some great designs (see images attached and below)! It's smooth exterior cladding which makes it ideal for the application of graphic designs and 'wraps'!
A FalcoPod wrap is ideal for sprucing up your neighbourhood, promoting a campaign or event, or even advertising to help the Borough bring in some extra revenue. Falco has its own in-house marketing department and produces designs free of charge for clients, saving on time, money and hassle, whilst our vinyls partners at 'The Edge Design' make sure your designs are perfectly applied.
Colour options - the FalcoPod is delivered with a powder coated roof cladding to your specification, choose from any of the 192 RAL colours.
Personalise - the FalcoPod your way by adding logos, graphics, maps - the flat surface is much better able to receive graphics and vinyls than corrugated cladding.
Cladding – can be fitted with mesh (standard), sheet steel, pierced steel, Trespa or any other side cladding of your choice.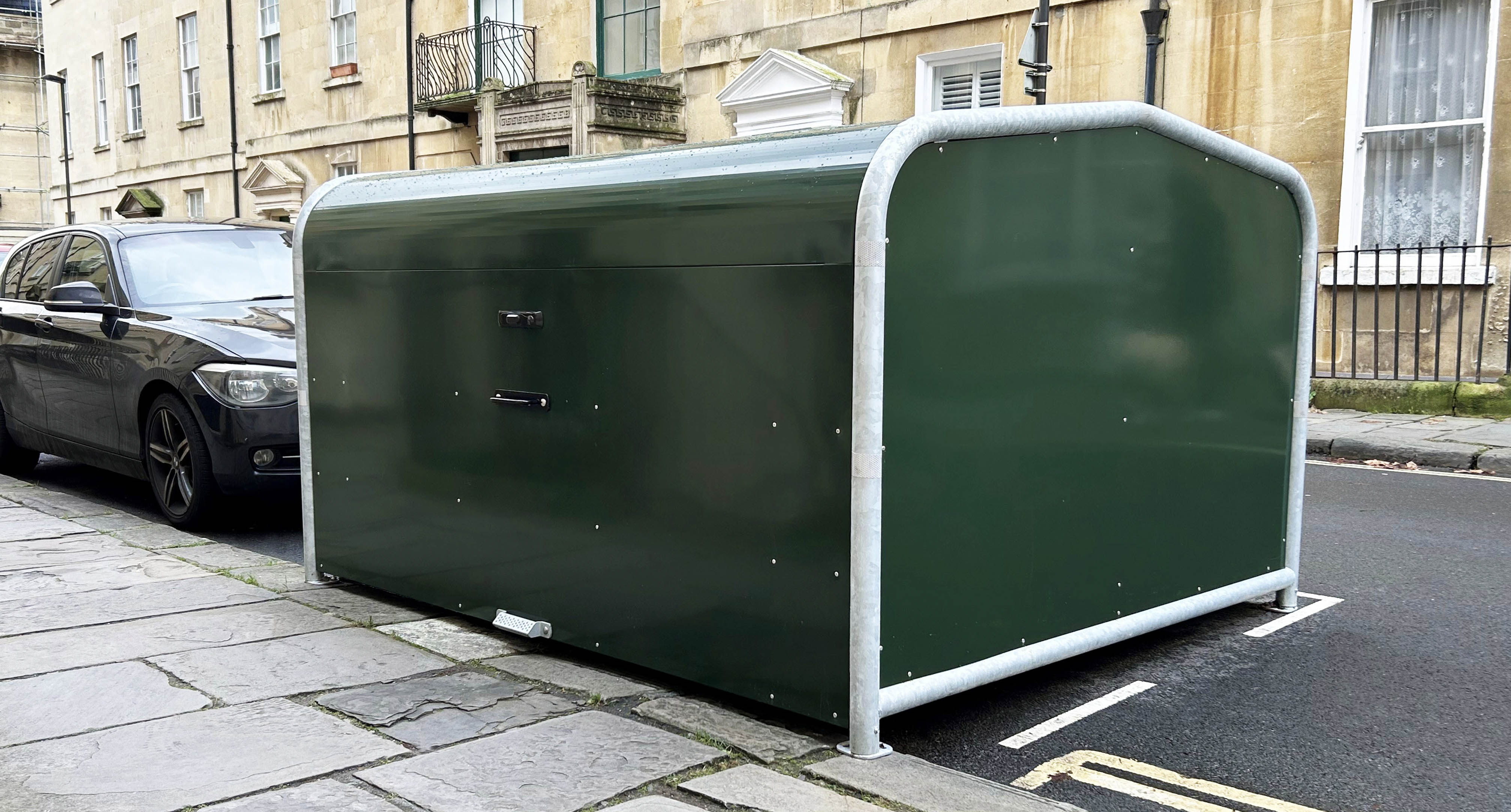 Series of Bike Hangars for Bath and North East Somerset Council

FREE Artist Impression Graphics to Help Visualise Your FalcoPod Bike Hangar
Falco's design department can provide FREE artist impression graphics to help visualise your FalcoPod Bike Hangar. The FalcoPod can host a whole range of company logos, pictures, graphics, patterns and maps, contact our sales team to receive your free artist impression graphic!
Here are some great ideas to give your FalcoPod bike hangar a real lift, it will give your users a smile when picking their bike up on a dull Monday morning!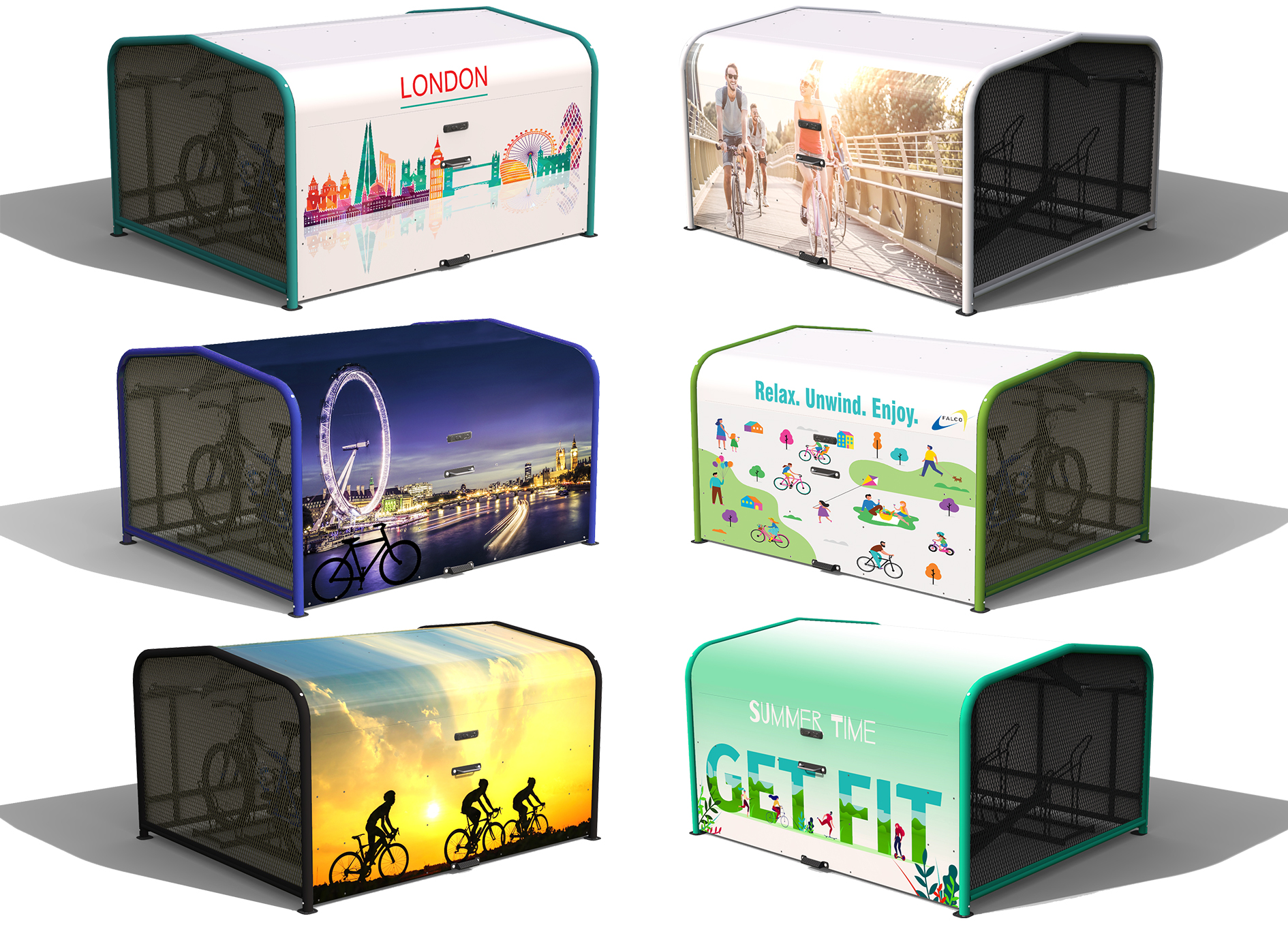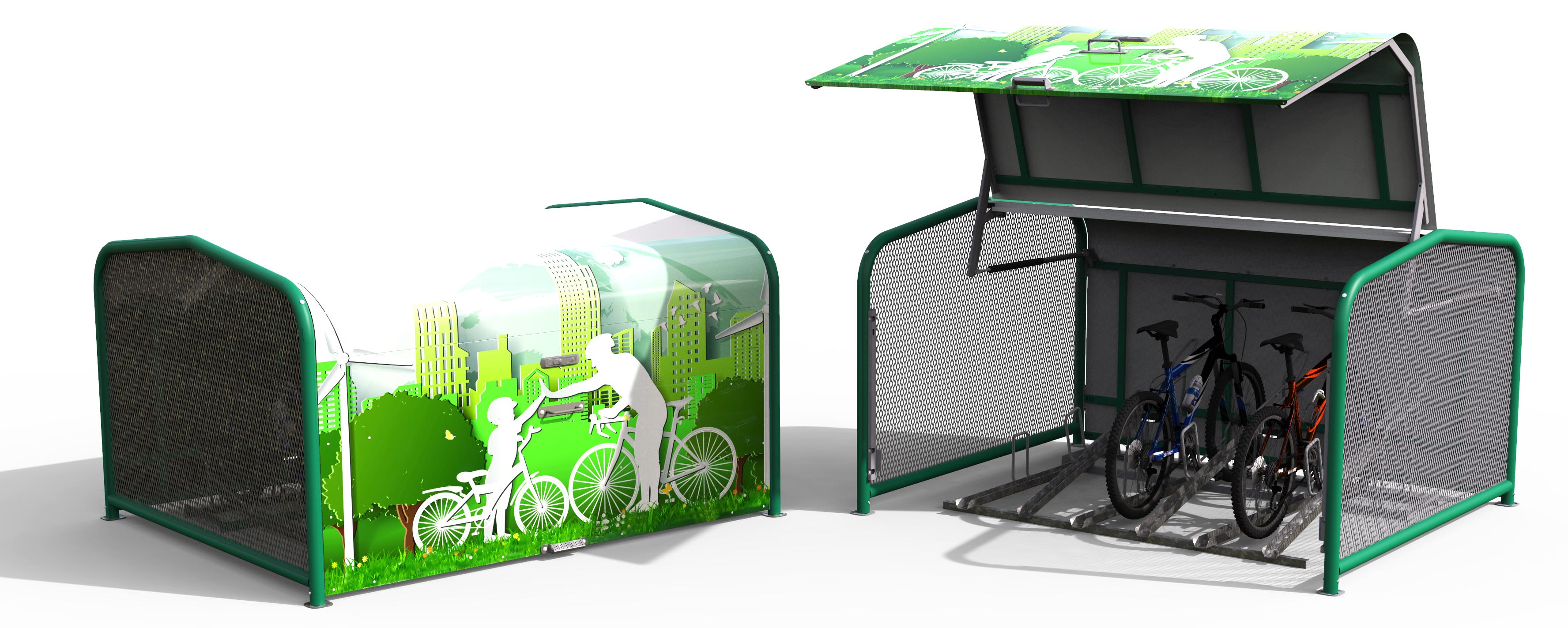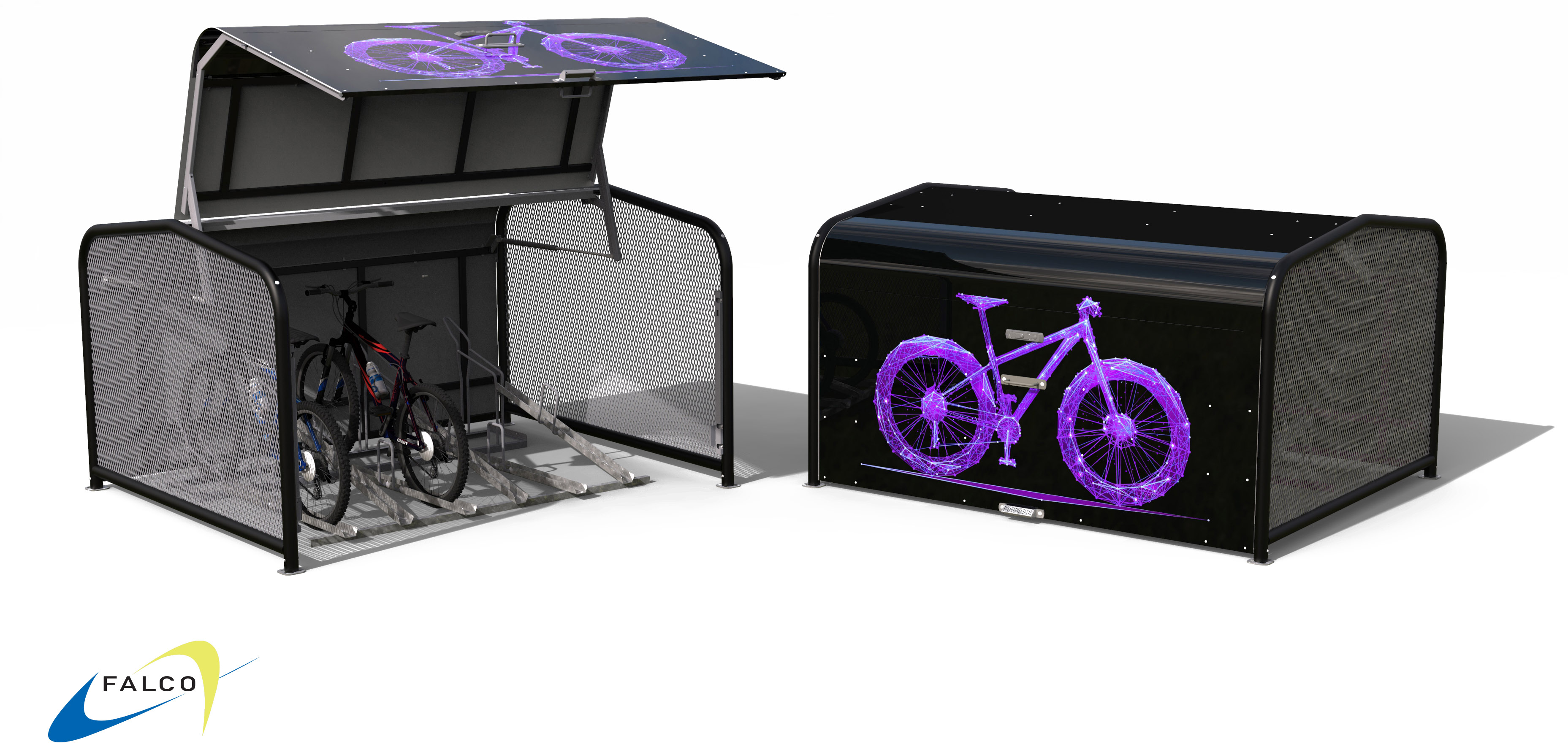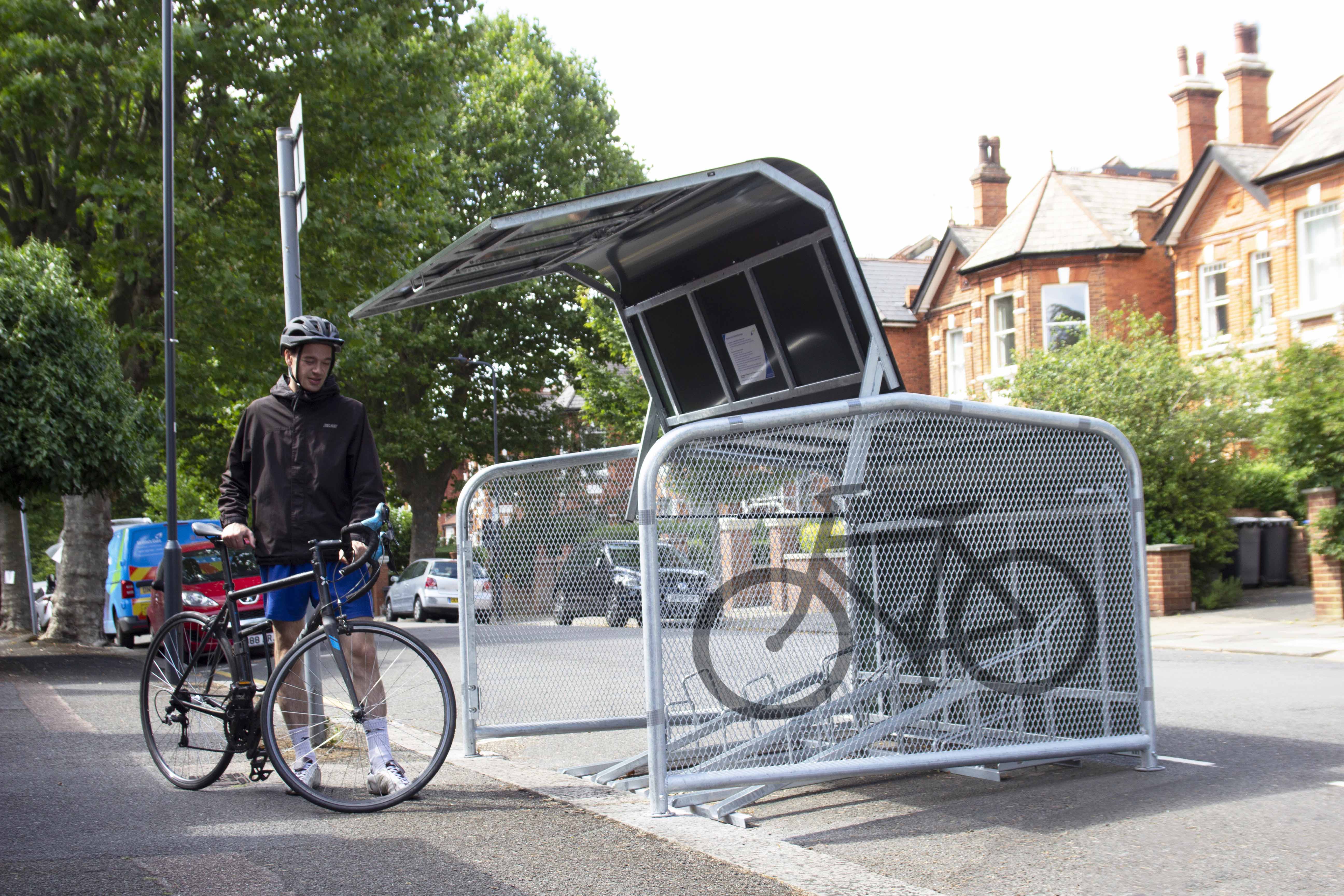 FalcoPod Bike Hangar with Cycle Stencil Logo on Side Cladding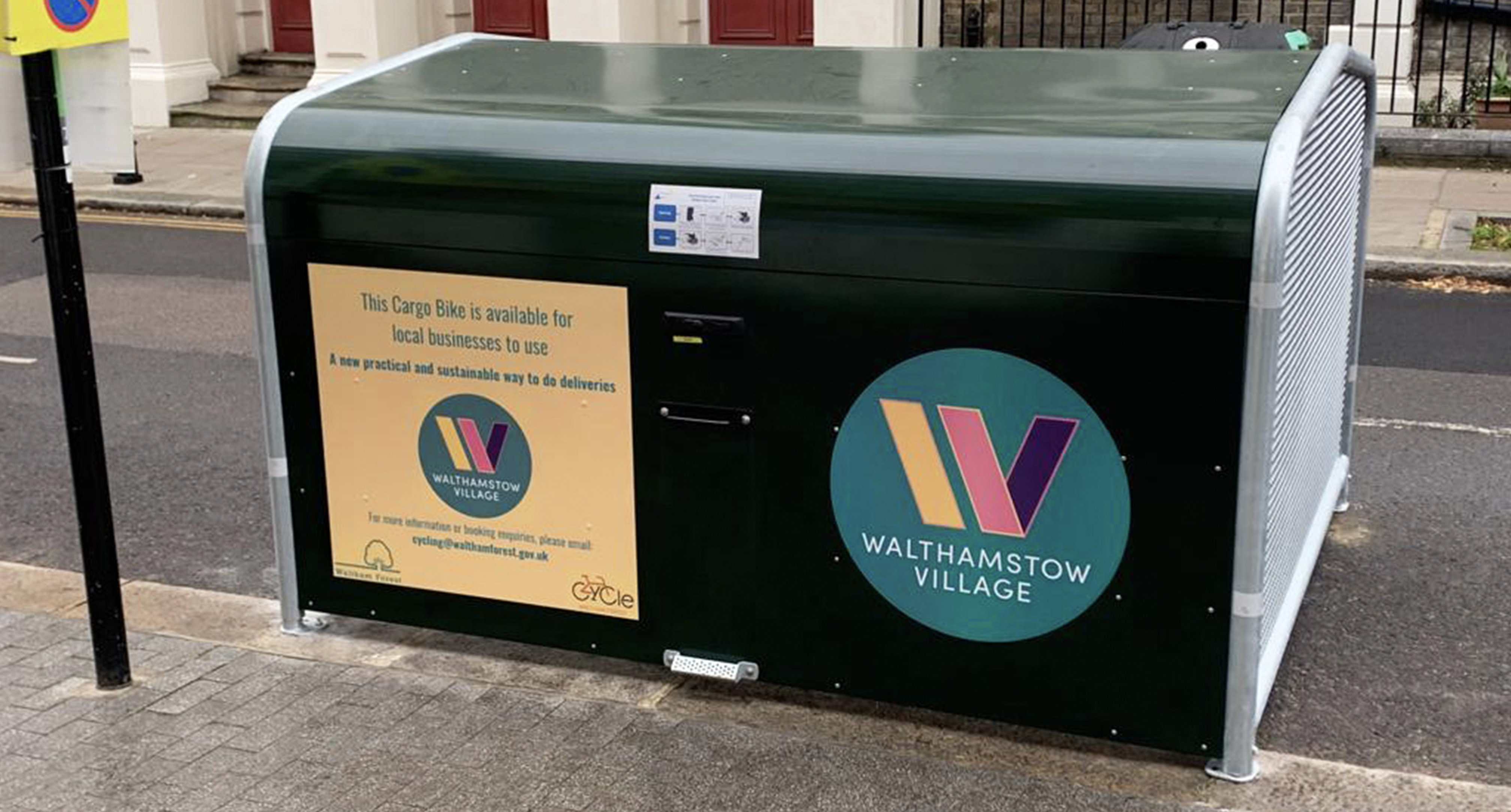 London Borough of Waltham Forest - Cargo Bikes for Business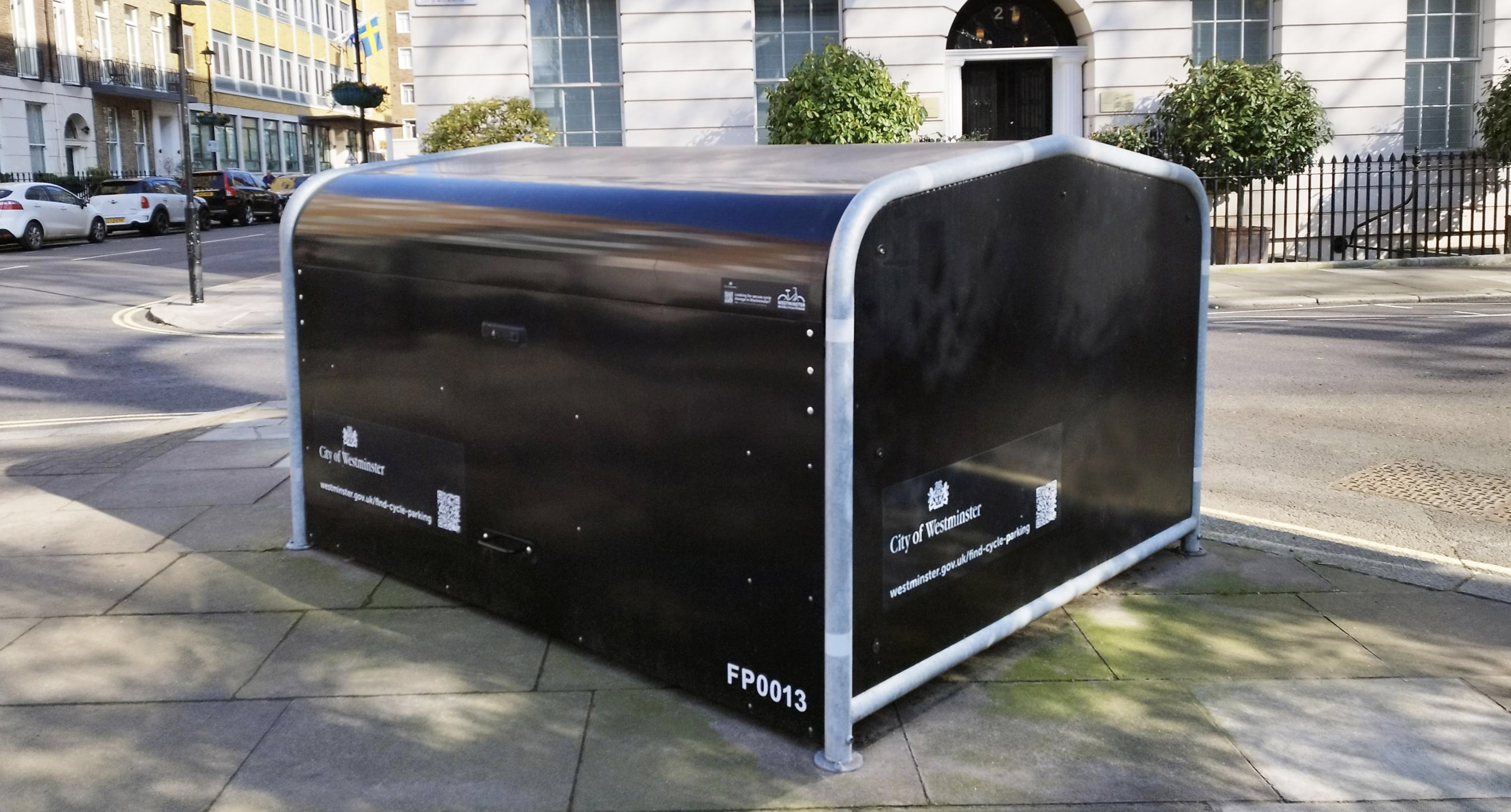 Series of Bike Hangars for Westminster City Council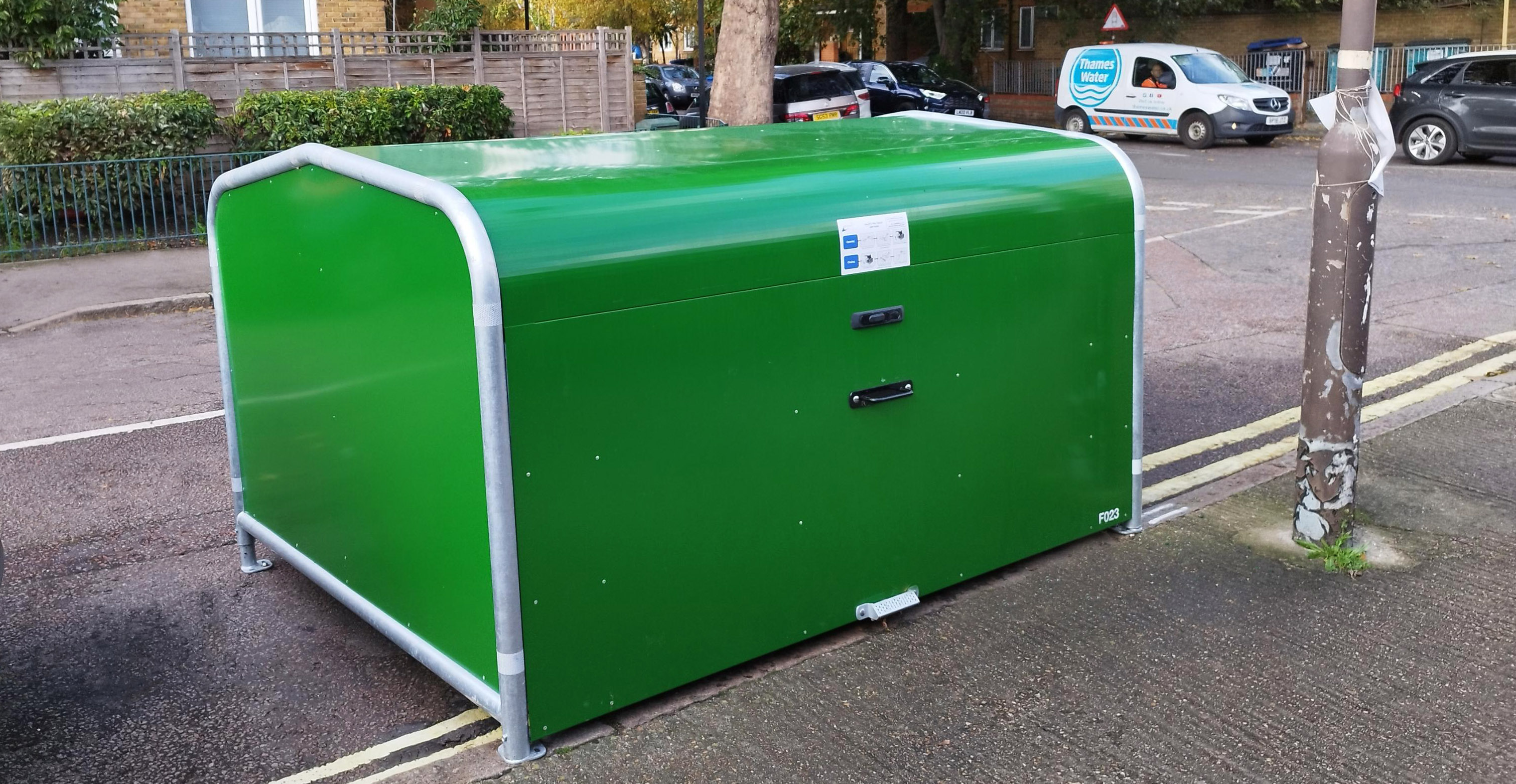 Series of 72 Bike Hangars for London Borough of Southwark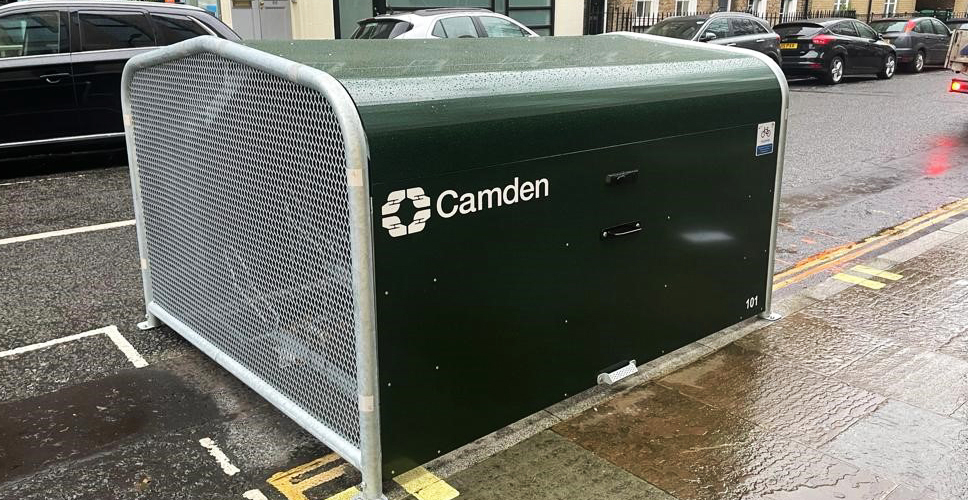 Series of 24 Bike Hangars for London Borough of Camden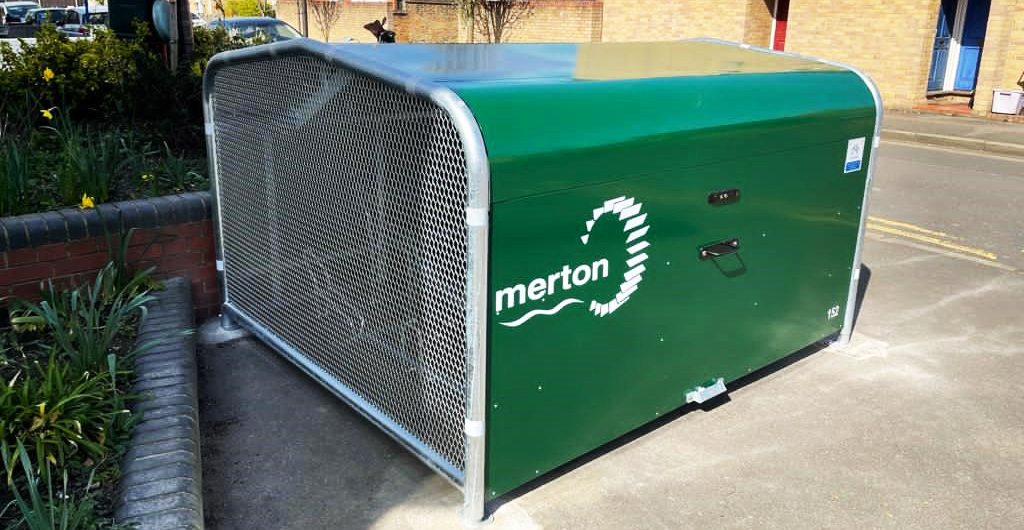 Series of 20 Bike Hangars for London Borough of Merton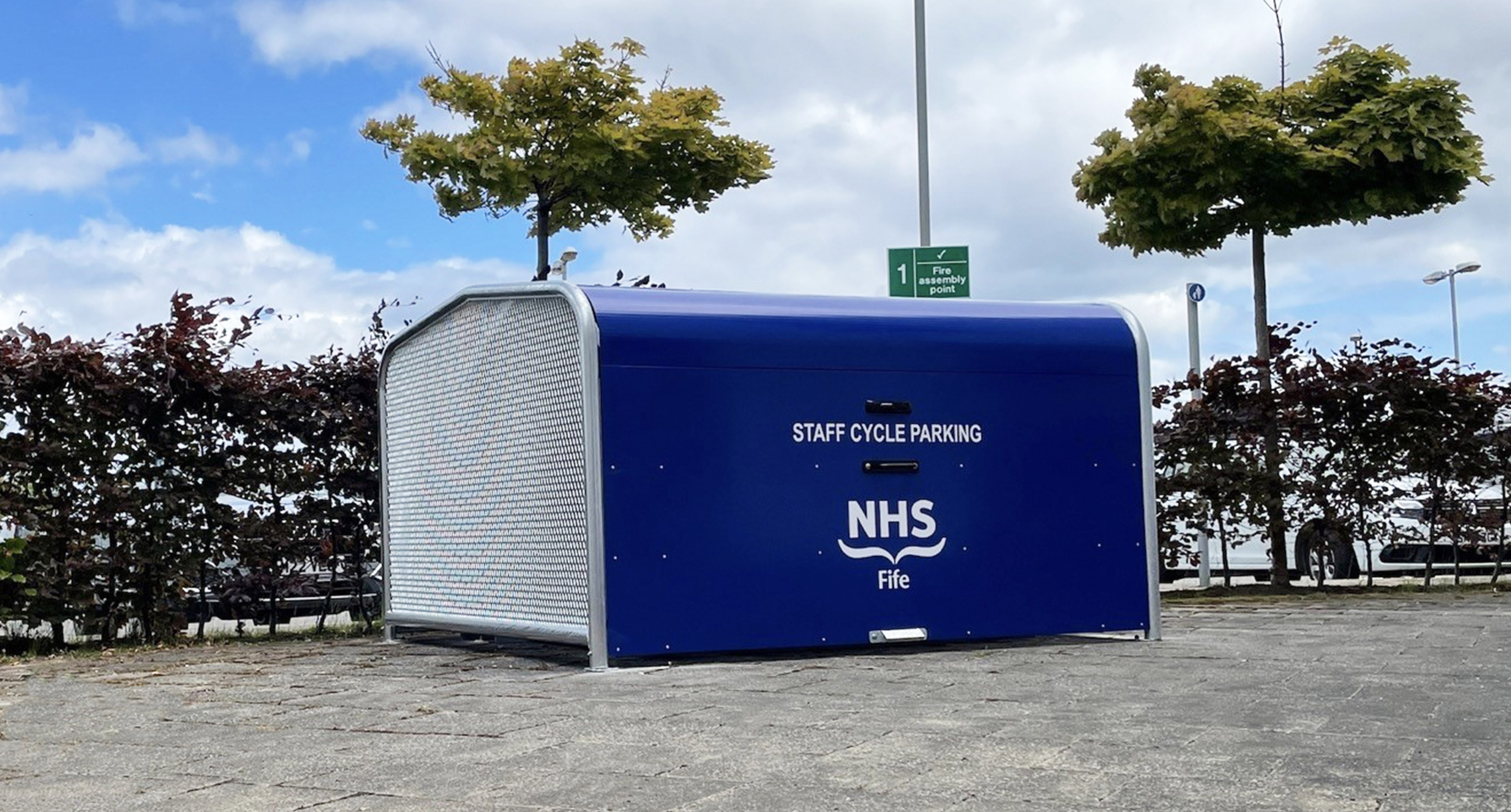 FalcoPod Bike Hangars for NHS Fife

FalcoPod - Robust On Street Product
Environmentally sustainable - manufactured from 100% recyclable robust welded steel framework hot-dip galvanised steel hot dip galvanised to BS EN ISO 1461.
Safety - the FalcoPod has been 'crash tested' and is much more robust that current products for on-street use (see our video below).
Strength - riveted aluzinc roof sheets.
Surface mount - bolt down option with 'floating' feet to tolerate uneven surfaces.
Visibility – the hangar is fitted with highly reflective marine grade Solas tape to each corner of the frame for better on-street visibility.
FalcoPod+ - Options and Features
Want it bigger, customise the size to suit your space.
Powder coat your steelwork in any of the 192 RAL colours.
Solar or mains powered automatic LED lighting.
E-bikes – the FalcoPod has the option to integrate charging points for the latest e-bike designs (requires mains power feed).
Lock options – the FalcoPod accepts a number of futureproof locking options including
    > High security
    > Master key
    > Electronic access via smart phone app
FalcoPod-Cargo Bike Hangar
Already very common across Europe; cargo bikes, adaptive bikes and e-bikes are now making a real impact in the UK. With the recent uptake in cycling, coupled with more investment in cycle infrastructure, the conditions are improving for all cycling modes and that includes cargo, adaptive and e-bikes.
More information about the FalcoPod-Cargo can be found on the product page.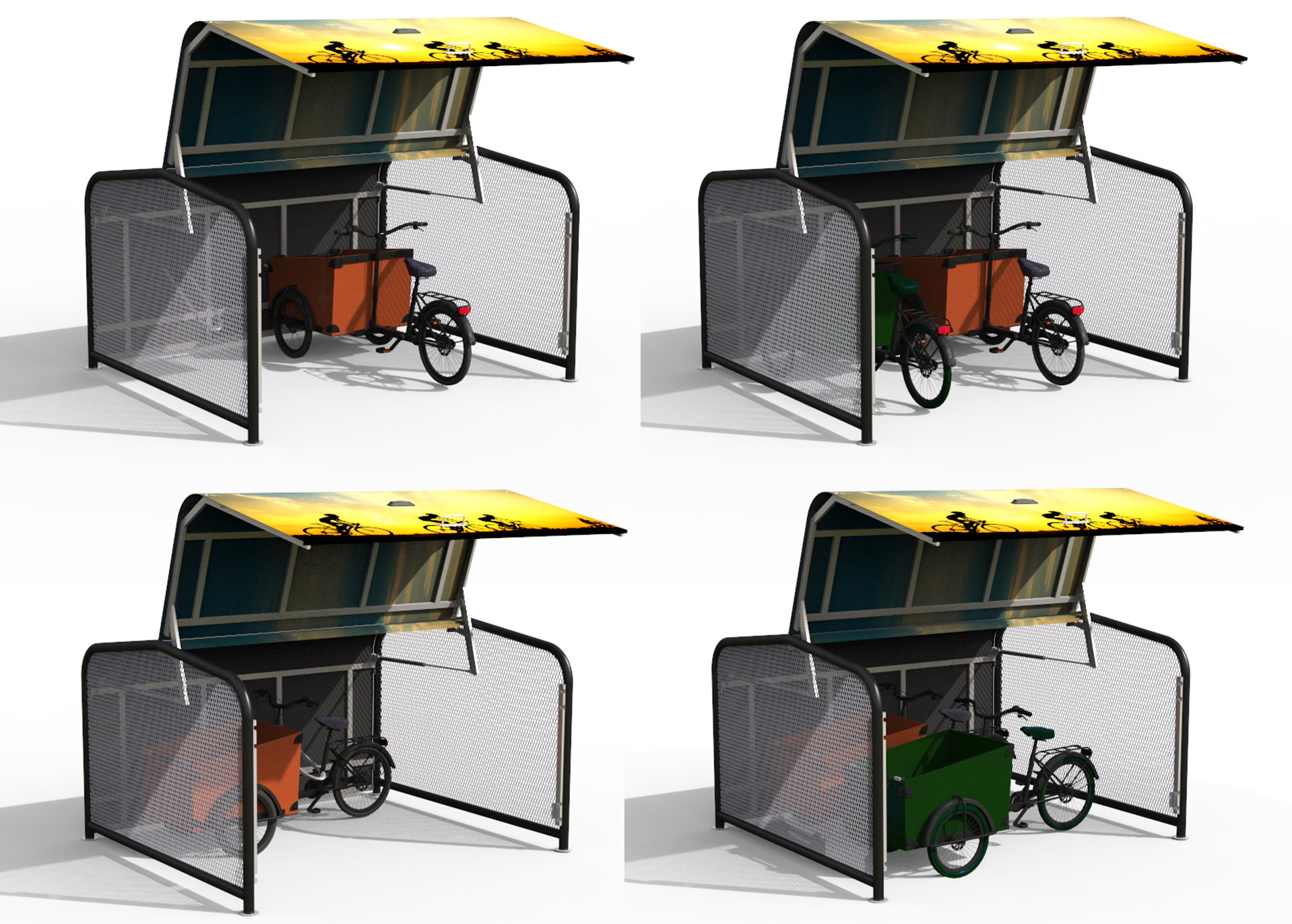 Dimensions
The standard FalcoPod measures 2475mm x 2070mm with a height of 1410mm. This provides a volume increase of 55% over current products for the same footprint.



Bike Hangar Security
With security being a key issue in the cycle parking industry and no more so when the facility is placed on a street, this theme was top of the list when we designed the FalcoPod bike hangar. Not only is the locker manufactured from robust welded steel and designed to withstand a 20mph vehicle impact (see our video here: https://www.youtube.com/watch?v=IGGms4CnD7s), most important was the decision to fit the next generation of swing-arm locks, with anti-jacking design, master key options and most significantly an electronic actuation.
A key feature of this lock was that it was also capable of being opened electronically, a feature that we've been working on since the FalcoPod concept was born last year. It was clear to us that the use of 'physical' keys have a number of disadvantages; they can lost, they need to be mailed back and forth, they require more management and a keyed lock on a facility can invite unwanted attacks. The electronic lock (or cycle hangar access control system) replaces this system with a keyless, electronic 'app' based locking system.
Mobile App Access
Users are able to download an 'app' to their mobile or smart device and once enabled by Falco's back office system, the user can open the bike hangar simply by pressing the app. Working on a short-range wireless communication interface, an app-based system brings a number of benefits to all parties:
• For users, it will offer a cheaper option - no more cutting new keys and mailing them.
• For the client it will be cheaper – it's a more cost efficient bike rental system to manage.
• For Falco it will be simpler and more eco-friendly – less administration and less paper.
A further benefit to clients using the electronic lock concept is that it can also be integrated into hubs and other cycle stores, so for instance a local authority which has a network of both bike hangars and cycle hubs can give residents access to their local bike hangar to pick up their bike for the morning commute and then enable them to use the same app to access the central bike hub at their local station. The back-office control means that each person can have a tailored access profile unique to them but controlled by the Borough based on their subscription. As a result of its importance to Falco and our clients we now have a patent pending on this concept (application number GB2012118.2).





Survey, Delivery and Install
With over 28 years' experience Falco has a knowledgeable and qualified Operations team able to organise all the following for you free of charge:
Surveys and Proposals – free site surveys and advice for the siting and development of cycling facilities, we provide free quotations and proposals with cgi renderings.
Design and Development – we have our own CAD design department capable of producing 2D AutoCAD, 3D Inventor, BIM compatible Revit and cgi image rendering files - all free of charge. We carry £5m of Professional Indemnity insurance to cover design responsibility.
Manufacturing and Storage – Falco is an OEM manufacturer with its own carbon neutral manufacturing facility, with both ISO900 and ISO14001 certification, CAD/CAM robotic manufacturing, automated welding and steel stock holding. We have our own in-house powder coating facility and a large warehousing system.
Products - a full range of cycle parking facilities and added value products including CE marked shelters and canopies which meet the UK CPR EN1090 regulations and DDR compliant products. We also have a range of 'added value' products such as monitoring and detection systems, wheeling ramps, electric bike charging and automated cycle parking systems.
Delivery and Installation - we own our own fleet of ULEZ compatible HGV's with various mechanical lifting options (to limit manual handling). We have teams of installation staff, some with NRSWA Street Works certification. We perform full CDM management and hold certification for CHAS, RISQS and ConstructionLine Gold. We provide a full groundworks service and structural calculations for the preparation and provision of foundations.
After Sales – Falco always works in partnership with our clients and are committed to the client for the duration of the contract and beyond and are on hand any day to provide assistance, visit site or help with ongoing requirements.
FalcoPod Bike Hangar Vehicle Impact Assessment
Contact
For more information on the FalcoPod or to find out how the FalcoPod can complement your cycle parking scheme, please contact our helpful sales team on (01538) 380080.
Information & downloads

Drawings

RAL colours
Also in the Hangar series: