Home About Falco Falco: Circular Economy
Falco: Circular Economy
The Circular Economy – What is it and why it's important?
A circular economy is a systemic approach to economic development designed to benefit businesses, society, and the environment. A circular economy is an innovative approach to a traditional linear economy (make, use, dispose) whereby we keep resources in use for as long as possible, extract the maximum value from them whilst in use, then recover and regenerate products and materials at the end of each service life.
So Circular Economy intends for a world without waste. We must ensure that raw materials, parts and products retain their value. This also means that if we really want the concept to work, we must all work together!
Circular Economy isn't just about raw materials or pollution alone, it is also about entrepreneurship - fulfilling business through value creation, financially and socially, innovation and better customer relationships.
Falco intends to be at the forefront of cycle parking Circular Economy, which is inextricably linked to the product range and it's commitment to stimulate the use and comfort of bikes. Thus contributing to sustainable mobility.
Cutting a long story short - circularity is a new way of thinking! But above all, by doing together!
Renewable Energy
Renewable energy sources such as the sun and wind do not cause air pollution and this type of energy is 'inexhaustible' in contrast to coal, oil and gas. It is this reason alone, Falco has invested in 1787 high-tech solar panels which are installed across our offices and production facilities.
This mass installation ensures Falco is a completely energy self-sufficient company.
In addition, a windmill installed at the front of the building provides even more renewable energy to the business. Furthermore, all lighting has been replaced with sustainable LED lights.
Durable Materials
Wherever possible, Falco utilises sustainable materials throughout its product ranges. Falco is one of the first companies in the Netherlands to become FSC certified. This means that all wood is accredited to the FSC quality mark of the Forest Stewardship Council®. Falco BV is certified under registration number: CU-COC-008530 and the Falco subsidiaries in the United Kingdom, Germany and Denmark can also confirm the certification status.
In addition to wood, steel is also a common material used throughout the product range and is 100% recyclable (even when galvanised). Corten steel is also used at Falco which again, is 100% recyclable, boasts low CO2 emissions and last just as long as regular steel!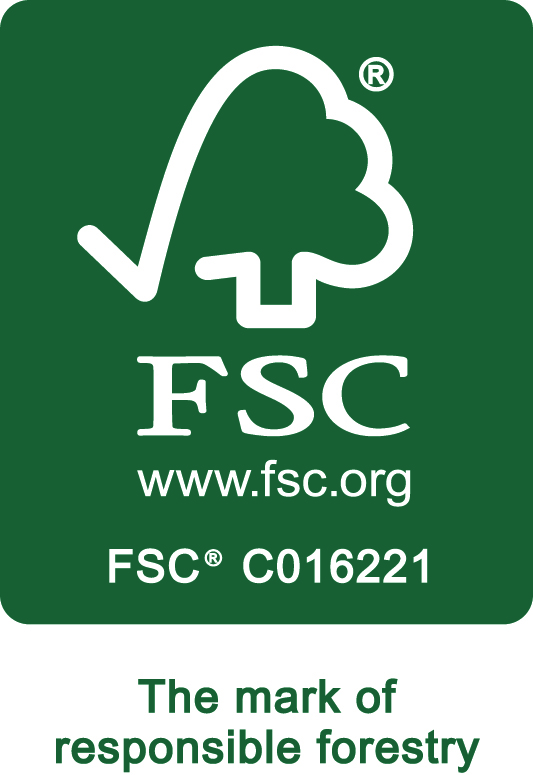 Sustainability and Circular Products
All products ranges are contemporary and durable, typical of a Falco product. For over 60 years Falco has been at the forefront of the cycle parking and street furniture market and has built up a renowned reputation for manufacturing products that exceed in both design and durability.
Falco's operations have supported the Circular Economy for many years, simply manufacturing products with environmentally friendly products, that can last for decades and at the end of the product life can be 100% recycled and manufactured back into a brand new product. By hot-dip galvanising and powder coating steel, significantly enhances the lifespan of the product and retains its value for as long as possible. All unused steel accumulated throughout the manufacturing process is conveniently collected and sent back to a steel recycling company. In addition, more and more products are available designed in such a way, that individual parts can be easily replaced without affecting the rest of the product and increasing the product lifespan.
Falco is researching even more possibilities when it comes to product circularity and the circular economy. Product development is a crucial aspect to support this. It is the intention of Falco, to design products that can rotate even more productive in the circular economy. Researching designs for even longer life, for (dis) assembly, refurbishing and remanufacturing, but also for repair and maintenance and for (clean and high-quality) recycling.
Sustainable Employer
In addition to the requirements of ISO 14001, Falco has invested heavily in sustainable energy across its own series of production machines and fleet of transport vehicles - with its aim to manufacture all products in its own factory without the need to outsource.
In 2018 Falco installed a state-of-the-art powder coating facility, essentially directly controlling the finished product from each line, improving product traceability and improving client lead times. By keeping all operations in house, provides Falco with a greater level of quality control and a significant reduction in unnecessary transportation. Falco employees work in a modern welding fume extraction facility, with separate water extraction and an excellent and safe working environment. Even better still, this initiative is great for employing a workforce from the local region!
Falco's own fleet of transport vehicles comply with Euro V and forms part of a wider strategic plan of investments into its manufacturing, delivery and installation departments. All vehicles only carry out the required journey in question, with numerous deliveries combined into one journey, to reduce unnecessary transport.
Falco is pleased to report its staff turnover is exceptionally low and as a positive and proactive employer, Falco continuously invests into employee training and personal development. In addition, Falco has supported numerous apprentices and provided work experience opportunities to support the next generation into finding employment.
Moving forwards, a graduate from University Twente has identified ways Falco can improve its circularity through product design and research, use of materials and sustainable energy.
John Wermink has been employed as a Circular Manager at Falco since the 1st April. Johns role over the forthcoming years is to continuously develop Falco's support to the Circular Economy. For you, but also for the generations to come!