Falco's Guide to Cycle-Rail Toolkit 3
News & Blog
28 Jul 2023
Prepared by Transport Consultancy, Systra, on behalf of the Cycle Rail Working group (CRWG) and administered by Sustrans, the new Cycle-rail toolkit 3 was released on the 28th June 2023 and is designed to provide train and station operators with structured guidance on how to encourage more people to combine cycling with rail travel.
The new guidance was launched in Westminster by Minister of State for Transport Rt Hon Jesse Norman MP, Network Rail's Chair Rt Hon Lord Peter Hendy CBE and representatives from Great British Railways Transition Team (GBRTT), Chiltern Railways and Active Travel England.
The updated 'Cycle-Rail Toolkit 3' offers best practice advise to station owners, Train Operating Companies, local authorities, partners and other scheme promoters such as community rail partnerships and groups on making the journey to and from the railway station easier by cycle as well as advising on how best to provide space for cyclists and their cycles at stations and onboard trains.
Cycle Parking and Cycle-rail Toolkit 3
A core element of the new Toolkit 3 is of course cycle parking and Falco has been at the forefront of developing this concept over the last 20 years. Cycle parking must be secure, accessible and safe - a major component to cycle-rail success.
Cycle parking is a key component both inside and outside the station concourse.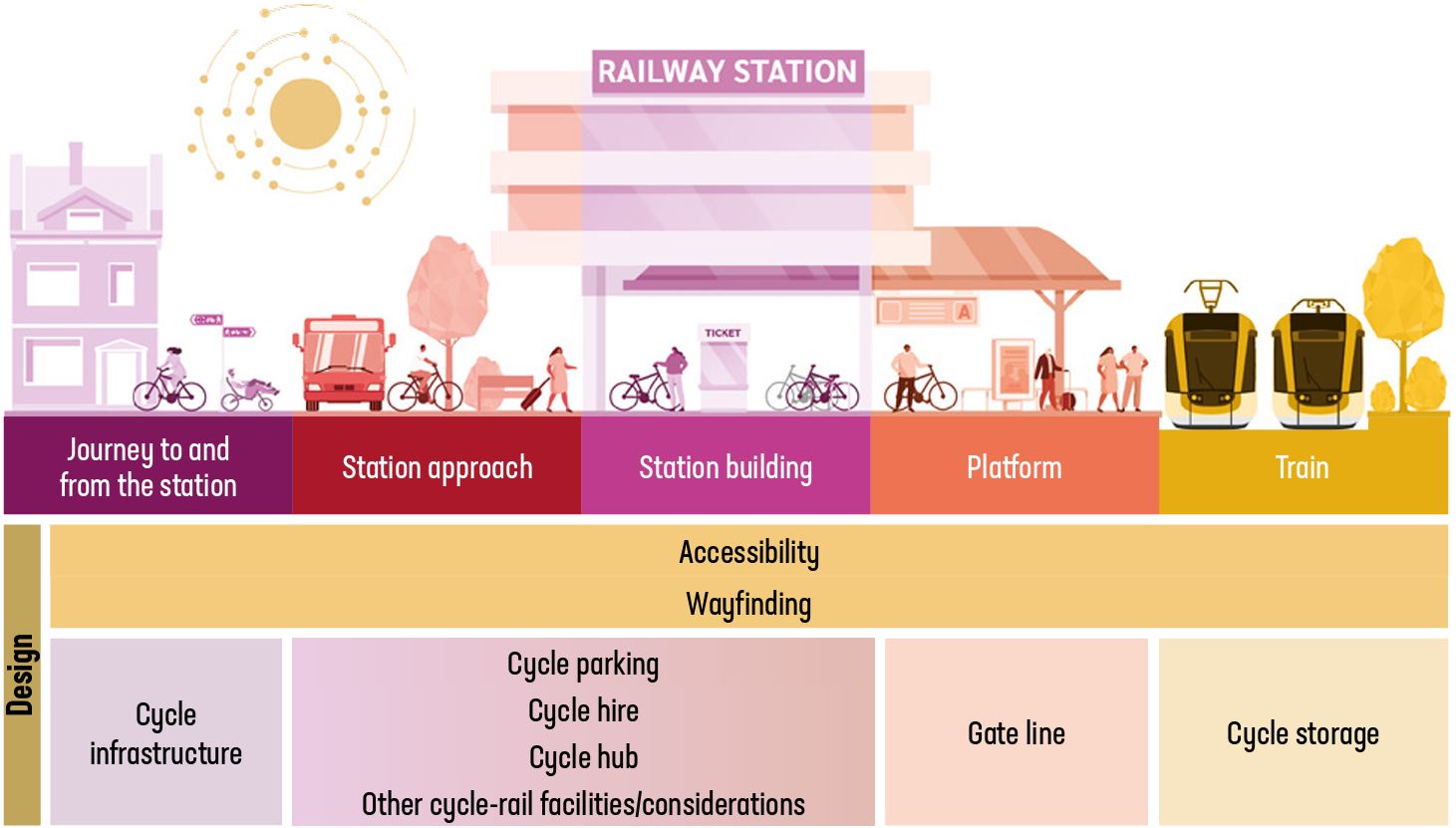 Source: Cycle-Rail Toolkit 2023
Cycle Parking – Wayfinding
According to the Toolkit, "wayfinding does not always have to be signs on posts".
Signage should be clear and positioned at key decision making points, i.e junctions. In addition, distances on signs should be given in minutes, rather than distances, which is easier to understand to the cyclist.  
For cycle users travelling to the station, signs and markings should guide people at key decision points along the track, eg junctions. Closer to the station building, signage and markings should show how to reach the cycle parking area, cycle hub, toilets, ticket office or other relevant station facilities.
For cycle users leaving the station, signs and markings should guide people to key locations such as the town centre, hospital, theatre, tourist attractions etc.
The Toolkit explains "Cycle infrastructure should be inclusive and accessible for everyone who wishes to use it. Design considerations include avoiding steep gradients, width requirements for cycle routes, surface quality and accessible cycle parking".
In order for station cycle parking to be utilised to its maximum potential, it should be well signposted, clearly identified, accessible and easy to use.
Cycle Parking System Types
According to the Toolkit, "Every station should provide adequate cycle parking for different types of cycles, including adapted and cargo cycles. Cycle parking should tie into routes to and through the station that can also accommodate a range of users and their cycles. Free, quick to access cycle parking, such as Sheffield stands, should always be made available alongside compounds, two-tier racks with gas assist and other long stay parking options".
Sheffield Stands are a cost-effective, widely available, simple to install and easy to use cycle parking solution, capable of accommodating all types of bicycles. To be effective, the Toolkit explains that Sheffield Stands should be positioned to allow for:
Easy access and use
To accommodate a variety of bicycle types
Not to impede pedestrian movement
Two-Tier cycle racks should be employed where there is a requirement to provide high density cycle parking in areas with limited space. Two-tier cycle racks are widely used across the UK, which are capable of accommodating twice as many cycles compared to any other traditional cycle rack or stand. According to the Toolkit, two-tier cycle racks should:
Display instructional signage on how to use the two-tier cycle rack.
Incorporate gas struts to facilitate the process of lifting a bike - enabling a wider demographic of cyclists to be able to use the two-tier cycle parking system.
Integrate a bar or loop to allow a cycle frame and at least one wheel to be securely fastened.
Allocate space numbers for each rack, so that defects can be reported and cycle spaces can be booked with ease.
Are robust in construction, high quality and operate quietly - gas-assisted upper racks tend to create the least amount of noise.
Cycle lockers can be used for cyclists who prefer to use individual cycle parking for increased security. According to the Toolkit, cycle lockers should:
Manufactured from mesh side panelling with an extra viewing panel at the front to monitor usage.
Should be located where passengers need to be and visible to station staff to deter theft.
CCTV should be provided to monitor activity at the front of the lockers.
Clearly communicate how cyclists can get access to the locker
Make it easy for cyclists to understand how to pay for the service. Consider an online booking system.
Staff should be trained on the process for hiring / accessing the lockers and also inspecting and maintaining the lockers.
Cycle lockers need to be managed and maintained, they are not 'fit and forget'.
Be mindful of the counter-terrorism security requirements of 'Land transport security'.
As lockers are not physically accessible for all users, always make alternatives available.
Cycle Compounds are secure, locked areas, often by positioning two cycle shelters face to face with the addition of a walkway cover and lockable gates. Access is usually controlled by an electronic key, fob, card or smartphone app. According to the Toolkit, for this type of cycle parking consider:
Make sure there are no openings large enough to enter the facility or pass a dismantled cycle through. Despite CCTV, thieves will identify and make use of such a weakness
Check CCTV and staff / passerby line of sight. If views are obscured, thieves can operate undetected. The space under canopies needs to be covered by CCTV or the canopy needs to be transparent. Mesh or slatted fencing around and overhead can provide clear views in and out.
It should not be possible to reach the internal door release mechanism from outside.
Access via fob, card or app helps to monitor the amount of use, and provide valuable information on the times of use.
The ease of signing up for and getting a key, fob or access card, or registering on the app. It should be easy and staff should be trained and able to advise
The number of keys, fobs or access cards needed. UK and Dutch experience suggests that 3 times as many keys as cycle stands can be issued due to differences in users' travel patterns
Provide users with advice on how to use the compound, securely lock their cycle and report a theft.
Automated Cycle Storage are advanced cycle parking systems designed to systematically park bicycles above or below ground. They are capable of taking hold of a user's bike and automatically parking it in a rack or carrousel.
Cycle Hubs are still a relatively new concept in the UK and are a development in the recent growth in cycling.
A core element is usually cycle parking, coupled with a multitude of other services to support the cyclist.
Within the context of cycle-rail travel, a cycle hub is defined by the Toolkit as "a place where various cycle facilities come together, such as cycle parking, cycle repair services, cycling information, and sometimes lockers and showers."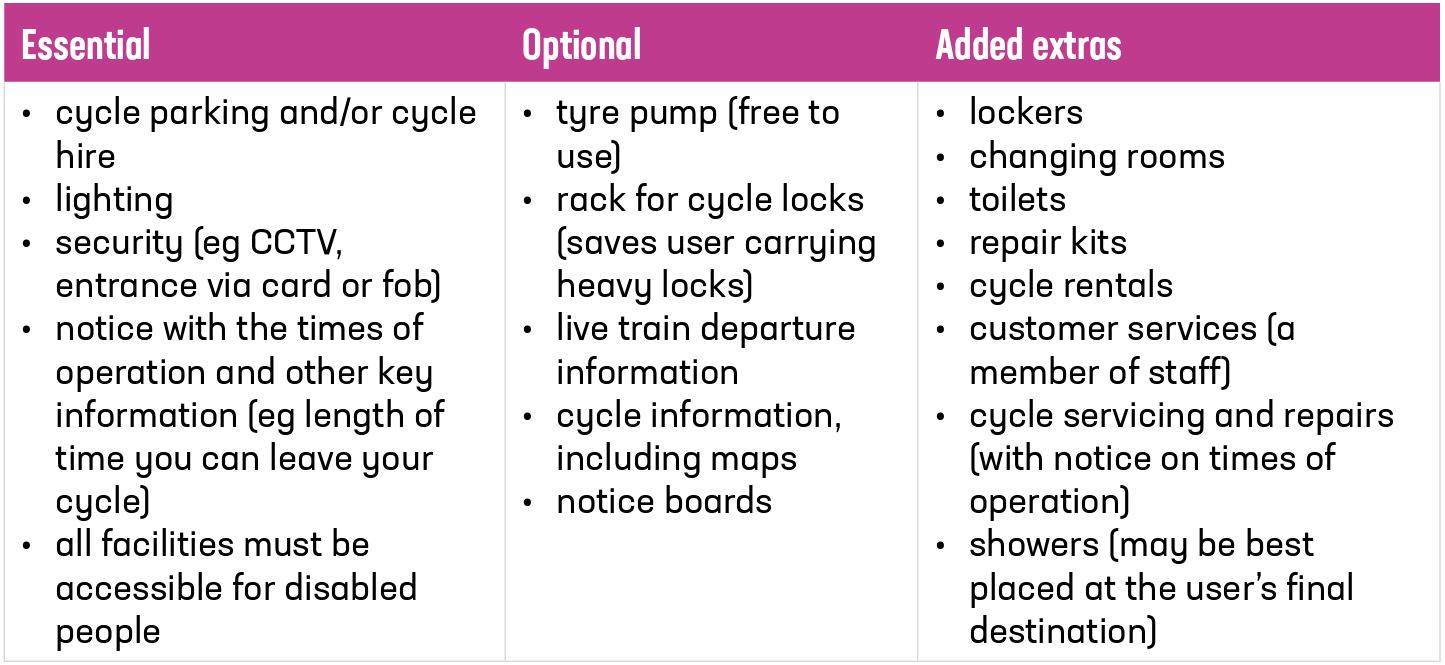 Source: Cycle-Rail Toolkit 2023
Other added extras could include vending machines stocking a range of bicycle accessories – from repair patches, inner tubes and tools, to cargo bike parking, e-Bike charging racks, e-bike battery charging lockers, seating and litter bins. This type of facility is common amongst Dutch cycle parking facilities manufactured, supplied and installed by Falco.
A copy of the Cycle-rail Toolkit 3 document can be viewed by clicking here.
For more information about the Cycle-rail Toolkit 3 or how Falco can assist your cycle parking scheme, please contact our helpful sales team on 01538 380080.