Prestigious visit to the Houses of Parliament

News & Blog
5 Sep 2011
Sales Co-ordinator Lucy Baker, was privileged to have been invited to attend a parliamentary reception at the House of Commons last month after her success story was featured in a landmark publication. Skillsbase Apprentice Lucy Baker, 20, who work's in Falco's sales office said she was honoured to be featured in `Colleges Now and Beyond`, which is published by the Association of Colleges and sets out colleges' contribution to the economic and social well being of the nation.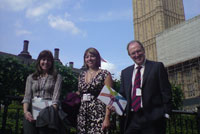 Falco MD Jeremy Green, Leek College vice principal Julia Leonard and Skillsbase Director Graham Logan travelled with her to the celebratory reception hosted by the Association in the in the Strangers Dining Room on June 21. Among those present were new Moorlands MP Karen Bradley and Further Education Minister John Hayes and Minister of State David Willetts. Director Graham Logan said: "I'm delighted that Skillsbase apprenticeships are having such a positive impact on local firms like Falco in such challenging economic times."

Falco manufactures high quality street furniture and cycle parking systems as well as shelters, canopies and walkways for a wide range of applications including; colleges and schools, the public realm, external works and all outdoor scenes including public and private developments.