Our latest wrap for the ingenious FalcoCrea Cycle Store!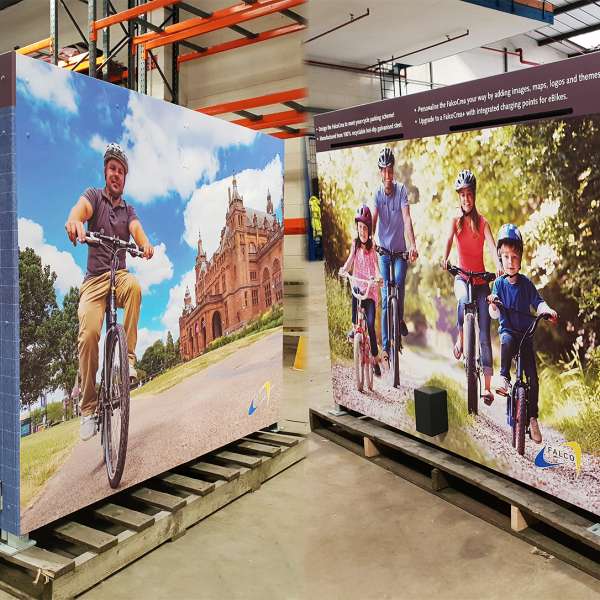 News & Blog
21 Sep 2018
This is the latest wrap design for the increasingly popular FalcoCrea cycle store with eBike charging option. Designed to combat the requirement for secure on-street cycle parking, the FalcoCrea provides cyclists with maximum cycle protection, in an impressive purpose built pod design. 
The FalcoCrea however, is different from any other traditional cycle store or locker. The available options to customise the unit are infinite, with a never ending amount of design options available to the client. Whether its patterns, maps, themes, photos, logos, symbols, numbers or even a collage, use your creativity and transform the FalcoCrea into a symbol of cycle parking excellence!
The sleek and unobtrusive design of the FalcoCrea makes it an ideal cycle parking solution for areas with limited space. The FalcoCrea is an ideal product for community neighbourhoods, companies and cycle schemes, where several branded and secure cycle stores may be required.
If a design wrap isn't your thing, the FalcoCrea can be cladded in a range of different options including steel mesh, hardwood, Trespa, Aluzinc sheet or perforated plate.
The FalcoCrea is available in two versions, one for traditional bikes or one for eBikes. With the addition of electric cycle charging points, the FalcoCrea can be easily converted into a secure on-street cycle store for eBike parking. Additionally, a host of other features such as a solar PV panel which can be fitted to provide LED lighting for those dark Winter nights, are also available.
The FalcoCrea can securely park up to four bikes using Sheffield Stands or an A-11 cycle rack.
The FalcoCrea is manufactured from 100% recyclable hot-dip galvanised steel to BS EN ISO 1461 and can be polyester powder coated in any of the 192 standard RAL colours upon request.
For more information on how the FalcoCrea can be incorporated into your cycle parking scheme, please contact our helpful sales team on 01538 380080.