New Innovative Skyline Seat!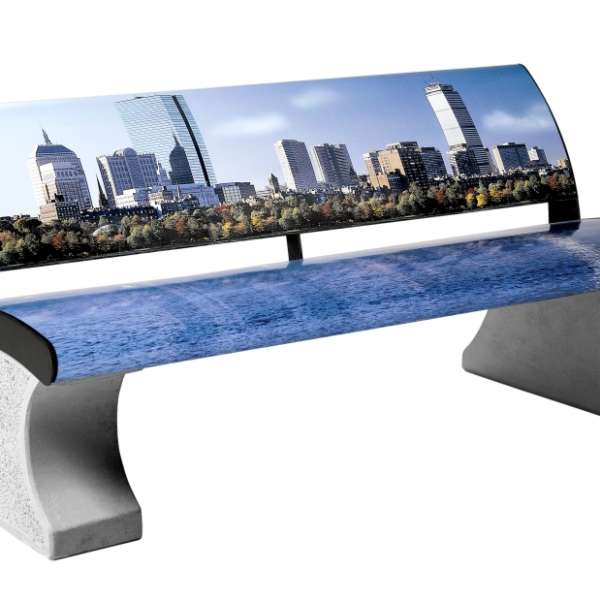 News & Blog
23 Apr 2012
This is Falco's new Skyline seat available from our Vasart range of concrete street furniture - it has a truly innovative design! With a unique digital printing capability that allows the seat to be transformed into an delightful and eye-catching statement, the Skyline is a well suited product to highlight a location, treasure a past memory or stimulate a theme!
The back rest is manufactured from 3mm thick corrosion resistant steel mounted on 8mm thick supports. The back is subsequently coated with a polyester resin for outdoor use and covered with a digitally printed design of your choice! The seat itself is manufactured from a reinforced marble aggregate with a lightly stippled finish and all ironmongery is stainless steel. The picture can be customised to the client's design (minimum resolution 50dpi).
The Skyline seat is also available as a bench.
Dimensions Seat
The seat has a length of 1900mm, a width of 720mm and a height of 900mm.
Bench
The bench has a length of 1900mm, a width of 720mm and a height of 480mm.
Vasart Street Furniture Collection
Our Vasart product range includes all aspects of street furniture, all of which are co-ordinated and manufactured from reinforced marble aggregate to fit in with any street furniture design scheme! These include a comprehensive range of seating and benches, litter bins, bollards, planters, cycle stands and ashtrays. A Recent installation includes a series of popular Tribune seats for the Wokingham IQ Winnerish Estate.
About Falco
Falco has been designing, manufacturing, supplying and installing cycle parking systems, canopies and street furniture since 1951 and can help clients at any level in the design process. Our services include free site surveys, free CAD design and turn-key project management. We also employ our own series of installation engineers who can supply and install all products UK wide.
For more information about the Skyline seat or bench, or any other product from our street furniture collection, please contact our helpful sales team on (01538) 380080. Alternatively our main brochure can be requested free of charge by visiting the main brochure tab to the right of our homepage.