New FalcoSpan Canopies for Ysgol Y Felin Primary School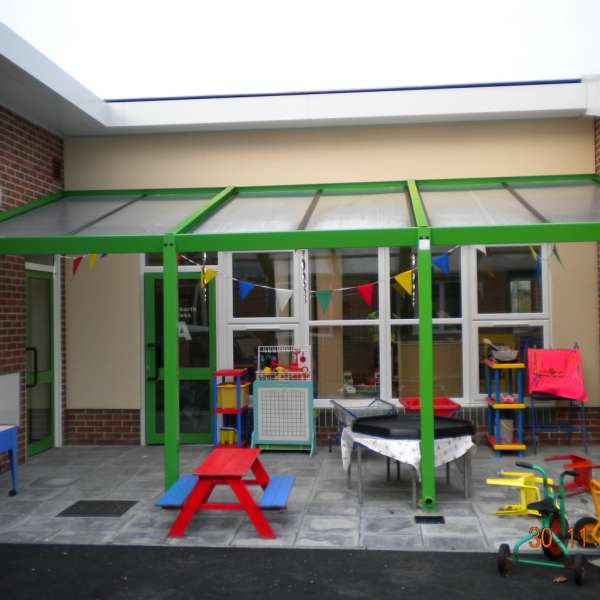 News & Blog
5 Sep 2013
This is Ysgol Y Felin Primary school in Conwy, Wales, whose requirement for four shelters was solved using Falco bespoke canopies. Ysgol Y Felin required a weather canopy to be located outside each classroom to keep the students play equipment dry during lesson time.

Falco were then able to provide Ysgol Y Felin with a variety of made to measure canopy solutions that fit within their budget and provided the exact services the school was looking for. The robust FalcoSpan canopy was the ideal product identified to shelter the schools play equipment.

To meet the buildings dimensions and Ysgol Y Felin's required specifications, the FalcoSpan canopy had to be redesigned by the Falco design team at no extra cost, to allow the canopy to be slanted at the correct angle to meet the building's design. As you can see pictured well at home, the attractive FalcoSpan canopy is powder coated in green to maintain an aesthetical look with the school's play theme.

The FalcoSpan canopy offers great flexibility when providing an uncomplicated weather shelter. An exceptionally attractive and open shelter, the FalcoSpan canopy has a very simple construction and great aesthetics. Useful for smoking shelters, walkways, canopies, cycle shelters and general waiting areas, the FalcoSpan covers all options!

The cantilevered design is topped with a robust roof section which contains integral gutters enabling waste water to be discharged at ground level via the supporting uprights. There are many project images for Falco canopies and shelters available so do give us a call!

For more information about the FalcoSpan canopy or for a quotation, please contact our sales team on (01538) 380080.