New Cycle Counter for Cardiff!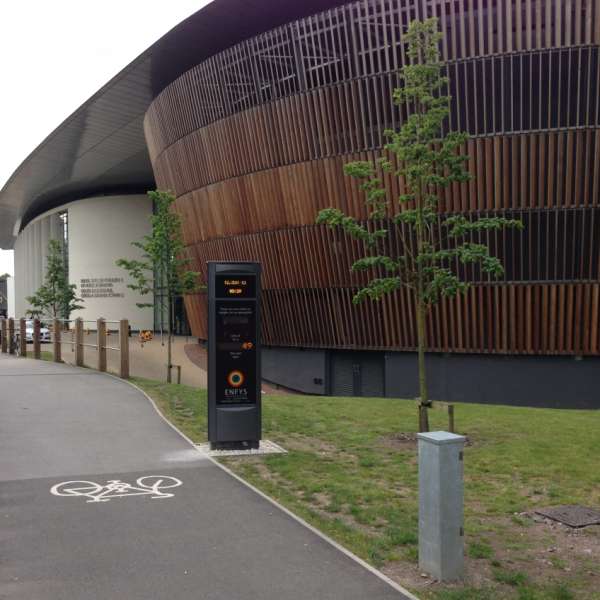 News & Blog
24 Jun 2013
Earlier this month Falco installed a new high tech cycle counter for Cardiff Council. Located outside the stunning Royal Welsh College of Music and Drama, the new cycle counter is perfectly positioned to collate essential data on the flow of cyclists on this key cycling commuter route!
The intelligent cycle counter remotely manages the data collected at the site and provides daily travel management figures for the local authority planning department. Data is collected bi-directionally so that separate data is taken for both in and outbound cycle traffic.
The highly visible, cycle counter totem provides the cyclist with an instant 'hit' as they travel past the counter enabling them to see the impact they have had that day (and throughout the year) on improving and increasing cycle numbers in the town.
The ITS cycle counter is an intelligent traffic management product and has been installed in numerous European towns and cities providing both Councils and cyclists with a real understanding of the impact they have on increasing cycle numbers. The product is designed to help local authorities proactively manage their cycle (and general traffic) planning. By providing up to the minute data on cycle and vehicle use, management teams can plan and organise:
Effective cycle routes
Cycle path development
Signage and information systems
Cycle promotion campaigns
Additionally the Cycle Counter will:
Increase awareness amongst cycling and non-cycling community
Provides a 'talisman' around which to build promotional campaigns
Provides a visible symbol of the Council's commitment to alternative transport
Generates individual 'buy-in' from local people via a website and web feed plus Twitter RSS enabling them to follow the progress of their own counter personally
Enables data to be collected on a wide variety of vehicle movements
Falco specialises in the design and manufacture of a huge range of cycle parking and street furniture products. From design through to manufacture and installation Falco is able to provide a comprehensive service to clients UK-wide. Falco's design team provide AutoCAD drawings using dynamic CAD blocks free of charge as well as free no obligatory site surveys.