Glasgow 2014 Silver Medallists Welcome Falco Legacy Cycle Racks at Meadowbank Stadium!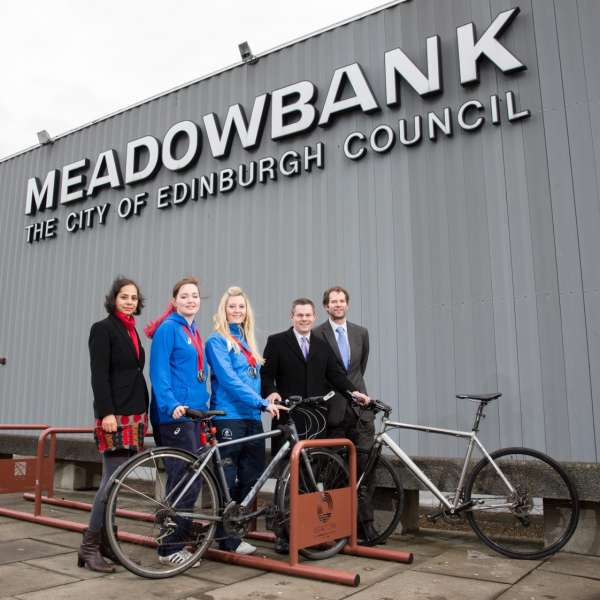 News & Blog
23 Mar 2015
Glasgow 2014 Commonwealth Games cycling double silver medallist Louise Haston and shooting silver and bronze medallist Jennifer McIntosh welcome two Falco legacy cycle racks at the Meadowbank Stadium in Edinburgh!
Louise Haston accompanied by fellow cyclist Aileen McGlynn took the silver medals in both tandem sprint and tandem kilo cycling events at the Sir Chris Hoy Velodrome in Glasgow.
Jennifer McIntosh won Silver in the Women's 50 metre rifle three position and bronze in the 50m rifle prone at the Barry Buddon Shooting Centre.
The images attached show the two new FalcoToaster legacy cycle racks with Minister for Transport and Islands Derek Mackay, Louise Haston, Cycling Silver Medal Winner, Jennifer McIntosh, Shooting Bronze Medal Winner, Christopher Johnson, Cycling Scotland Senior Development Officer and Daisy Naranayan-Sustrans Deputy Director for the Built Environment.
Since the closing ceremony of the Glasgow 2014 games, Sustrans Scotland, Cycling Scotland and Transport Scotland joined forces to give workplaces across Scotland a chance to bid for and "own a piece of the Commonwealth Games". Each organisation could bid for up to three of the innovative legacy cycle racks to help boost their cycle facilities for employees and students and encourage the activity of cycling to work.
In an innovative approach to commemorate the winning medallists in a sporty way, a series of the legacy cycle racks have been powder coated in gold, silver and bronze to represent each medal won! These are being donated to the respective home towns and villages of the winning medallists and will remain as a long term tribute to each of the successful athletes.
Photo credits go to Transport Scotland.
For more information about the Falco legacy cycle racks please contact our helpful sales team on 01538 380080.