Falco's Danish Office celebrates its 10th anniversary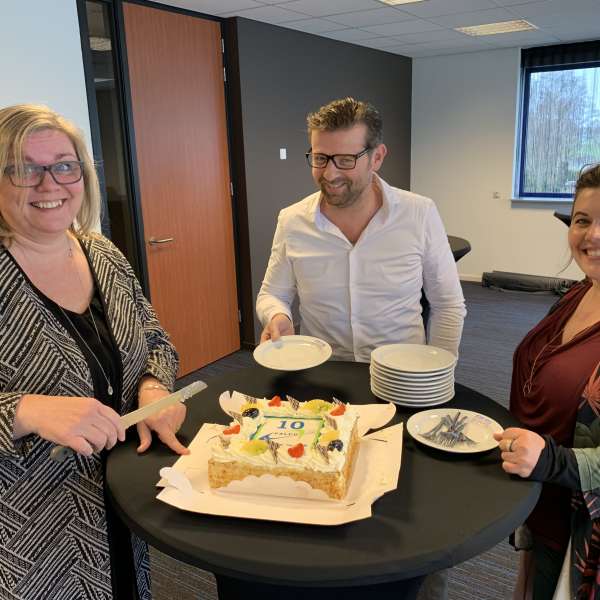 News & Blog
22 Jan 2019
At Falco we are delighted to be celebrating not only Christmas but also a birthday in the family! Falco's Danish team, Falco AS, has just celebrated its 10th anniversary after bringing diversity into the Danish market with an international product range back on the 28th November 2008.
Over the past 10 years Falco has been manufacturing, supplying and installing it's innovative portfolio of cycle parking and street furniture infrastructure for the Danish market, which has seen demand rapidly increase over the decade long period.
On the 28th November the Falco Denmark team officially celebrated the anniversary and most importantly of all cut the Falco cake! Pictured are Jane Lundsgaard, Mark Pruijssen and Malene Bruun!
The event organised by Sales Manager, Jane Lundsgaard, said "This is a proud moment for the Danish team. Despite the Danish recession in 2008, Falco has proven that quality, coupled with the diversity and an international product range which was demanded by Danish architects, project managers, citizens and cyclists alike, has proven a real success". Malene added, "We have been growing year on year and would like to thank our Danish customers for valuing the level of service we provide here"!
In addition to the Danish anniversary, the UK team recently celebrated their 25th anniversary last year with famous former cyclist Les West and this year our Dutch parent company celebrated their 67th anniversary (but with no plans to retire)! We wish our colleagues well for the next 10 years!
Falco manufactures and installs high quality cycle parking systems, cycle hubs and street furniture. Falco shelters, hubs, canopies and secure stores have been used extensively across Europe providing local authorities, train operating companies, schools, hospitals, universities and private businesses with ultra secure and robust cycle storage systems.
For more information about any of Falco's ranges of cycle parking systems, street furniture or shelter designs, please contact our helpful sales team on 01538 380080.