FalcoCam – the perfect cycle stand?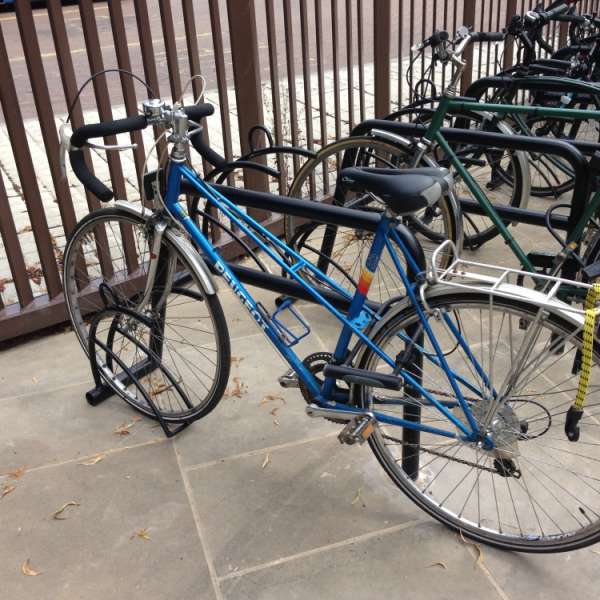 News & Blog
14 Aug 2013
Is the new FalcoCam the best design of cycle stand in the world to date? This week Cambridge City Council launched a trial of the new FalcoCam cycle stand to see if this was really the case. The original Falco design, developed in conjunction with the cycling team at Cambridge, incorporates as many of the features one could hope for in a cycle stand so that they provide maximum benefit to all cyclists, all different types of bike and of course also provides the Council with a solution to a number of on street issues.
Features and benefits – the new FalcoCam stand builds on the success of the Falco Perfecto stand, but incorporates some new ideas following feedback from the team in the county's most popular cycing city. The benefits cover a number of cycling issues - as well as providing up to 6 locking points, the positive location means cycles are stored in neater rows than with a Sheffield stand and give the cyclist a positive signal that they are cared for by their local authority, here are just some of the features and benefits of the FalcoCam cycle stand:
Feature                                  Benefit
Sheffield style shape                        Reduced tripping hazard
Wheel holders                                   Bikes are stored in neat rows
'Hi-Lo' design                                    More bikes stored than with Sheffield stands
Added locking 'eyes'                         Improved locking provision for front forks
Added mid rail                                   Improved locking provision for rear wheel/frame
Lower wheel holders                         Better accessability with no lifting required
Wide wheel holder                            Better usability for all tyre sizes
Wide fork holder                                Bikes with baskets (frames) accomodated
Below ground (root) fix                      Better installation and reduced cost
Reduced diameter tube                      Less chunky and reduced cost but maintaining security
Hot dip galvanised                              Long lifespan
Powder coated                                    Provide an attractive facility
However neither Cambridge nor Falco are resting on their laurels as development of the stand continues with already some excellent feedback from the trial.
The stands are manufactured from robust welded steel hot dip galvanised and powder coated to provide an attractive finish for the cyclist.
For more information about the new FalcoCam cycle stand, please contact our helpful sales team on 01538 380080 or by email at sales@falco.co.uk.