Falco Supports Modern Business Apprenticeships
News & Blog
5 Sep 2011
As part of its commitment to training and development, Falco staff Lucy Baker and Kath Ferns, both former Business Apprentices, joined MD Jeremy Green to help promote apprenticeships for young people at a Skillsbase breakfast seminar on Wednesday morning.

The event organised by the Skillsbase staff based at Leek College and involving many local businesses was recorded for the Breakfast programme on BBC Radio Stoke, by local reporter Stuart Fear. Stuart visited Falco's Head Office in Leek earlier in the week to interview Kath, Lucy and Jeremy about their experiences with the apprenticeship scheme.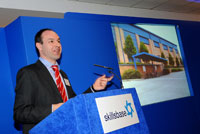 The interviews were linked with some live recordings taken at the breakfast seminar and went out on air on BBC Radio Stoke's breakfast programme on Wednesday morning. At the seminar Jeremy gave a presentation about how street furniture and cycle parking company Falco had benefitted from employing apprentices. Jeremy shared Falco's positive experiences and encouraged other employers to invest in the Skillsbase scheme. 

For more information about Falco's training experience or information about cycle parking or shelters and canopies,
contact Jeremy on (01538) 380080.