Falco Projects Make a Clean Sweep at this Years Cycle-Rail Awards 2016!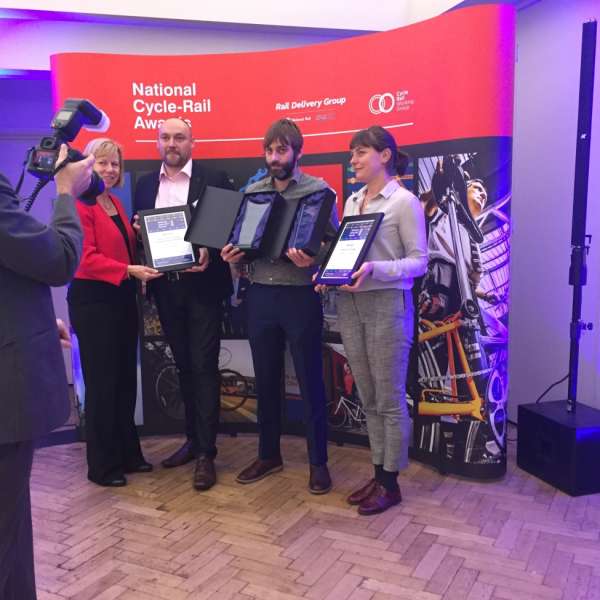 News & Blog
31 Oct 2016
Falco cycle parking systems and infrastructure projects won an impressive four awards at this years Cycle-Rail Awards 2016, held at the Central Methodist Hall in Westminster on Wednesday night.
The judging panel chose Falco projects in the following four categories with Falco providing over 3,300 cycle parking spaces as well as secure cycle hubs and other associated cycle facilities:
Category 2 Partnership Working and Local Government Schemes: Winner Sustrans Scotland for Haymarket Station.

At Haymarket Station, the partnership between the Network Rail property team, Edinburgh City Council, Sustrans and Abellio, has resulted in a new cycle parking facility, in an area where substantial passenger growth is expected.
The judges had high praise for this project: "It has turned an unattractive cycle rack into an elegant, multifunctional, high capacity solution, in a location requiring listed building consent, and achieved a 300% increase in capacity".
Pictured below - Mr Andy Keba, Sustrans Scotland, receiving the award.
Category 5 – Door to Door Journeys including Station Travel Plans: Winner Waltham Forest Cycle Hubs.

The London Borough of Waltham Forest is the first London borough to provide a network of commuter cycle hubs, enabling sustainable door to door journeys while providing a range of modern facilities. They are part of the Enjoy Waltham Forest Programme, a £27 million project aimed at encouraging more people to cycle. This in turn, supports the wider, Mini Holland programme, to boost walking and cycling as main modes of transport.
The judges were impressed with the scope of this ambitious project and commented that the 'Cycle, Park and Go' hubs were so appealing they 'make you want to cycle to the station'.
Pictured below - Mr Jon Little, London Borough of Waltham Forest, receiving the award.
Category 6 – London Cycle Parking: Winner Waltham Forest Cycle Hubs.
This is Waltham Forest Council's second winning entry for their cycle hubs. They were praised for their role in increasing door to door journeys, but in this category they have been recognised specifically for their design, positioning and overall high standard.
Judges said that the Waltham Forest Cycle Hubs were a great example of what can be achieved: "This is an ambitious, showcase programme, executed to a high standard, well designed and well sited. It is a 'living proof' of a borough-wide commitment to everyday cycling". 
Category 8 – Station of the Year: Winner Cambridge CyclePoint.
Judges agreed that Cambridge CyclePoint was an impressive project: "It is the flagship station for the UK cycle-rail at this period of time and our first entry into the scale of facilities seen in Northern Europe...it speaks for itself and Greater Anglia should be proud of what they have achieved".
Cambridge CyclePoint is the largest, purpose-built cycle park at any UK rail station, serving a population that has the highest propensity to cycle in the country. Abellio set out with an ambitious aim: to provide a landmark site in the city's cycle network with enough cycle parking to meet or exceed demand for the next 10 years.
Pictured below - Mr Johnathan Denby, Abellio Greater Anglia, receiving the award.
Additionally Falco projects for the ScotRail network were also highly commended as well as at Preston cycle hub for Virgin Trains, with judges commenting "A terrifying description of sophisticated cycle theft, well tackled by a secure hub. A really well thought out scheme, that has been highly effective".
Pictured below - all group winners at this years Cycle-Rail Awards 2016: