Falco Products Featured in Latest Scottish Cycling Videos!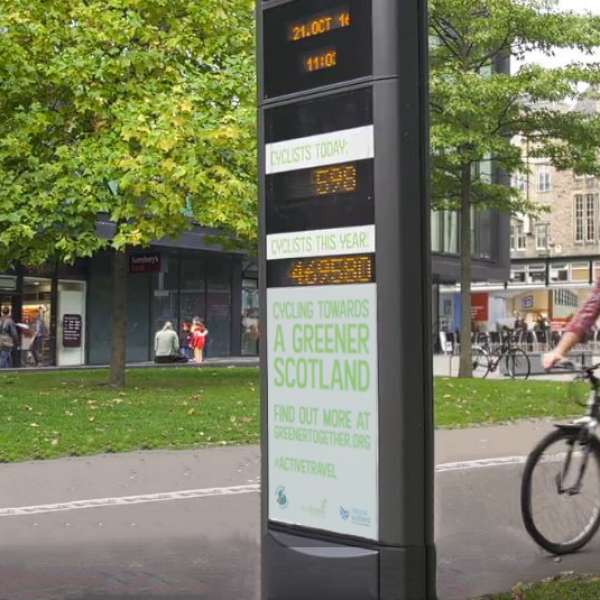 News & Blog
30 Jun 2017
The UK's leading cycle path solar light, the FalcoPathfinder, and the flagship Falco Cycle Counter have both recently featured in two cycling promotional videos created by The Moray Council and Sustrans Scotland.
FalcoPathfinder Cycle Path Solar LED Light
The FalcoPathfinder, the UK's only purposely designed bat friendly cycle path light, is featured on an online film highlighting the delights of the River Lossie cycle path in Elgin, a recently completed 7km cycle path which is part of the Sustrans National Cycle Network Route 1.
Falco complimented the scheme by providing a series of solar powered, FalcoPathfinder LED, cycle path lights for the entire strip of 7km through staggered positioning of 10m, 20m and 40m intervals on opposite sides of the path.
Cyclists can clearly see the edges of the cycle route and exclusive red LED lights highlight potential hazards such as junctions. Frost warning lights situated at the start of new sections of the route highlight the need to take additional care should the temperature dip below +2°C.
The cycle path offers a much safer alternative to the A96 in terms of cycling from nearby Lhanbryde into Elgin and the addition of the new demarcation lights offers a more pleasurable journey for night time commuters as well as increased safety and reassurance.
The video can be viewed by clicking here.
Falco Cycle Counter
Falco's flagship Cycle Counter was recently featured on an online film by Sustrans Scotland featuring cycling legend  Mark Beaumont  as he explores the National Cycle Network near some of Scotland's greatest towns and cities. The video aims to inspire members of the public to consider cycling to explore new areas of a town or city and to escape the city using an alternative route.
The film showcases some of Scotland's most iconic landmarks and visitor attractions which are often only a short bike ride away from many key towns and cities.
Mark Beaumont is a record-breaking long-distance cyclist, adventurer, broadcaster, documentary maker and author. He held the record for cycling 18,297 miles around the world on 15 February 2008, a journey he completed in 194 days and 17 hours.
The video can be viewed by clicking here.
Falco Products and Services
Falco is the UK's leading designer, manufacturer and installer of cycle hubs, cycle shelters, smoking shelters, waiting shelters, secure lockable stores, canopies and street furniture products.
Standard Falco services include: FREE UK-wide site surveys, FREE AutoCAD design, FREE rendering graphics to help clients to visualise the scheme, complete design, manufacture, supply and installation including the provision of concrete bases. Falco can also provide added value products to compliment our cycle hubs including branded vinyl graphics, CCTV, LED lighting, secure access, information boards, green sedum roofs, vending machines, public repair stands, cycle pumps and bike stair wheeling ramps.
For more information about how Falco can assist your cycle parking or street furniture scheme, please contact our helpful sales team on 01538 380080.