Falco Installs Its Own In-house Powder Coating Facility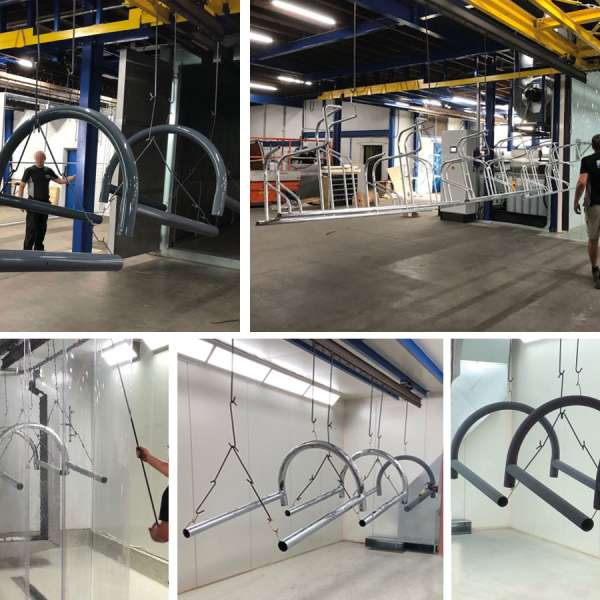 News & Blog
30 Jul 2018
Falco is delighted to announce further investment in its ISO 9001 advanced manufacturing plant with the installation of our very own in-house Polyester Powder Coating Plant. Having relied on external suppliers for many years, Falco took the bold decision to invest €500k in the finishing technology and install our very own dedicated powder coating system. This will lead to:
a) better quality finish
b) a more consistent product finish
c) a better traceability of product
d) quicker client leadtimes
Falco MD Jeremy Green said "This is a bold and positive step for our business, it's a real demonstration that Falco continues to focus on improving customer service and quality by investing in long term manufacturing, rather than outsourcing to simply cut costs regardless of quality – it's fantastic news!". Falco continues to manufacture it's own high quality cycle parking products and remains the UK market leader in Cycle Hubs. The powder coating facility will link directly with our ISO registered galvanising partner ensuring consistent high quality for our client base. Falco is able to powder coat in any of the standard and special RAL colours on request.
Powder coating not only provides a great finish to your cycle parking or street furniture product but coupled with the galvanising foundation also enhances it's life, particularly in harsh environments such as salt water and industrial areas. Speak to a member of our sales team to explore the possibilities of enhancing your product design by adding a colour (or colours) to your scheme.
For more information about our new state-of-the-art powder coating facility, or any product from our cycle parking or street furniture portfolio, please contact our helpful sales team on 01538 380080.