Falco Hubs Win Best London Cycle Parking at Cycle Rail Awards!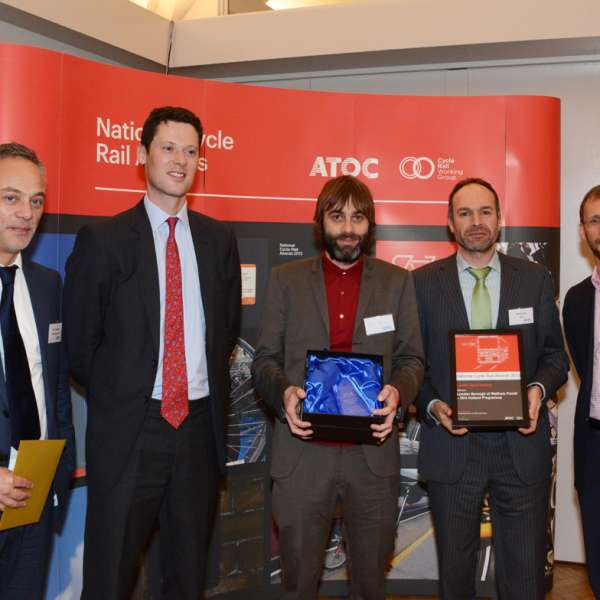 News & Blog
30 Nov 2015
Falco were delighted when their cycle hubs developed for the London Borough of Waltham Forest Mini Holland scheme took the award for the best London Cycle Parking facility. The eminent judging panel praised the latest design in cycle hubs as "well located, well executed, visible and welcoming". The award, which was sponsored by Transport for London and presented by Mark Trevethan, Principal Strategy Planner, received some very positive comments from the judges. In his introduction, Phillip Darnton OBE, Executive Director of the Bicycle Association, commented on the aesthetically pleasing design, the excellent build quality and gave a special mention to the Falco installation team who were praised as being "very courteous builders" by one of the judges.
Pictured at the awards ceremony are L-R:
Mark Trevethan – Principal Strategy Planner for Cycling, Transport for London
Alex Chalk MP – co-chair for the All Party Parliamentary Cycling Group (APPCG).
Jon Little – Complementary Measures Manager: Mini-Holland, LBWF
Jeremy Green – Managing Director, Falco UK Ltd
Paul Plummer – Chief Executive of ATOC and the Rail Delivery Group
The Mini-Holland hubs programme will eventually deliver 9 high quality secure cycle parking facilities at railway stations through the Waltham Forest Borough. Fitted with the latest two tier FalcoLevel Premium+ racks, the cycle hubs offer the latest features and benefits to encourage people to start using their bike much more.
The cycle racks are housed in a bespoke contemporary design of the classic FalcoLok cycle shelter. The hubs feature innovative 'green roofs' as a first and great aesthetics from their clean lines though glass cladding held by stainless steel glass clamps. The whole shelter is hot dip galvanised to BS EN ISO 1461 and then polyester powder coated in the Cycle Waltham Forest colours for longevity. Rainwater is collected via an innovative integral gutter system as part of the roof and the hubs additionally include lighting, CCTV and fob access control.  Overall the judges were very pleased with the design giving it the epithet of "a very nice job".