Falco Delivers to the Mail!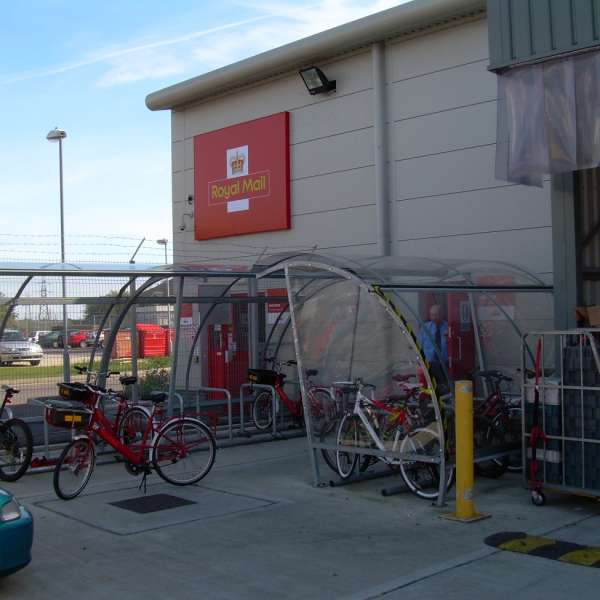 News & Blog
5 Sep 2013
Here at Falco we are used to receiving deliveries from the post office, however on this occasion we were pleased to deliver something back! - in this case a new bike storage shelter at the Royal Mail Delivery Office, Christchurch, Dorset.

At their mail hub in Christchurch a need was highlighted to provide a series of secure bike storage shelters to accommodate the high quantity of Royal Mail's standard design bicycles. Falco provided a variety of bicycle storage solutions, from which, the robust FalcoLite bike shelter was identified to meet Royal Mail's requirements.

Our latest photographs show that the extensive array of FalcoLite bike shelters have been put to great use by accommodating a series of the traditional postman's bicycles.

The FalcoLite bike shelter is one of Falco's most popular bike storage solutions. A robust and hi-spec shelter offering a number of great features including robust polycarbonate roof sheets and integral gutters to ensure the cycles and cyclists are kept visible and dry. Available in three distinct variants; single sided, double sided or cycle compound, the FalcoLite is not only a robust and flexible shelter it is also very attractive and highly cost effective.

With different roof and side wall options and capable of combining with all bike racks or benches, the FalcoLite is our most flexible and popular cycle shelter.

The great flexibility of the FalcoLite enables it to serve a multi purpose use, from a bike shelter to a waiting and smoking shelter or even as a pushchair shelter!

For more information about the FalcoLite bike shelter or our complete range of cycle parking solutions and street furniture, please contact our sales team on (01538) 380080.