Falco Deliveries Step Up Yet Another Gear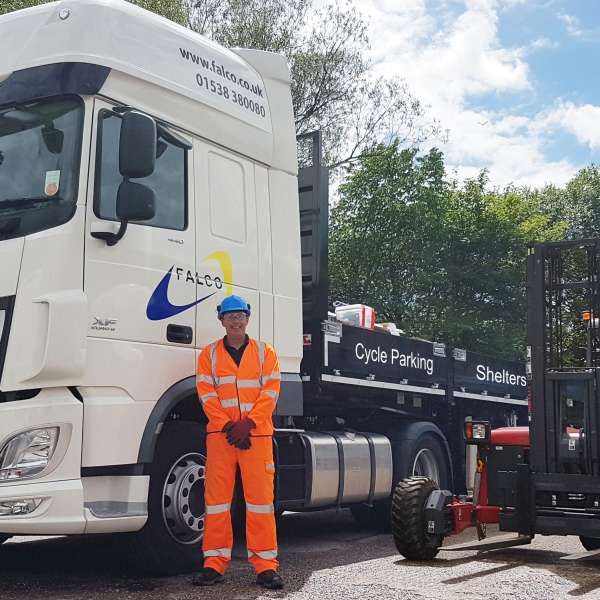 News & Blog
30 Jun 2017
This year is already proving to be yet another year of growing demand for Falco's cycle parking and street furniture products and with the recent purchase of a brand new DAF XF Supercab, Trailer and Moffett we have invested in our biggest vehicle yet to get our bike racks to you!
The latest addition supports the existing fleet of delivery vehicles and forms part of a wider strategic plan of investments into our manufacturing, delivery and installation departments which also include a recent £250k investment into our production facility with a pair of Yaskawa CAD/CAM robots. 
The new DAF XF Supercab is cleared to work in London as well as throughout the UK as it meets the latest Euro 6 engine regulations as set by the European Commission governing the amount of harmful exhaust gases motor vehicles can emit whilst providing up to 13% more fuel efficiency compared to the former Euro 5 engine.
The vehicle also comprises of a very flexible trailer mounted 'Moffett' forklift to the rear of the vehicle which will be indispensable with providing efficient loading and unloading whilst on site when installing cycle hubs and bike canopies without the need to hire a forklift or telehandler.
Pictured attached is the new DAF XF Supercab, Trailer and Moffett with new HGV Driver, John Wood along with long serving Warehouse Manager, Dave Hughes.
Falco manufactures and installs the UK's leading range of secure cycle hubs, cycle parking systems, smoking shelters, bin stores, canopies and street furniture products. For more information on how Falco can assist your cycle parking or street furniture scheme, please contact our helpful sales team on 01538 380080.