Falco Cycle Counters Pass the One Million Mark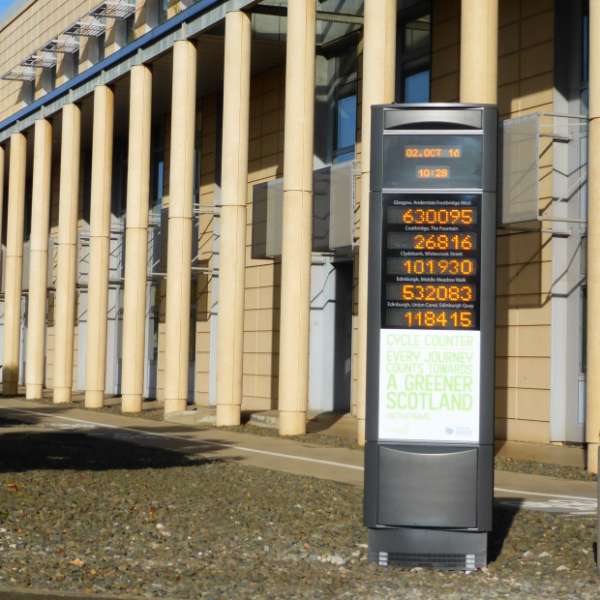 News & Blog
29 Nov 2016
The series of Falco Cycle Counters totems installed throughout Scotland, has already counted over 1.2m cyclists this year –that's more than the entire population of Glasgow and Edinburgh combined!
The nine cycle counters, which are distributed throughout Scotland on key cycle paths, were delivered on behalf of Sustrans and Transport Scotland whose aim via the Cycling Action Plan for Scotland (CAPS) is to increase levels of cycling throughout the country.
The Cycle Counters are the world's first interlinked series of Cycle Counter totems whereby each counter feeds statistical data back to the master data counter located outside the Scottish Government's building at Victoria Quay (see image below).
Each Cycle Counter, including the master totem counter, utilises the latest comms software to enable live statistical data to be displayed on any website via iFrames, the data can then be used for statistical analysis, for a twitter feed or on a blog. This feature essentially provides live, accurate and convenient feedback from each individual Cycle Counter without the need to visit each Counter in person, so that interested parties can keep up to date on a daily basis of their usage. The information can also be found here on Falco's website.
Total cyclists from each of the nine Cycle Counters reached 1.2m so far this year, with one Cycle Counter located at Middle Meadow Walk in Edinburgh topping 500k cyclists alone! Total cyclists so far this year for each Counter are listed below:
Road/Street Name
Town/City
Cycle Count (part 2016)
Middle Meadow Walk
Edinburgh
538,103
Union Canal
Edinburgh
113,911
Millburn Road
Inverness
77,970
Lochnell Primary School
Benderloch
14,966
Laurencecroft Road
Stirling
154,419
Whitecrook Street
Clydebank
101,839
North Inch Park
Perth
160,516
Anderston
Glasgow
62,936
Bank Street
Coatbridge
22,513

 
Total Cyclists From All Nine Cycle Counters:

1,247,173

 

 
For more information on the UK's best selling Cycle Counter, please visit the product page or contact our helpful sales team on 01538 380080.