Falco Celebrates 25th Anniversary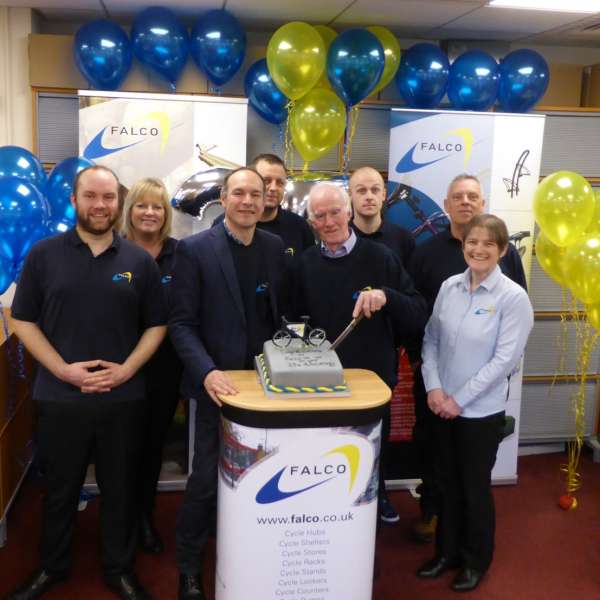 News & Blog
28 Feb 2017
Falco UK Ltd, the UK's leading manufacturer of cycle parking systems, canopies and street furniture, celebrated 25 prosperous years in business this month! The event took place at Falco's office in Leekbrook and the staff were delighted to welcome former Olympic cyclist Les West. Les met the Falco team, viewed some of our cycle parking products but most importantly of all - cut the Falco cake!
Managing Director, Jeremy Green said "This is a really proud moment, to be able to celebrate 25 successful years for a local company and employer is very special and with over half our staff having served over 10 years it's an incredible achievement and testament to their dedication"
He added; "Plus we were absolutely delighted when Les agreed to come and help celebrate with us. The cycling world is integral to Falco's business and to have one of Staffordshire's greatest cyclists and certainly one of the UK's most successful cyclists of his era to come and join us was really special! It was a delight to have him here and be entertained with the stories and challenges from a long and illustrious career."
Les West was one of the dominant figures of amateur and professional cycling in Britain during the 1960 and 1970s. He won the Milk Race twice, came second in the world amateur road race championship, fourth in the world professional championships, came first five times in the Tour of the Isle of Wight whilst also winning the British Championship and the Tour of the Peaks.
Over the past 25 years Falco has been the UK's leading manufacturer, supplier and installer of all types of cycle parking infrastructure. Falco has completed some of the largest cycle parking projects ever seen in the UK, recent examples include:
The UK's first ever cycle hub at Leeds City Station.
The UK's largest and most prestigious cycle hub at Cambridge Station incorporating 3,000 cycle parking spaces over three floors.
The UK's second largest cycle hub at Chelmsford Station incorporating over a 1,000 mixed-use cycle parking spaces.
The UK's first series of community cycle hubs as part of the London Borough of Waltham Forest's Mini Holland Programme.
The UK's first interlinked series of public cycle counters installed throughout Scotland on behalf of Sustrans and the Scottish Government.
Scotland's largest cycle parking roll-out as part of the Abellio ScotRail's cycle innovation plan coupled with the Commonwealth Games.
Falco provide all aspects of cycle parking and street furniture infrastructure and provide clients with:
FREE UK-wide site surveys by a local sales representative.
FREE AutoCAD designs and schematics.
FREE rendering/CGI graphics to help clients to visualise the cycle parking or shelter design.
FREE CDM project management for supply and installation
Falco's offers a complete service including:
Complete portfolio of products
The provision of groundworks and preparation
Additional value added facilities including; secure access, branding and graphics, CCTV, LED lighting, information displays, green sedum roofs and huge range of cladding – are just some of the options available.
Finally we'd like to thank all our customers and clients over the years for buying Falco products and using our services and we look forward to delivering more innovative solutions over the next 25 years.
For more information on how Falco can assist your cycle parking, shelter or street furniture scheme, please contact our helpful sales team on 01538 380080.