Falco Celebrates 20th Anniversary!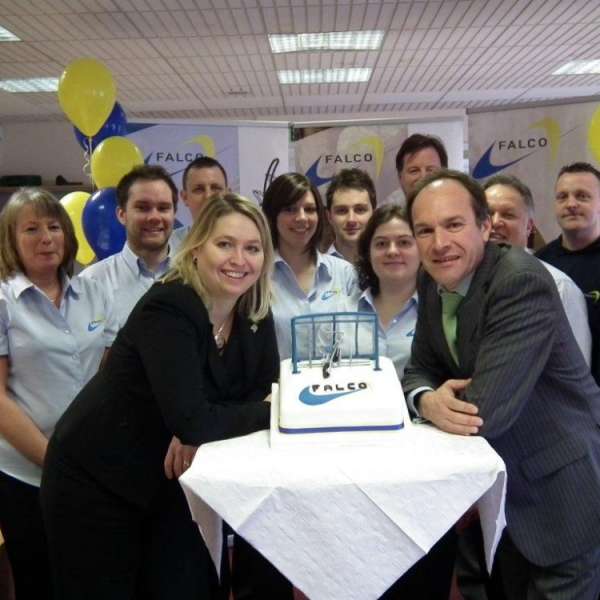 News & Blog
23 Mar 2012
Falco UK Ltd - one of the UK's leading manufacturer and supplier of cycle parking, canopies and street furniture celebrated 20 years of prosperous business last friday! The event which took place at Falco's office based in Leekbrook which was attended by Staffordshire Moorlands Member of Parliament - Karen Bradley. Mrs Bradley, along with the local press, met the staff, viewed some of our wide range of cycle parking products and most importantly of all - cut the Falco cake!
The event organised by Marketing Manager - Mark Wain said "This is a proud moment in our history, to be able to commemorate 20 successful years for a local company and employer is very special. This demonstrates our stability and depth of Falco as a Leek based company, which continues to develop despite the current economic conditions".
Karen said: "It was a great privilege to have been invited to Falco UK today and to share in with this 20th anniversary. Falco is truly a success story and I wish them further success over the next 20 years to come."
Falco, previously known as Arunhithe Ltd, began trading back in February 1992 at Winkhill - a small rural village near Leek. The company began selling and installing play equipment and had a small portfolio of products for the then, relatively new idea of 'cycle parking systems'. The products were manufactured by the Dutch company Falco an expert in cycling products as one would expect!
As the business developed, the demand for Falco products increased, therefore street furniture, canopies and shelters were added to the product range and by 2003 annual sales topped the £1m mark. In May of that year, to boost the expansion of the business, the company moved to new, much larger premises on Barnfields in Leek. This enabled more staff to be added to the team along with a bigger warehousing and office facility.
By 2004 with annual sales in excess of £1.6 million, the then owners (Richard and Yvonne Martin) decided to retire and Falco took this opportunity to invest into the company, to protect its demand for Falco products and provide important development capital to fuel future growth. In December 2005, the business officially became a wholly owned, subsidiary of the Dutch company Falco BV.
Following this investment the company grew quickly and doubled its turnover in the following five years winning important contracts from local authorities across the UK and many large private developments such as Manchester City FC, Euston Railway Station and the MoD headquarters in London.
Once again due to successful trading and expansion of the company Falco had to move to larger premises and in late 2008 the Barnfields premises were sold to Morrison's and the company moved to much larger premises on the Leekbrook Industrial Estate three times the size of Barnfields. Again the new premises provided a much larger warehousing facility, larger offices and secure premises for the growing numbers of staff.
Throughout these last twenty years Falco has grown steadily, developing from a dining table in a front room, to the UK's leading cycle parking and shelter supplier. The company continues to grow and employ local people and works closely with Leek College's specialist Skillsbase staff to develop it's employees; most of which are currently or have been studying on nationally recognised training schemes. Now employing more than 18 members of staff and with an order intake more than three times of that in 2005, Falco is well positioned to continue growing in the future and keep Leek on the map as a centre of cycling excellence!
(Photograph by Rees Davies - SMCA)