Falco Attends Bike&Go's First Birthday!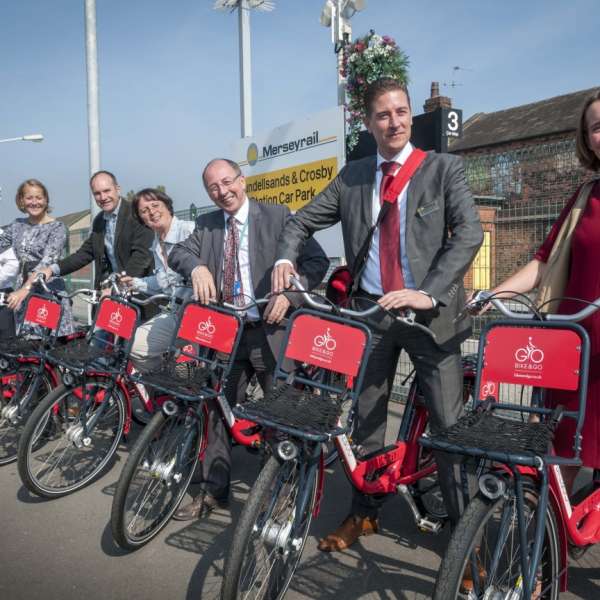 News & Blog
23 Sep 2014
Last week saw the UK wide cycle hire scheme 'Bike & Go's' first anniversary celebration. Held at Blundellsands & Crosby Railway Station in Sefton, Merseyside where the latest scheme launch went live, the event commenced with coffee and a home made cycling themed cake which featured a Bike and Go bike! Kaj Mook, Bike & Go Director, made an excellent speech regarding the scheme and uptake of cycle hire in general across the UK. Afterwards on a very sunny day, the guests were invited on a Bike & Go bike ride around the local area with a  look at the Antony Gormley statues on Crosby beach.
Falco's Managing Director, Jeremy Green, was invited to the event following the supply and installation of the cycle parking facilities  to 35 stations across the Abellio Greater Anglia and Northern Rail stations of the Bike & Go network, including; Colchester, Southend Victoria, Manningtree, Romford, Blackpool North, Morecambe and Rotherham. The work involved manufacture and installation of our popular FalcoSail cycle shelter design, with branded vinyl graphics, branded Sheffield Stands, floor markings and cycle signage.
Falco were asked by the project managers to adapt their FalcoSail design which is already installed at over 140 stations on the Northern Rail network. The cycle shelter which now also includes LED lighting is available in 2, 3, 4 and 5m options for different sizes of scheme and additionally the shelter is hot dip galvanised to BS EN ISO1461 and powder coated in the special Bike & Go scheme colours.
Bike & Go is a joint venture between Merseyrail, Northern Rail and Abellio Greater Anglia which brings Dutch style cycle hire facilities to  over 50 stations UK-wide. The concept is aimed at bringing flexible and affordable transport solutions for people to use once they arrive at the station.
Bike & Go is very easy to use, simply pay a £10 annual fee, scan your card at the station ticket office and collect your key, unlock your bike and continue with your journey, and simply return your bike at the same station when finished.
Falco provides a wide range of shelters to suit both cycle hire facilities as well as shelters for private bikes. Please contact our helpful sales team on 01538 380080 for more information.