Falco Apprentice Receives Certificates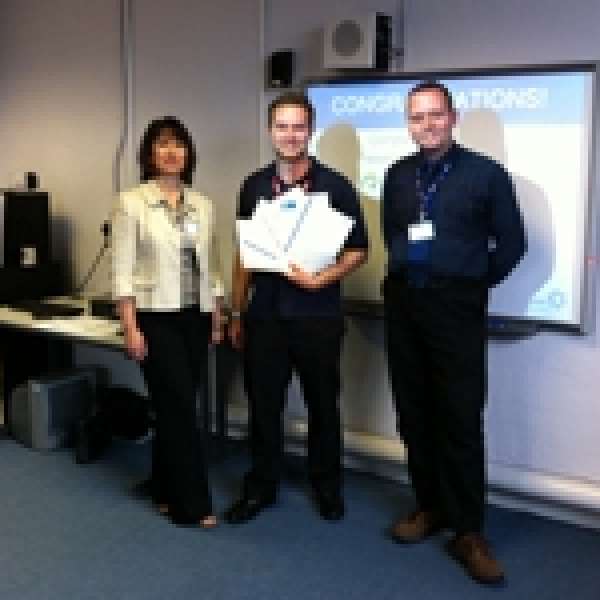 News & Blog
5 Sep 2011
As a supporter of 'Skills Pledge' cycle parking company Falco continue to support training and development amongst its staff. MD Jeremy Green and apprentice Mark Wain supported Skillsbase as they held an introductory seminar for potential apprentices at Leek College last week. The event organised by the Skillsbase staff based at Leek College included a crowded room of local students as they seek to understand more about the benefits of choosing the apprenticeship scheme. Jeremy and Mark both gave presentations from the employers and employees point of view and encouraged the students to consider an apprenticeship as their first step on the career ladder.

At the event Mark was also pleased to receive his certificates for completing the level 2 apprenticeship in Business Administration and was awarded a distinction level in all 5 assignments! The course which had taken 12 months to complete ends the first phase of Mark's training and he aims to continue developing his skills further by taking the Chartered Institute of Marketing Course.

Falco hope that the positive benefits have been expressed and more students continue to support Skillsbase. Pictured, presenting Mark with his certificates are Mara Hargreaves and Brian Mainwaring of Leek College.

Falco Cycle Parking & Street Furniture
Falco UK Ltd design, manufacture, supply and install one of the UK's largest ranges of high quality cycle parking systems, canopies and street furniture. Throughout our 55 year history Falco has worked closely with our clients to provide the very best of cycle parking and shelter customer service, product knowledge and installation services.

For more information about Falco's cycle parking experience or our complete cycle parking range, please contact our sales team on (01538) 380080.