Compliment your Cycle Hub with additional features and facilities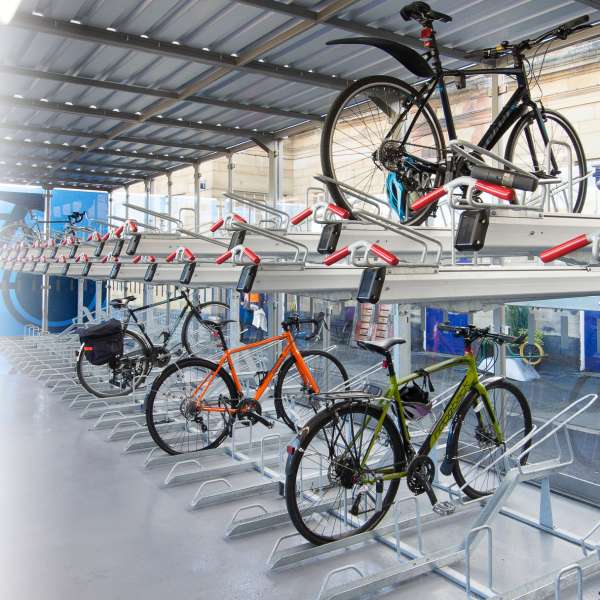 News & Blog
21 Jan 2019
Falco can supply a huge range additional features and facilities to compliment all of our cycle hub designs. From fingerprint security to digital information boards, promote your cycle hub now using Falco's extensive range of added value products!
Technology Panel
Provide users with an exclusive technology board incorporating a range of features designed to add convenience to cyclists and members of the public. Technology can include any combinations of the following: USB charging points, speakers to make announcements, live train and bus arrivals and departures, QR codes for timetables and tickets, help point assistance, Wi-Fi and LED lighting! Technology panels can be incorporated into all of our cycle hub, canopy and compound designs.
Security - Biometric, fob, swipe card and keypad
Secure your cycle hub with a range of secure access systems designed to provide peace of mind for both cyclists and hub operators. Falco has previously supplied fingerprint, fob, swipe card and keypad access to our flagship FalcoLok cycle hub and can also incorporate the technology in all of our shelter designs!
Restricted Access
Restrict the access off your cycle hub by using an 'air lock' or turnstile, allowing single users or multiple users access at any one time.
LED Lighting
Add the addition of low cost LED lighting and bring your cycle hub to life at night! LED lighting uses around 50% less electricity and also lasts up to 50 x longer than typical incandescent lighting and 25 x longer compared to traditional halogen lighting. Lighting will also improve accessibility and provide re-assurance to cyclists during the night.  
CCTV Security
With the addition of High definition CCTV cameras capable of capturing high definition video surveillance footage of up to 1080p in resolution, your cycle hub can be remotely monitored 24 hours a day, 365 days a year!
Branding Vinyl Graphics and Powder Coating
Promote your cycle hub and make it stand out by adding a theme, corporate colour or advertising campaign to catch the eye of cyclists and members of the public. Incorporate logos, maps and images and add powder coating to create an attractive and eye catching cycle hub arrangement.
Green Sedum Roofs
Blend your cycle hub into the environment by adding a living sedum roof! Sedum roofs provide a blend of instant greenery coupled with a low growing, low maintenance, attractive, lightweight and free draining substrate which can add a real dimension to your cycle hub design!
Secure Cycle Parking
Whether your cycle hub is populated with Falco's high density two-tier cycle parking system or traditional Sheffield Stands or Toaster racks, no cycle hub is complete without secure and easy to use cycle parking. Falco manufacture a huge range of innovative cycle stands and racks perfectly designed to maximise cycle spaces and offer cyclists with secure and user-friendly cycle parking systems.
Cycle Pumps and Cycle Repair Stations
Provide cyclists with an additional facility in the form of a free to use cycle pump or convenient repair station. Falco manufacture the popular FalcoFix 2.0 cycle repair station, incorporating a range of traditional cycle  tools for cyclists to conveniently use whilst on the go.
Vending Machines
Take your cycle hub a stage further and add a convenient vending machine stocked full of either confectionary or cycle accessories available for cyclists to use 24 hours a day.
Information Boards
Don't forget information is key! Keep cyclists up to date with latest announcements, opening hours or even advertising and convert your cycle hub into a central hub for area information.
Street Furniture
Provide users with comfortable seating or benches along with associated furniture in the form of litter bins, planters and bollards.
For more information about any of our cycle hub added value products, please contact our helpful sales team on 01538 380080.