Promoting Workplace Cycle Parking - A Falco Guide
News & Blog
14 May 2020
1. Introduction
With cycling growing in popularity every day, coupled with advice from the Government to avoid public transport, it has never been a more prominent time to improve transport options for employees across the UK.
Encouraging a workforce to cycle, rather than drive or take public transport, can have a number of benefits for both the employee and the employer. Changes to staff commuting arrangements (plus any additional cycling journeys throughout the day) can save time and money for both parties, can promote physical and mental health, benefits the environment and reduces congestion in the wider community.
According to British Cycling, "over 4% of us cycle almost every day" with a huge proportion of that percentage part of a commuting journey. That's a large number of diverse people covering every sector of the UK, taking to pedal power to get themselves to and from work.
2. Who is this guide aimed at?
This guide is aimed at any company, organisation or charity that is seeking advice on how to promote cycling to its workforce, as an effective way to commute to work.
3. Why should my workforce cycle to work?
• Cycling is fun! Many cyclists look back at childhood memories of thrashing their bike through puddles and racing friends through the park to the corner shop wishing they could still be so carefree amid the reality of working life. Commuting to work allows the employee to integrate that feeling of exhilaration whilst still working nine-to-five!
• Employees that cycle to work on a regular basis tend to be more fit and alert compared to their less active counterparts. For this reason alone, cyclists can be trusted to be more alert and less absent in the workplace due to illness, as their overall health is likely to be superior following daily sessions of aerobic fitness.
• Cyclists are better for the local economy. Cyclists are more likely to stop and shop benefitting local businesses. This reduces vehicular congestion and improves air quality.
• Cycling to work saves money, in fact a lot of money! According to Cycle Scheme, this could be in excess of £3,000 per year! Cycling is second only to walking as the cheapest way to commute to work and it's a lot more practical considering the average commuting distance in the UK.
• One of the most common misconceptions about cycling to work is that it's inconvenient. But what's more inconvenient, driving to work and getting stuck in road works and then fighting for a parking space or spending a few extra minutes commuting by bike and enjoying the freedom?
4. Key Cycle Parking Factors for Consideration
A number of principles have been developed to explain best practice in the provision of cycle parking:
Location – This is one of the fundamental issues that needs to be correct from the start. Cycle parking needs to be located in a convenient and accessible location that is within easy reach of the final destination. If employees need to negotiate three flights of stairs to reach an underground basement that is a 10 minute walk from their working area, the workforce cannot be expected to cycle to work in large numbers. Locating an accessible cycle parking area close to the front door creates a positive statement for employees, visitors and members of the public.
There may be a requirement to provide more than one cycle parking facility, should the organisation boast a large site with numerous working areas.
Visibility – If an employer has invested money into providing cycle parking for its workforce to use, it only makes sense to promote the new facility so the workforce is aware of the new facility. After all, nobody will use the new facility if they do not know it is there!
Adding appropriate signage and directions to the designated cycle parking area is only one of a number of steps that can be taken to promote the new facility. A large 'Cycle Hub' sign can be added at the entrance to create a real dominant message and by powder coating any steelwork in an attractive RAL colour can make the area stand out. Cycle parking that fits in visually with its surroundings is more attractive.
Type of Cycle Parking – It is paramount to ensure the right type of cycle rack or stand has been used within the right environment. For example, if an employer aims to provide only a few cycle parking spaces it may be possible to use a traditional cycle stand or rack. Where employers aim to provide a mass number of cycle spaces, it may be more appropriate to use a 'two-tier' cycle parking system to increase the amount of available spaces, should the space envelope be available.
Security – This is the key issue, it's important to provide employees with reassurance when it comes to cycle security, even if the facility is located on company property. Cycle theft is common and can be a traumatic experience, plus it quickly deters people from getting back on their bike, so make sure your facility offers the best in cycle parking security.
If the area is within visibility or easy accessibility of the general public, steps need to be taken to ensure security is not compromised. Additionally use posters to help advise staff on good practise for safely locking their bikes and taking all loose equipment with them.
Not only should it be possible to securely lock the bike frame and wheels to something immovable (a good quality cycle stand or rack) using a robust chain or 'D-lock' (front and rear), those using the parking area should not feel that their personal security is at risk either. Sufficient lighting, CCTV security and secure access in the form of a keypad or fob are steps that can be taken here to improve cycle and personal security.
Any cycle stand or rack used should be universal in terms of its capability to securely accommodate all ranges of bikes, from mountain bikes to road bikes, hybrid bikes and e-bikes. Even cargo bikes can be thrown into the mix! Cycle parking that is difficult to use may be ignored, so it is important to offer a facility that can meet everybody's needs, which makes it a much more attractable facility to use by a potentially larger and more diverse workforce.
Cycle parking should be maintenance free (or incur a very low level of maintenance) and should not scratch or damage a bike.
Availability – There can be nothing more frustrating to commute to work by bike and then find the designated cycle parking area closed (or with restricted access). To encourage a workforce to cycle to work on a regular basis the facility should be widely accessible throughout the day and night by all employees, who may operate different shift patterns.
Sheltered Facility - With the weather in the UK being unpredictable at the best of times, it is strongly recommended that the cycle facility in question is provided with appropriate coverage in terms of a cycle shelter, canopy or cycle hub. After a long shift, employees should be able to return to their bikes and cycle away, without having to dry saddles and bike frames!
Cycle Network - Cycle parking should complement both the on-road and off-road cycle network and any destinations along the way. There should be no barriers to its use caused by difficult road conditions or other safety hazards. Perhaps the site entrance could be improved or routes within a large site enhanced to enable the workplace to be negotiated easier by cyclists.
Information - Also why not include cycling information about local routes and facilities, to help cyclists choose the best routes. Sustrans the national cycling and walking charity publish excellent maps showing cycle routes. Additionally there are a number of great cycling Apps to help employees plan their route and assess the conditions before setting off.
Additional Facilities – You wouldn't drive a car with a faulty engine or a flat tyre. All vehicular traffic must pass an annual inspection to prove it is in a safe working condition to use on public roads and the same principal should apply to your bicycle. Although, there is no legally binding inspection required, it is still good practice to ensure the cycle you intend to ride is in good working order and free from defects, which may otherwise put you or someone else in danger.
A good initiative for a workforce is to include additional cycle facilities within a cycle hub or cycle parking zone so basic cycle maintenance can be carried out on the go. Facilities may include a robust cycle pump, a repair and maintenance station, cycle lockers, seats, notice boards, leaflets, vending machines, showers and changing facilities. By providing additional facilities such as these, can really promote the use of a bike and the bold intentions of the employer when it comes to cycle use and safety.
Unobtrusive Facility for all - Cycle parking should not get in anyone's way: it may also need to comply with the requirements of the Disability Discrimination Act 1995. If located thoughtfully, the latter is unlikely to be an issue unless there is general public access. Keeping it clear of people and vehicles moving about a site will help meet the requirements of health and safety legislation.
5. Types of Cycle Parking and Associated Products
A list of different cycle parking solutions that may be appropriate for a workplace with associated cycle products to add additional value: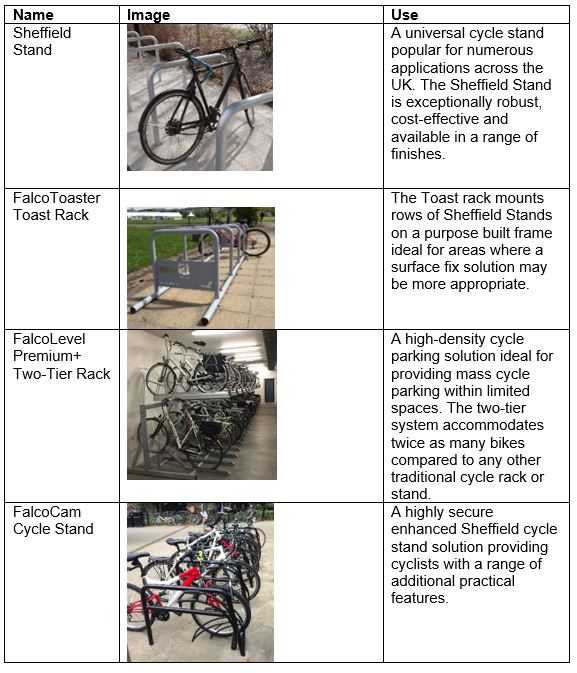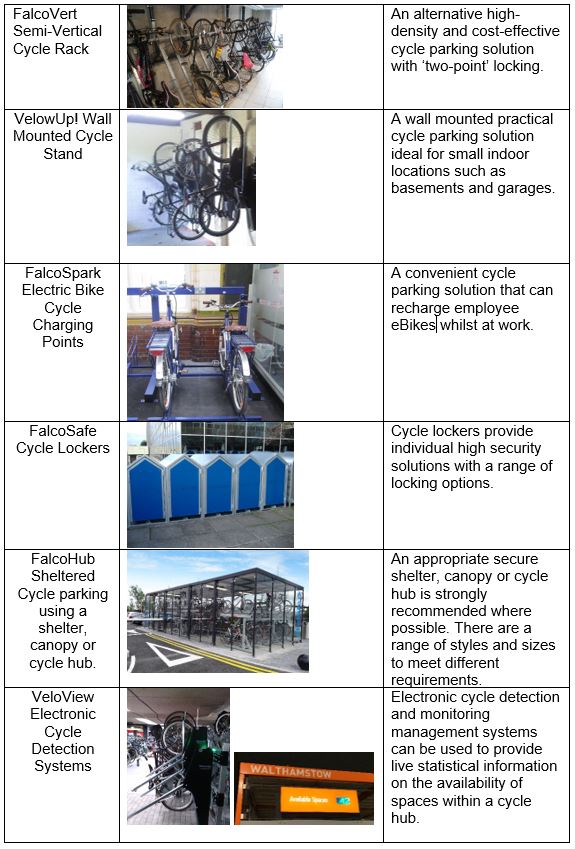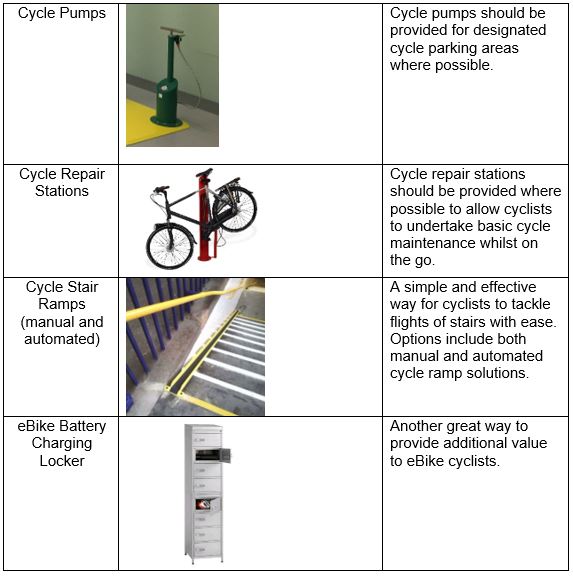 6.    Cycle Parking Quantity
There is currently no universally agreed methodology for deciding how many cycle parking spaces to provide. Some Local Authorities however, have derived their own standards based on existing use and their targets for cycle journeys to work.
Alternatively, a rough guide would be to provide cycle parking for everyone who already commutes to work plus an additional 50 per cent. After that, a good rule of thumb is to add another 20 per cent every time occupancy levels reach 80 per cent.
7.    Assisted Cycle Purchasing Schemes
A cycle to work scheme or an assisted cycle purchase can be a real incentive to encourage your workforce to commute on two wheels! What better way to promote a culture for cyclists than providing a secure cycle parking facility and allowing the purchase of a suitable bike over an affordable salary sacrifice / payment plan.
Cycle to work is a Government initiative introduced in 1999 to encourage cycling as a means of transport to work. All public, private and third sector employers can run a cycle to work scheme and all employees in an organisation can hire or buy bicycles and safety equipment through the scheme.
8.    Additional Support
For more information about any of the topics covered in this article or to find out more about how Falco can assist your cycle parking scheme in the workplace, contact our helpful sales team on 01538 380080.
Reference: TfL http://content.tfl.gov.uk/Workplace-Cycle-Parking-Guide.pdf