Falco MD Leaves After 17 Years
News & Blog
28 Apr 2022
We're sad to say that our MD of 17 years, Jeremy Green, has decided to ride home for the last time and hang up his cycle clips! Jeremy, who joined Falco back in 2006, has developed the business into the UK's leading provider of cycle hubs, hangars and general cycle parking facilities. During that time, he's steered the company through many changes as the cycling sector has gone from strength to strength as the focus of UK transport has moved further towards sustainable travel.
Under Jeremy's leadership, the business has been involved in many cycling firsts as well as some of the UK's largest projects providing quality cycle parking facilities. Today the business continues in this progressive vein and has recently developed the UK's first cycle parking app 'FalcoSmart' which can revolutionise the way bike hangars are managed in the future.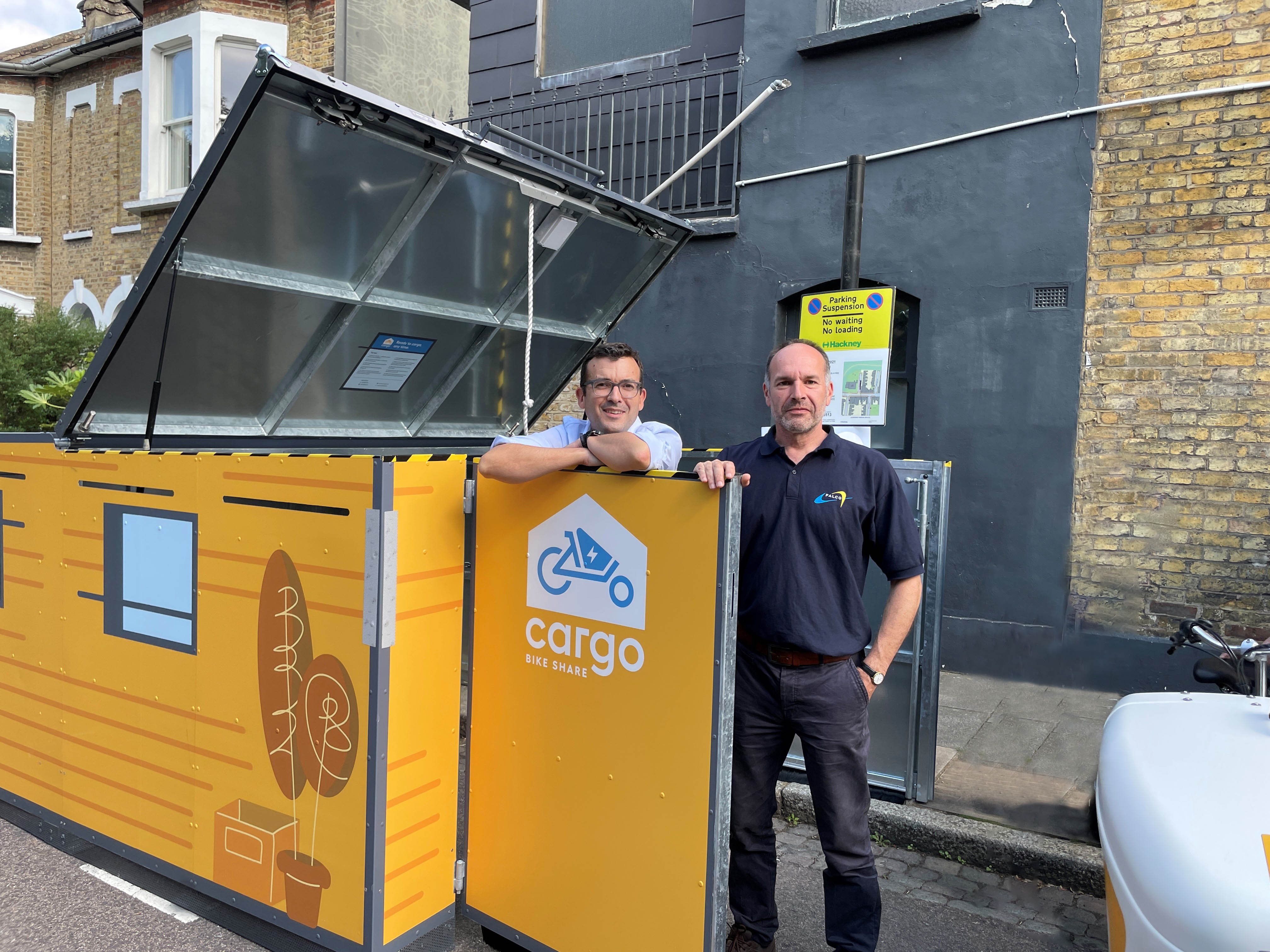 ~
Jeremy Green with Will Norman - Mayor of London's Walking & Cycling Commissioner, at the UK's first e-Cargo Bike Share Scheme Launch in Hackney.
Jeremy graduated from Liverpool Polytechnic with a BEng in Mechanical and Production Engineering and joined GEC Plessey Telecoms on their graduate trainee scheme eventually being sponsored on their MBA programme. Jeremy's claim to fame is designing the public payphone found in phone boxes throughout the world! Following 3 years working overseas predominantly in Asian markets, Jeremy worked in Facilities Management developing contracts with large local authorities. Jeremy's next 'port of call' was in the Marine Safety sector as a Regional Manager for Cosalt prior to joining Falco. Although ostensibly retiring, we know Jeremy is the type to keep busy and we're sure he will still be involved in the industry somehow, even if it's just hiring a Santander bike whilst visiting London.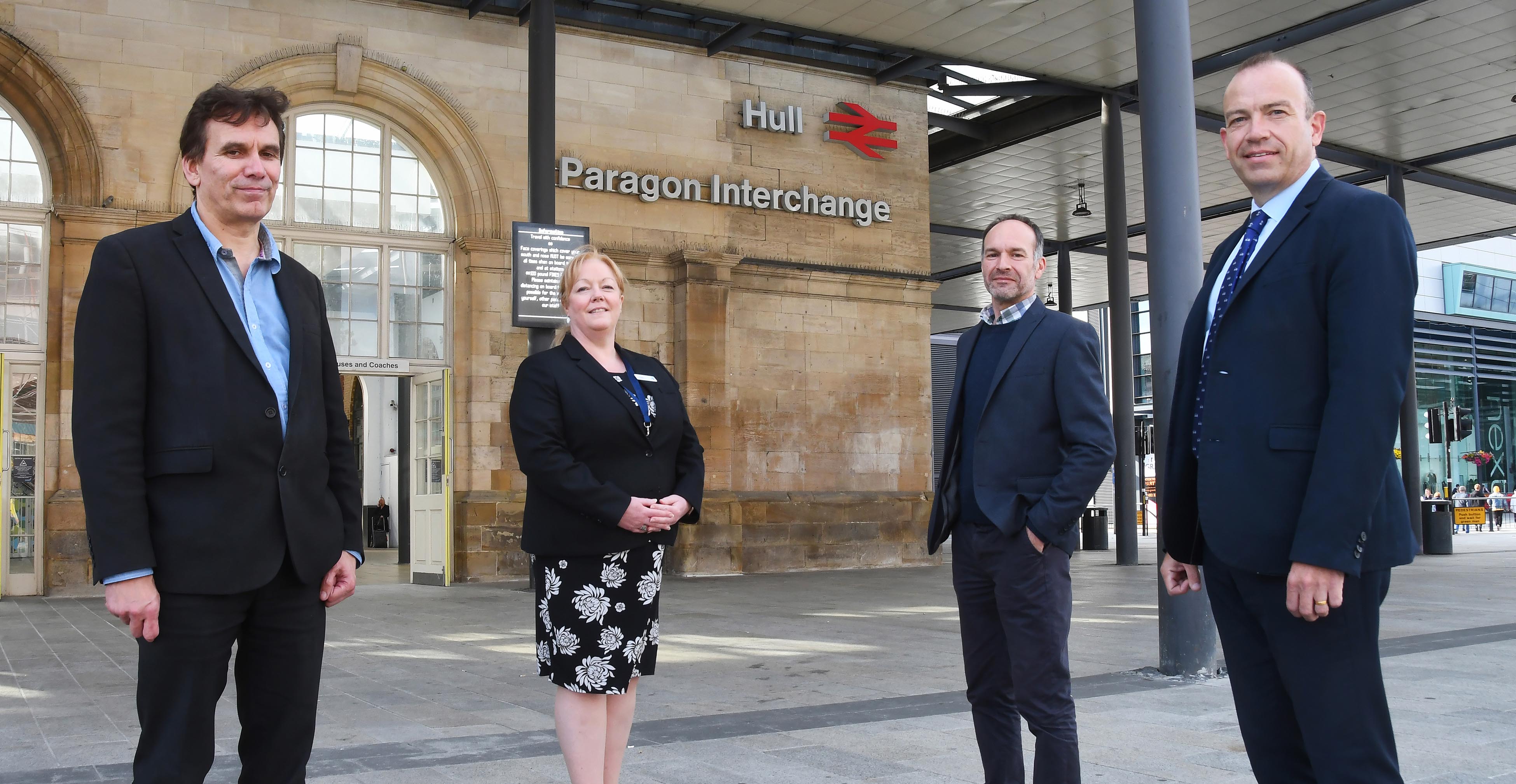 Jeremy Green with MP Chris Heaton-Harris, TPE Interim Managing Director Liz Collins and Cllr Daren Hale, Deputy Leader of Hull City Council at the opening of Hull Paragon Interchange Station Cycle Hub. 
Jeremy commented, "It's  been a privilege to have managed Falco for all these years, we have such a great team of people here and it's been a real buzz to be able to play a key part in such an important industry. At Falco we have really focussed on being involved in the development of cycling across the UK, in particular in developing new products and ideas which will accelerate the uptake of cycling. I have always believed in developing long term relationships and I'd like to take this opportunity to thank all the suppliers and customers who have partnered with us over the years and hope that these great relationships will continue for many years to come."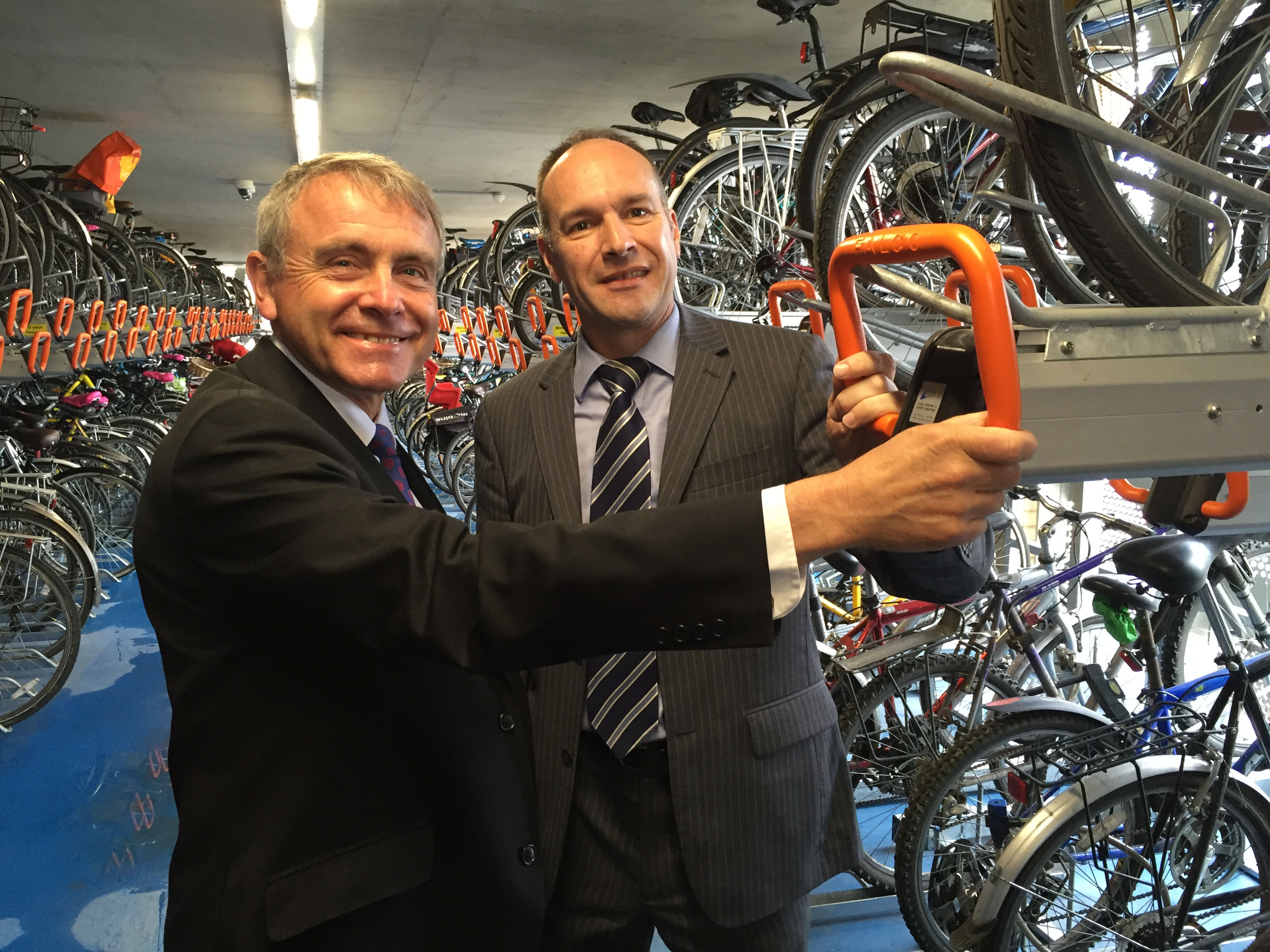 Jeremy Green with former Transport Minister, Robert Goodwill, at the opening of Cambridge CyclePoint.
Jeremy's replacement at Falco is Rob Harper and we'll be doing a biography of Rob in our next eNews, in the meantime we wish Jeremy all the very best for the future!