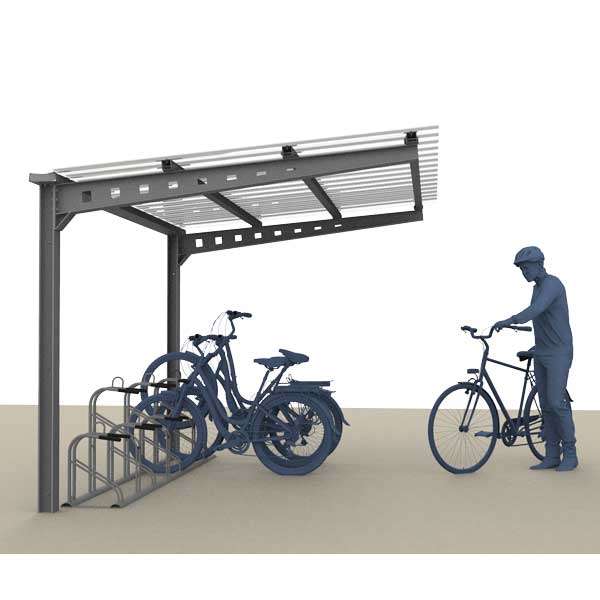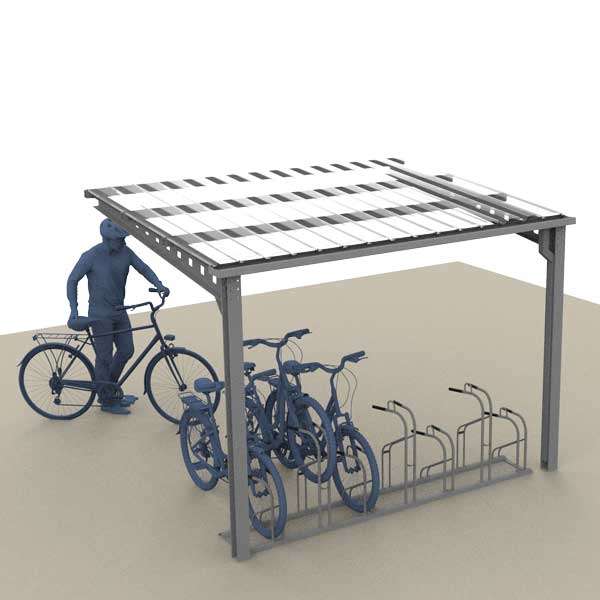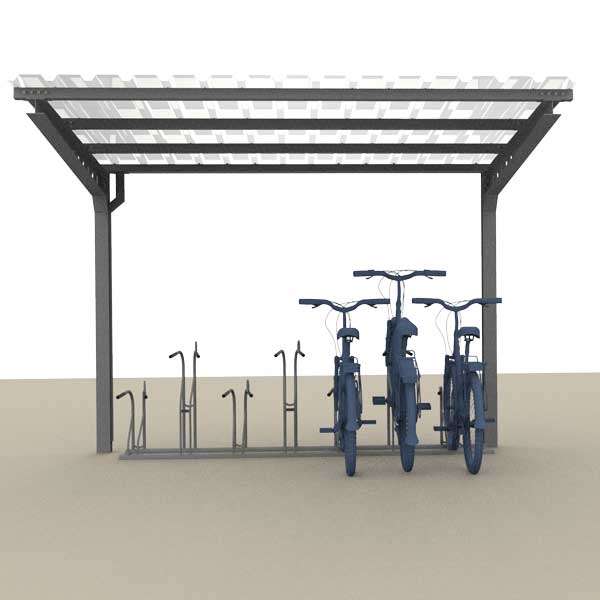 New to Falco's shelter portfolio, the FalcoAndo is a contemporary canopy available in a single-sided or double-sided gull-wing design.
The FalcoAndo cycle shelter meets the highest quality standards, typical of a Falco product. The maximum load of this canopy is 1.00 kg/ m2.
All our canopies comply with EN 1090 CE Mark, a standard which specifies the technical requirements for the construction of steel structures. Choosing a supplier that meets the EN 1090 CE Mark standard offers advantages such as quality, reliability, conformity with regulations, technical expertise and quality assurance.
The generous roof depth of this shelter ensures that bicycles remain well protected from rain and sleet.
The roof of the FalcoAndo shelter is manufactured from polycarbonate profiled panels, which is a strong and impact-resistant material with translucent properties.
The uprights, with attached drainage channel, are manufactured from hot-dip galvanised steel to BS EN ISO 1461 and can be polyester powder coated in any of the 192 RAL colours.
As with all Falco shelters, the FalcoAndo is modular in design, allowing the canopy to be extended using add-on sections to create a shelter run as long as required.
The shelter is available in both single-sided and double-sided variants.
Falco can provide a range of cycle parking or street furniture systems to locate under the canopy upon request.
Due to the polycarbonate roof cladding, the FalcoAndo is perfectly suited for areas where snow loading is not a critical issue, such as towns and cities.
The maximum roof load of the cycle shelter is sk= 1.00 kN/m2 and for areas with an average windspeed of up to 26 m/s.
Length: 3,139mm
Depth: 2,559mm
Above Ground Height: 2,401mm
For more information about the FalcoAndo cycle shelter, please contact our helpful sales team on 01538 380080 or by email at sales@falco.co.uk.
Information & downloads

Drawings

RAL colours
Also in this series:
The product is not in a series