FalcoCharge e-Bike Battery Charging Locker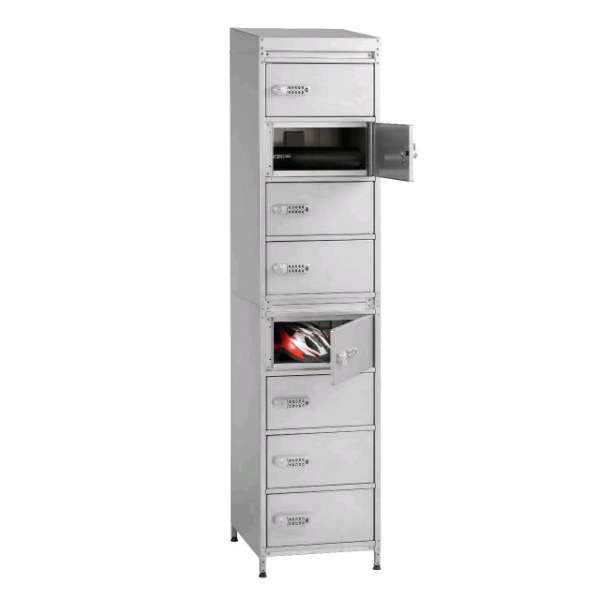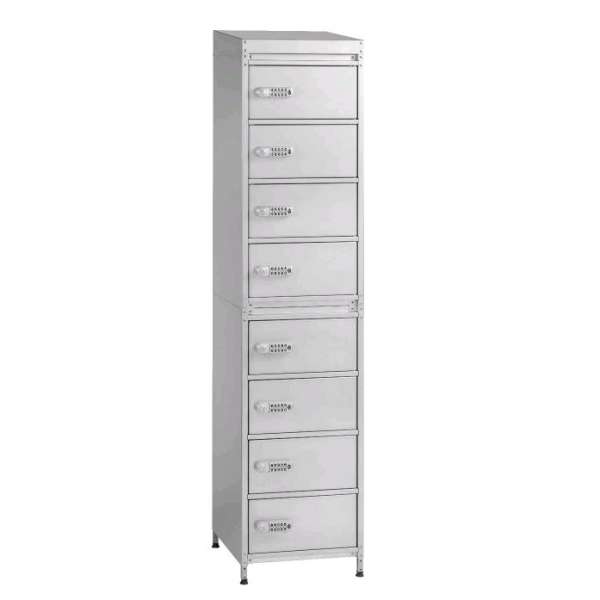 The principal of the FalcoCharge e-Bike battery charging locker is to provide a safe and secure compartment for the storage and charging of ebike batteries. The locker is an ideal addition to place alongside any cycle parking area, where cyclists are presented with a range of additional facilities over and above a traditional cycle rack.
Each unit is made up of four separate compartments which can be placed side by side to create a locker run as long as required. In addition, two units can be positioned on top of each other to provide a vertical run of eight lockers.
Each separate locker is equipped with a 230v socket and designed to fit standard batteries including chargers. An autonomous battery powered digital pincode lock is supplied with each locker to deter theft, without the need to provide individual keys.

Features and benefits of the FalcoCharge e-Bike locker include:
Convenient storage pods for e-Bike charging.
Capable of charging other small battery based products such as smartphones, tablets, smartwatches and sat navs.
Each separate locker equipped with a 230V charger.
Manufactured from stainless steel grade 304.
Supplied with a secure digital pincode lock.
Lockers allow air circulation.
For use in indoor environments or sheltered outdoor location environments (sheltered outdoor locations require an optional waterproof digital lock).

Digital Lock
Simple 4-digit user code.
6-digit master code for operators.
80,000 openings with just one battery.
Low battery warning light (LED flashes).
Mechanical emergency opening with key. 
Suitable for indoor locations. 
Audible 'beep' on key press (can be disabled).
Optional automatic opening when time is exceeded.
LED indicator light. 



Power Supply
A conventional charger of a bicycle battery consumes a maximum of 350W (1.5A or less). If the 4 or 8 compartments are all used simultaneously at full power then this means a maximum power of 1400W (LMS4) and 2800W (LMS8) respectively. The e-Bike Battery Charging Locker would therefore preferably be connected to a separate electrical ring-main circuit (230V/16A).
Locker Dimensions
Total Dimensions (Per Unit of Four Compartments)
Height: 995mm
Depth (including wall bracket): 507mm
Width: 450mm
Individual Locker Dimensions
Height: 209mm
Depth: 428mm
Width: 448mm
For an instant price and further information, please contact our helpful sales team on 01538 380080 or by email at sales@falco.co.uk.
Information & downloads

Drawings

RAL colours
Also in this series:
The product is not in a series