FalcoCam and FalcoCam-Plus Cycle Stand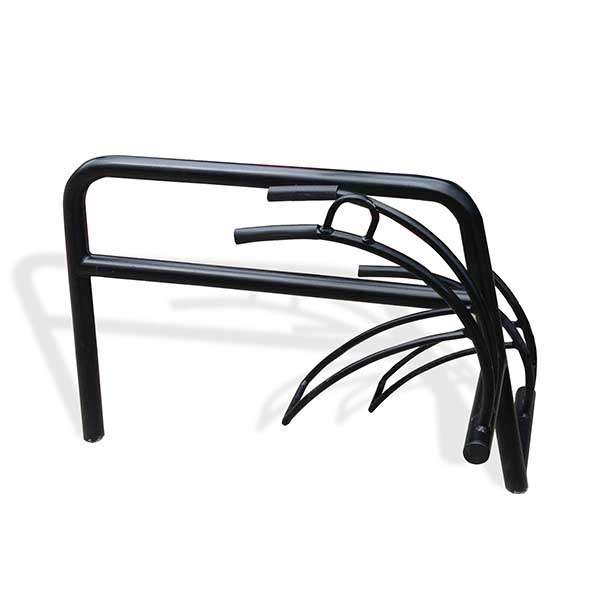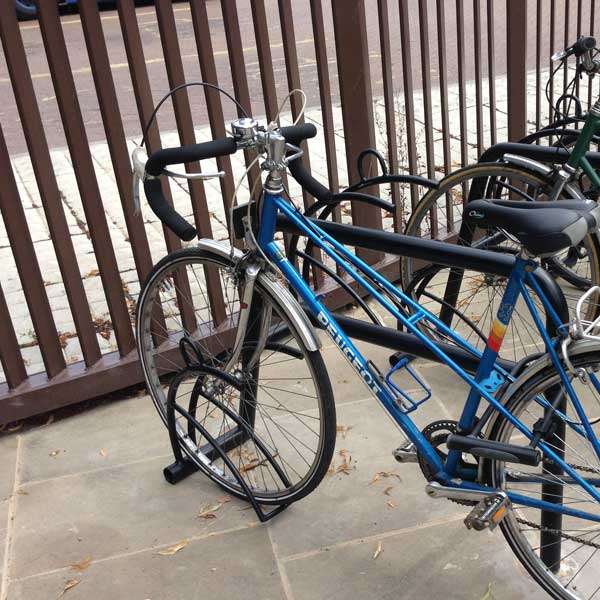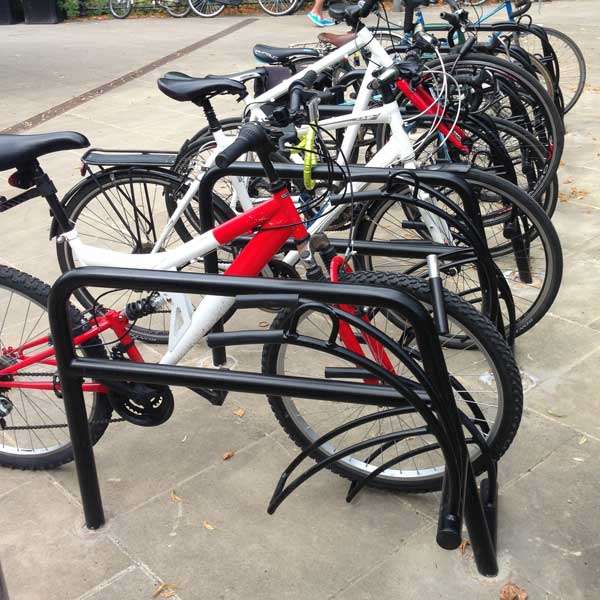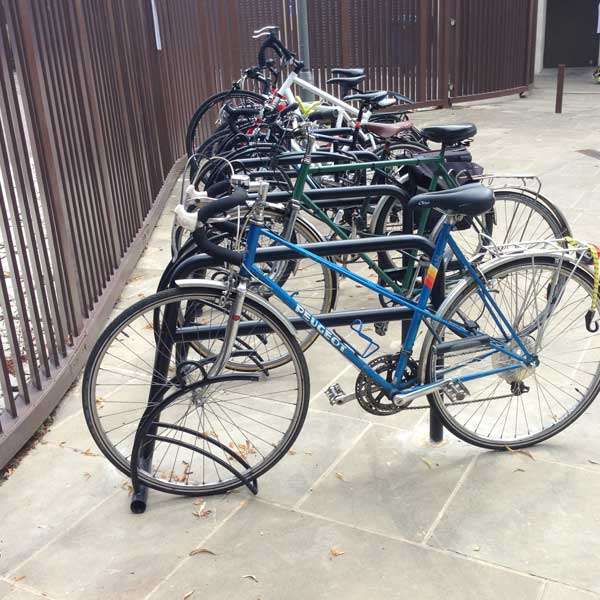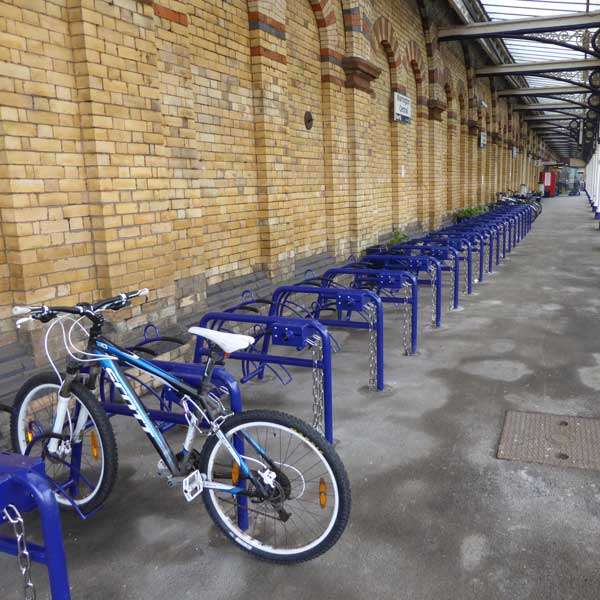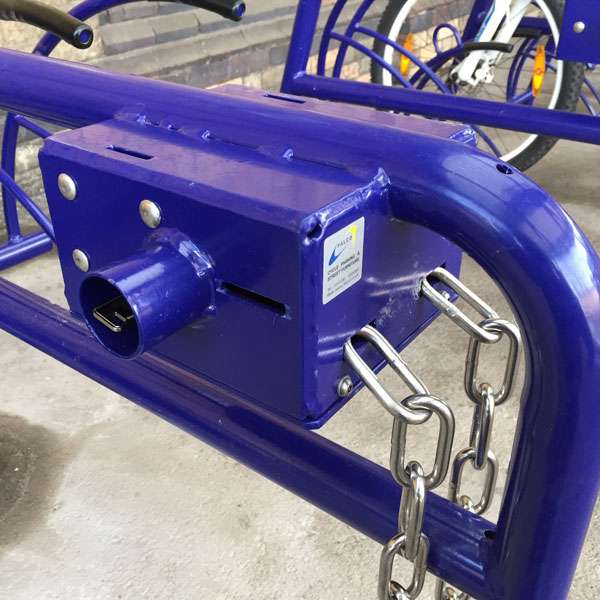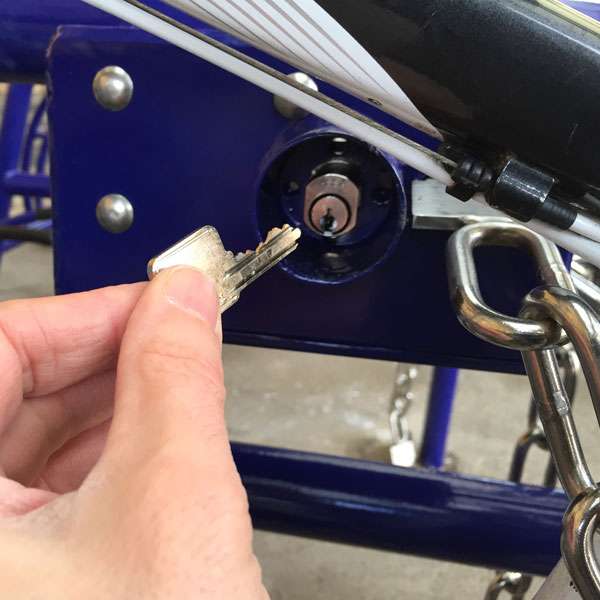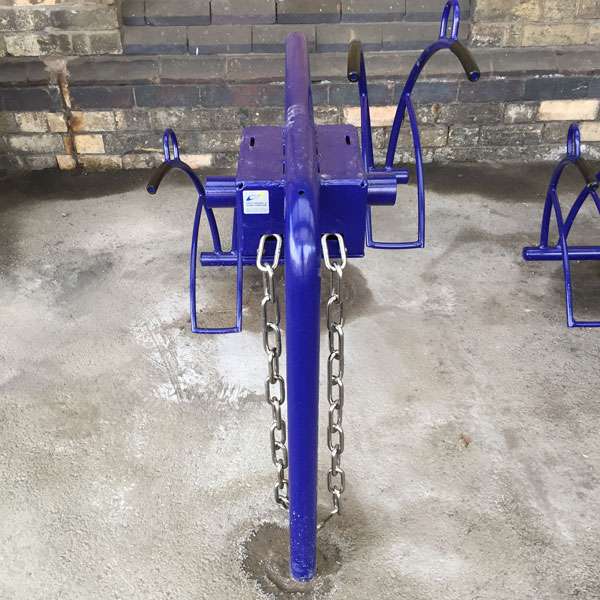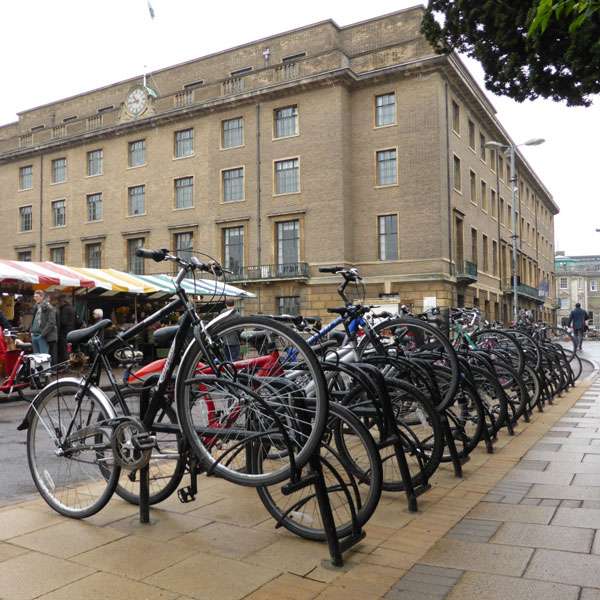 The FalcoCam was developed in conjunction with Cambridge Council and incorporates as many features a cyclist could hope for. The stand builds on the success of the Falco Perfecto stand, but incorporates some new ideas following feedback from the team in the county's most popular cycling city.
The benefits cover a number of cycling issues - as well as providing up to 6 locking points, here are a number of features and benefits of the FalcoCam:
| | |
| --- | --- |
| Feature | Benefit |
| Sheffield Style Shape | Reduced Tripping Hazard |
| Wheel Holders | Bikes are Stored in Neat Rows |
| 'Hi-Lo' Design | More Bikes Stored than with Sheffield Stands |
| Added Locking 'eyes'  | Improved Locking Provision  for Front Forks |
| Added Mid Rail   | Improved Locking Provision for Rear Wheel/Frame |
| Lower Wheel Holders | Better Accessibility wit No Lifting Required |
| Wide Wheel Holder | Better Usability for all Tyre Sizes |
| Wide Fork Holder | Bikes with Baskets (frames) Accomodated |
| Reduced Diameter Tube | Less Chunky and Reduced lost but Maintaining Security |
| Hot Dip Galvanised | Long Lifespan and 100% Recyclable |
| Powder Coated | Providing an Attractive Cycle Parking Facility |
The FalcoCam is available in a below ground or surface fix application.
FalcoCam-Plus
The FalcoCam-Plus takes our flagship cycle stand and adds an integrated chain to make it even more easier and convinient for cyclists to use. The chain is simply locked using an innovative coin return mechanism which is ideal for cyclists who have limited or no access to a secure lock. The cyclist simply parks their bike as normal, inserts a £1 coin into the lock, secures their bike using the chain supplied and removes the key. The cycle is now parked securely until removed using the same key. The cycle stand can be used for as long as required and the cyclist receives their £1 back as soon as the key is returned.
The stand measures 967mm long above ground height with a centre to centre distance of 425mm between bikes. For below ground fix versions the length below ground measures 1151mm long.
The stands are manufactured from robust welded steel hot dip galvanised and can be powder coated to provide an attractive finish for the cyclist.
For an instant price and further information, please contact our helpful sales team on 01538 380080 or by email at sales@falco.co.uk.
Information & downloads

Drawings
Also in this series:
The product is not in a series