FalcoLok-Cargo Bike Store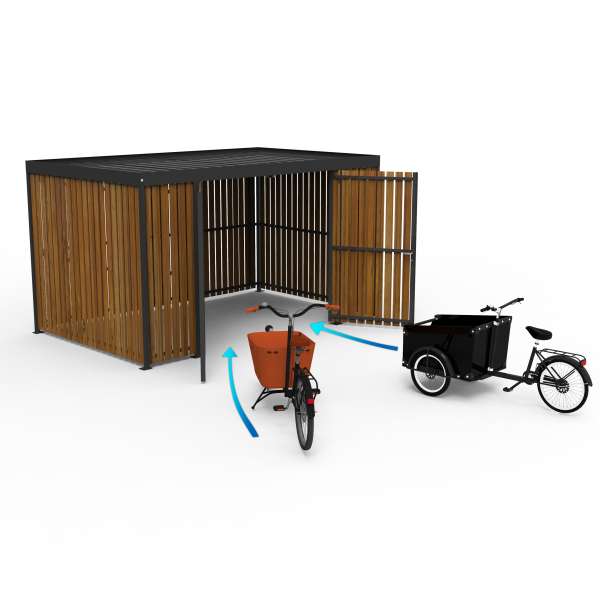 The FalcoLok-Cargo is an exceptionally attractive and easily accessible secure store, providing a walk-in storage facility for up to two cargo bikes.
Each FalcoLok-Cargo is available in a standard sized unit or can be modified to meet a wide range of bespoke requirements.
There are a huge range of modifications that can be made to the FalcoLok-Cargo including
Choice of over ten different types of cladding options.

The relocation of single or double doors. 

The relocation of drain pipes. 

Extending the store in length, width or height. 

Shelving and storage optimisation.

Secure access in four different options including the new FalcoSmart app based locking system.

Powder coating in over 190 different RAL colours. 

Replacing the standard roof with green living sedum. 

A number of internal stands and clamps to lock each cargo bike to. 

E-Cargo Bikes – the FalcoLok-Cargo has the option to integrate charging points for the latest e-Cargo bike designs.

Manufactured in accordance with ISO 1461 Hot-Dip Galvanising, ISO 9001 Quality Management System, ISO 14001 Environmental Management System and EN 1090 CE Mark. 
The standard bay unit has a width of 2,495mm, a length of 3,980, a total height of 2,250mm and a free head height of 2,100mm.

As with all Falco cycle stores and lockers, the FalcoLok-Cargo can be fitted with the FalcoSmart app based locking mechansim, completely removing the need for physical keys.
The FalcoSmart app-based locking system uses Bluetooth technology to activate the locking mechanism from the users smart phone or tablet with the benefit that they no longer need to carry keys or fobs. Cyclists are able to apply for access to the hub and having downloaded the 'App' are given access rights to the FalcoLok-Cargo for a period of time depending on their subscription.
The system has a fully automated back office enabling the administrator to register new locks for new cycle stores as well as adding new users and creating groups and assigning rights. A huge benefit to the operator is that they are able, for the first time ever, to assess usage of a cycle parking facility, directly from the back-office app information.
The FalcoSmart app-based locking system is designed to work with any cycle parking facility; from bike hubs to bike hangars and from padlocks to existing facilities, with a range of locking options all linked to the app and back-office. Each of the facilities enable the user to access any facility for example, their local bike hangar and their commutable hub without the need for multiple keys or fobs – everything is on the app. As a result of its importance to Falco and our clients we now have a patent pending on this concept (application number GB2012118.2).
For more information about the FalcoLok-Cargo store or how Falco can asisst your cargo bike storage scheme, please contact our helpful sales team on 01538 380080.
Information & downloads

Drawings
Also in the FalcoCargo series: